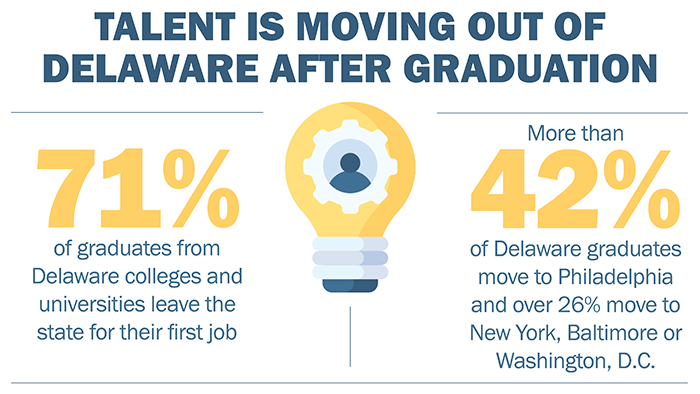 According to the Delaware State Chamber of Commerce, businesses in Delaware, and the nation, are currently struggling to find qualified workers who have the skills to meet the demands of today's labor market. Moreover, they said, it is projected that around 10,000 Baby Boomers will reach the retirement age of 65 every day between 2021 and 2029.
"The need for a talent pipeline grows as these jobs continue to become vacant."
Since 1999, the Delaware State Chamber of Commerce's 501(c)(3) education affiliate, The Partnership Inc., has been fostering private-sector involvement in education and workforce development. To meet the growing and changing talent needs of its members, The Partnership is now realigning its mission and priorities to become better focused on workforce development and creating a pipeline of talent in Delaware.
Known for its flagship programs, Delaware Principal for a Day and Superstars in Education, The Partnership announced this week the addition of Intern Delaware and the Delaware Young Professionals Network under its umbrella.
Intern Delaware is dedicated to helping build Delaware's future workforce by keeping talent in the First State. Established in 2020, Intern Delaware has partnered with more than 21 companies to coordinate experiences for their summer interns that focus on the benefits of living in Delaware. Through a series of educational events, interns have access to business and civic leaders while learning about the unique aspects of Delaware's economy and culture.
"As we continue to expand the Intern Delaware program, a main goal is to ensure a statewide offering to serve businesses throughout the state," said Scott Malfitano, Intern Delaware founder and board member. "Joining forces with the Delaware State Chamber of Commerce will help the program grow to serve more businesses and attract young talent to our state."
According to the Chamber, a critical piece of the talent retention and recruitment conversation is the need for Delaware to retain its young talent. According to Zippia, 71 percent of graduates from Delaware colleges and universities leave the state for their first job. Another study by the Wall Street Journal showed that more than 42 percent of Delaware graduates move to Philadelphia and more than 26 percent move to New York, Baltimore or Washington, D.C.
"In order for Delaware to remain competitive with its neighboring states, we need to retain our young talent, which ultimately keeps businesses here," said State Chamber President Mike Quaranta. "It is my hope that State Chamber members, especially hiring and training managers, will see value in this and ultimately join us by playing a key role in developing our state's talent pipeline."
Under this new structure of programs — Delaware Principal for a Day, Superstars in Education, Intern Delaware and the Delaware Young Professionals Network (DYPN) — a workforce readiness pathway is created for today's students to become better equipped to be Delaware's workforce of tomorrow, he said.
"We see a sequential progression of development and training that helps prepare new entrants to the workforce. It starts by connecting our members to schools to clarify workforce needs and skills challenges through Delaware Principal for a Day. We then recognize high schools, training programs, college and university classes that are innovative and targeted to employer needs through our Superstars in Education awards program," explained Quaranta.
"For those that go on to college and participate in an internship program, Intern Delaware is a way to connect interns from all participating employers and help build a talent pipeline of young, bright professionals for Delaware employers. New hires can then join the DYPN and grow their professional network, gain leadership skills, and further embed into a life here in Delaware."
Delaware State Chamber representatives said they were looking forward to this renewed focus on workforce development in the First State. To fully address the talent needs of the State Chamber's membership, a new, full-time staff position will be created under The Partnership. Visit https://web.dscc.com/External/WCPages/WCWebContent/WebContentPage.aspx?ContentID=5428 to download the job description. Interested applicants should submit a cover letter and resume to dscc@dscc.com.