Reaching a milestone to celebrate, Coastal Point newspaper last week was named the 2020 News Organization of the Year in its division by the Maryland-Delaware-D.C. Press Association (MDDC).
"Great work!" Executive Editor Darin McCann wrote in a congratulatory e-mail to the staff after the award, for non-daily publications with a circulation of 10,000 to 20,000, was announced.
"This has been a difficult year in so many ways, but watching this staff respond to the challenges put in front of them has been inspiring, to say the least," McCann said. "It's incredibly gratifying to see them be rewarded for their efforts in such a prestigious way, and I believe they are a credit to the community they cover through their hard work, talent and dedication.
"I couldn't possibly be more proud of a staff or group of people. We have such a good team of professionals, and an even better team of good human beings. It sounds a little over the top, probably, but I am humbled just to be able to work with this staff. Every member of this team wants the very best for every other member of this team. That's special," McCann said.
"Darin and I have high expectations, but this staff has even higher ones," Publisher Susan Lyons said. "They put out the best that they can every single week, no matter what the circumstances, and the circumstances this year were very challenging, to say the least."
Additionally, Advertising Sales Representative Nadine Timpanaro was named the MDDC's Sales Rookie of the Year — an award that honors a new sales executive from any size of publication who has less than 18 months of experience in the field and has exhibited strong revenue generation, sales expertise and initiative.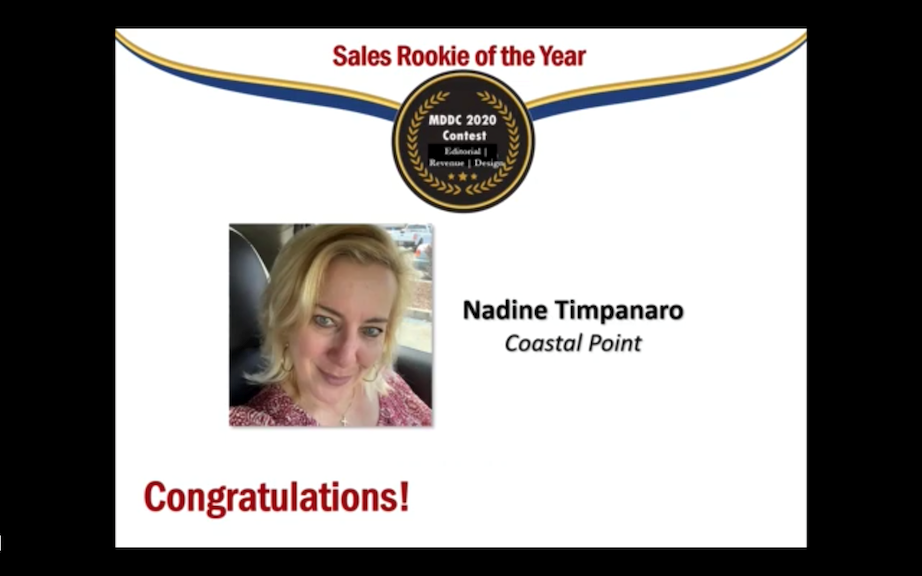 Lyons, who nominated Timpanaro, had high praise.
"She moved to a new state and took over a sales territory at the most difficult time possible, straight in the middle of COVID, when businesses were closed and no one knew what was happening and how long it was going to last.
"She has been a breath of fresh air at a time when things were very complicated. Nadine's upbeat personality and vast experience in advertising has really assisted many clients navigating through new and different types of marketing.," Lyons said.
The judges for the award, MDDC Press Foundation Board members, recognized Timpanaro's "commitment to Coastal Point in a market devastated by the coronavirus pandemic, noting she has great interactions with clients and steady development of revenue."
Lyons wrote of Timpanaro in her nomination letter, "In June, she came on board, replacing a long-term employee that had retired. She hit the ground running, taking over 150 accounts that she had not met and working on new accounts at a time when businesses did not want to speak to anyone.
"New to the area, new to the businesses and the weekly newspaper business, [Nadine] has worked diligently with a positive attitude that is infectious. She is always smiling and meets the challenges that we have all faced with not being able to meet with clients in person and trying to establish relationships of a full sales territory.
"There was no worse time to start a new rep in a territory that had been serviced by the same person for the last 12 years. Nadine Timpanaro has worked non-stop to establish strong relationships with her customers while working the territory, bringing in new clients, working on special projects and starting a new life while not being able to visit her children during this time of COVID," Lyons wrote.
Advertising Manager Susan Mutz praised Timpanaro for joining the staff at a difficult time but quickly catching up and "bringing a new level of energy and enthusiasm to our team."
"She's been able to form new relationships and maintain existing client partnerships while offering a high level of customer service and expertise all in a short amount of time," Mutz said.
"I was truly honored to receive this nomination and to be awarded this recognition," Timpanaro said. "While it was definitely a difficult time to start a new sales position, I have been so blessed to work with such a great and supportive team here at Coastal Point."
Coastal Point, founded in 2003 and now covering a circulation area from Fenwick Island to the Indian River Inlet Bridge, and inland from Selbyville through Millsboro, also won the division's top award as a Website of General Excellence.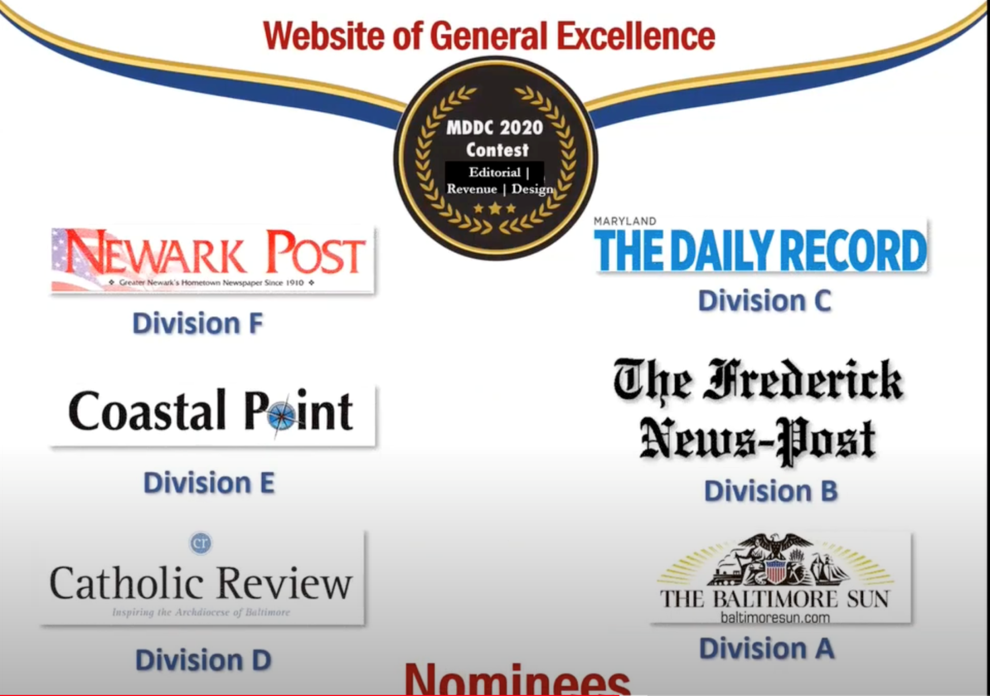 "The new site was truly a team effort, but you have to point out the specific contributions by Shaun Lambert and M. Patricia Titus in getting it the way we wanted," McCann said.
"We're in a changing industry, as are most industries in this modern world, and we've jumped into it with a great start with this site. Hearty congratulations to everybody who has played a part in getting it off the ground," he said.
"We're really thrilled that the new website was recognized as a Website of General Excellence," Titus said. "This was a major project for the staff in early 2020, and it was great to see how well it turned out, especially with the added pressures of the early days of the pandemic. We love all the new features and functions it offers our readers. To have the site recognized during the MDDC awards as the best in our division is very rewarding.
"I have to acknowledge all the work Technical Director Shaun Lambert did on the site, from the design and graphics, to ensuring our old content got brought over to the new site and troubleshooting all the little details as we got things up and running," she added. "And this was a real group effort, with our reporters having to learn a new system and take on some additional duties. Laura Walter was a real star, stepping up to help whenever she was needed."
Staff Reporter Walter also won first place in the division for Education Reporting, for the article "Students, staff feel uneasy in trailers," as well as second place in the division for Public Service Reporting.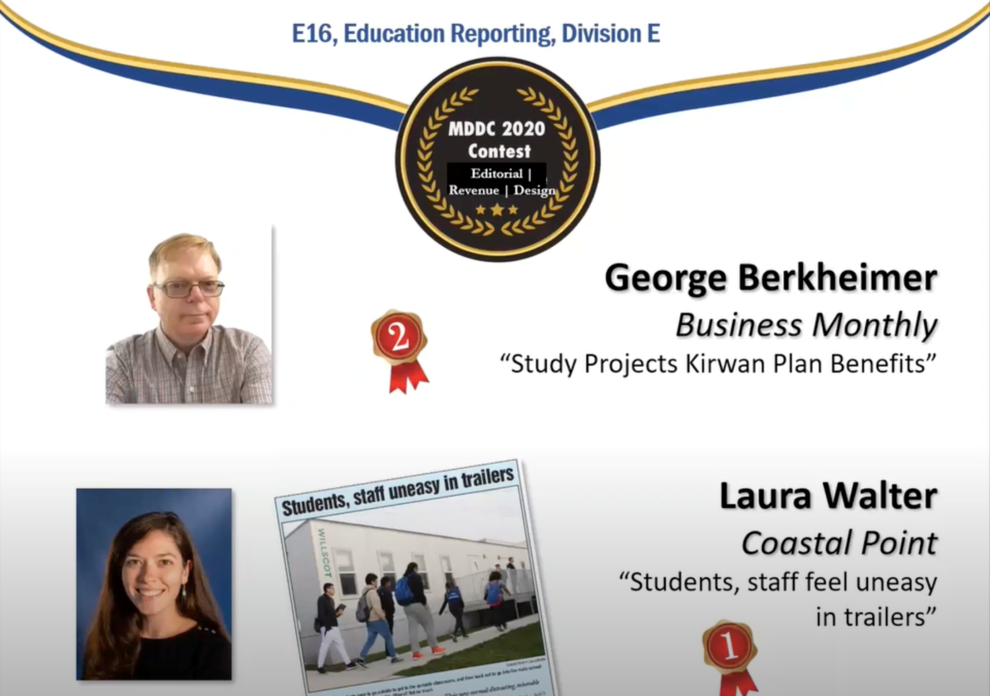 "We can talk about overcrowding all day, until the word loses meaning. But to show readers the inside of a school where teachers and students all share the same major fears and frustrations — that's more effective," said Walter, who has been with Coastal Point for 10 years.
"I hope the public knows how much community newspapers care about the towns they serve, from the journalists and editors who report important stories, to the advertising reps and artists who help businesses succeed. We are honored to do this work," she said.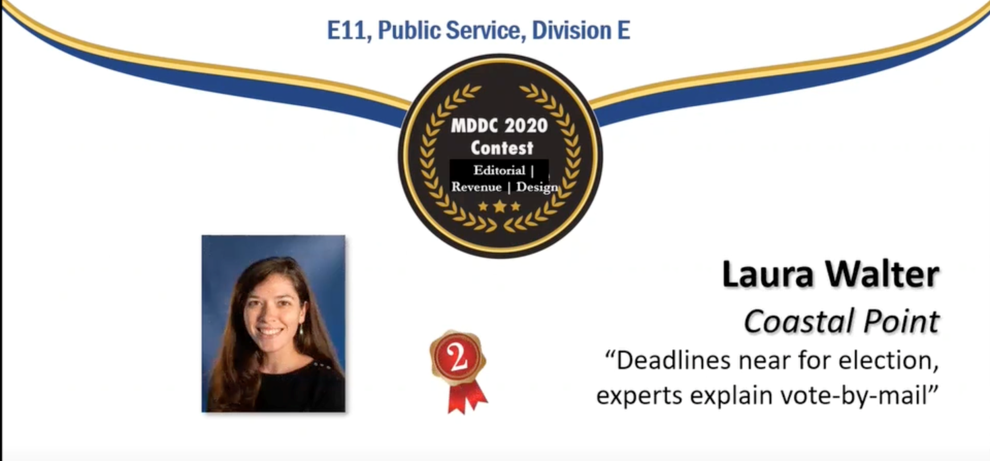 "Laura is a shining star," McCann said. "She came up through the Indian River School District herself, and her coverage over the years of her old stomping ground continues to be fair, balanced and in the interests of those who require accurate information on the school district. She is a great reporter."
Staff Reporter Kerin Magill won first place in the division for Medical/Science Reporting and second place in Feature Story: Profile.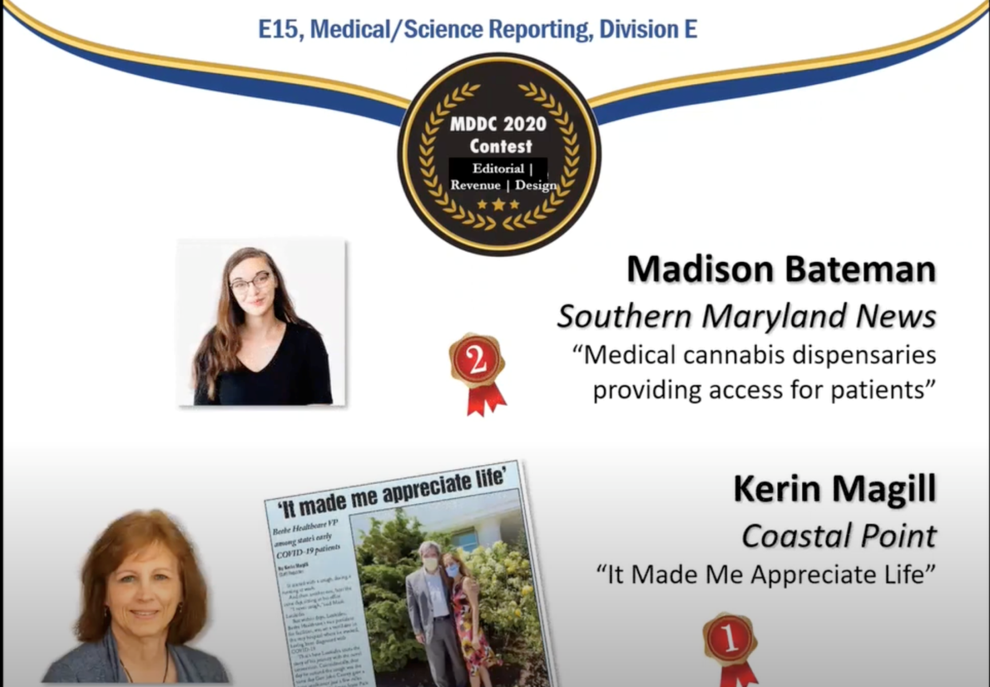 Magill called it an honor to "tell the story of hospital executive Mark Loukides' personal battle with COVID-19," for which she won that first place award.
"His perspective as hospital vice president and his experience as one of the hospital's first COVID-19 patients made it quite a unique story, and he was remarkably candid about it all."
Concerning the second-place award in Features: Profile, Magill said she was "happy to be recognized for a profile of an extraordinary man."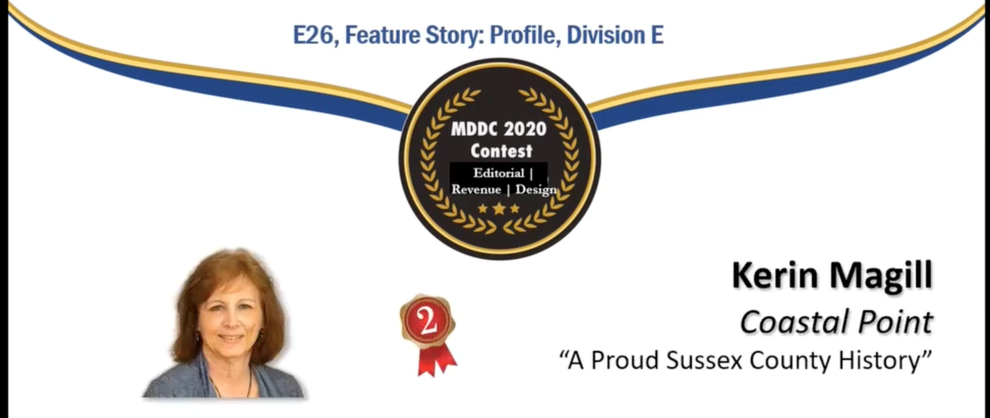 "Lou Riley has an amazing story to tell, and a family history that he's still learning about. I'm thankful that I got to hear him tell it and to capture it for the Coastal Point readers.
"I'm unbelievably proud to be part of the Coastal Point team," she added. "It's been a tough year, but we've always had each other's backs. With our new website, we've been able to keep the community informed as COVID-19 rolled across the country and our little corner of it."
"Kerin is such a pro and does a wonderful job conveying her message to our readers. She is a beacon of light to both her profession and community," McCann said.
Staff Reporter Jason Feather won first place in the division's Sports Feature category.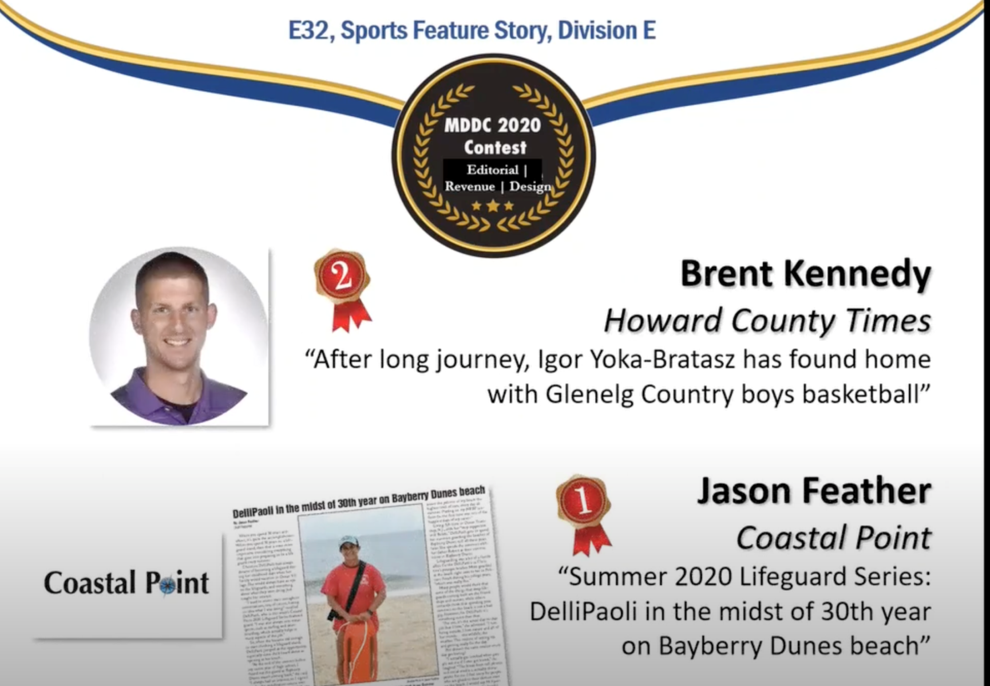 "To be recognized by such a great organization like MDDC for one of my most favorite stories that I've written since coming to Delaware is just a thrill for me professionally," Feather said.
"To be associated with such a talented and diverse group of people here at the Coastal Point that truly care about the community that they live in makes that much more rewarding. I love that we have so much love and respect from our readers as well, because they know they can count on us."
"Jason looked at the halt on many sports activities as an opportunity to tell the stories of several of our local lifeguards. I thought it was a tremendous series, and it was terrific seeing him be singled out for his ability to bring these everyday heroes' stories to life," McCann said of the series that included the award-winning story.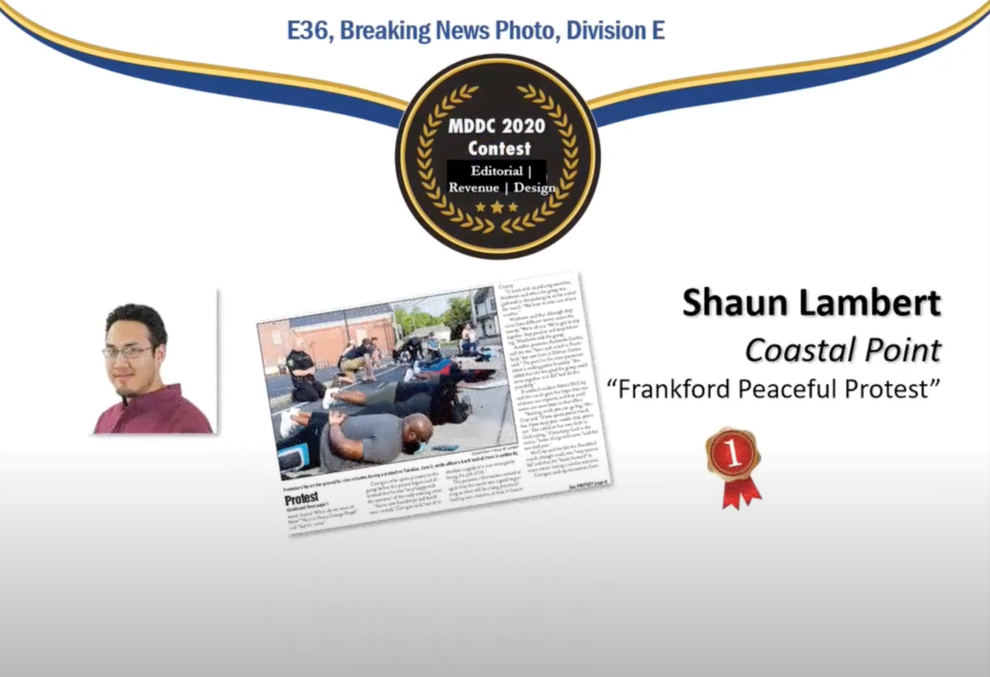 Technical Director and sometimes Point photographer Shaun Lambert won first place in the division for Breaking News Photo, second place in Photo Series and second place in Sports Action Photo.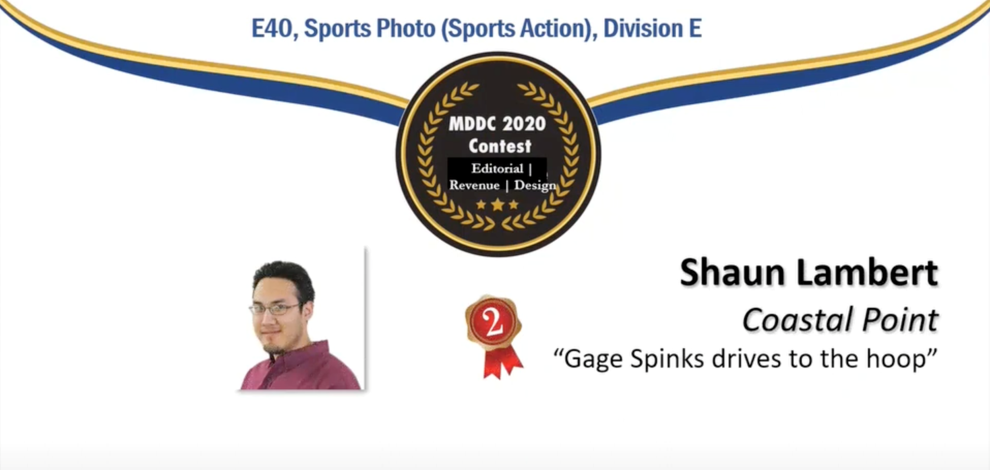 "Shaun has such a terrific eye and really values the impact that art can provide in telling a story. He is that guy who always jumps in when needed, and when someone who does that also brings true talent to the table — well, that's unique. We are fortunate to have him on this team. I'll tell you that," McCann said.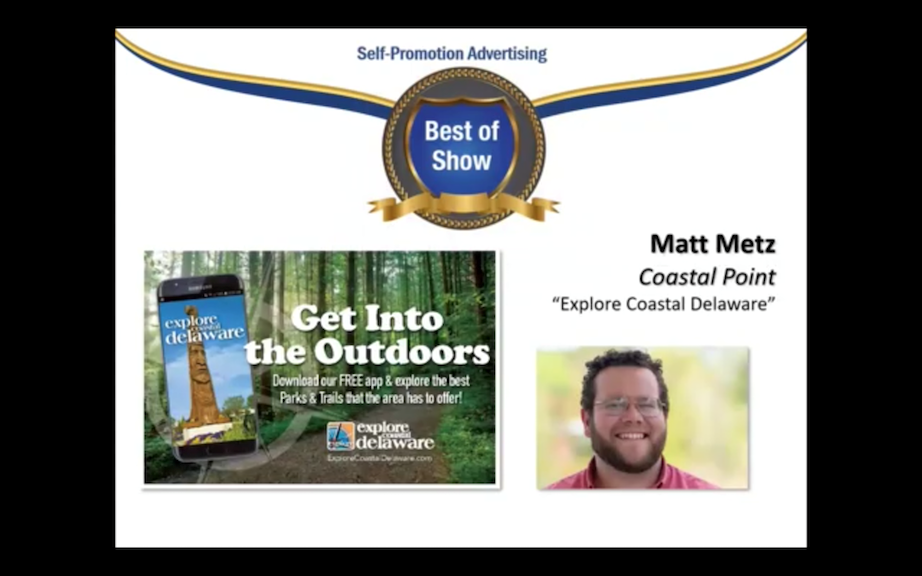 Graphic Artist Matt Metz won six awards, including second place for the new website's launch promotion, first place for Explore Coastal Delaware, first place for the multi-media ad "All you need is love," second place for a business ad, second place for a retail ad and first place for The Sweet Shoppe restaurant-entertainment ad.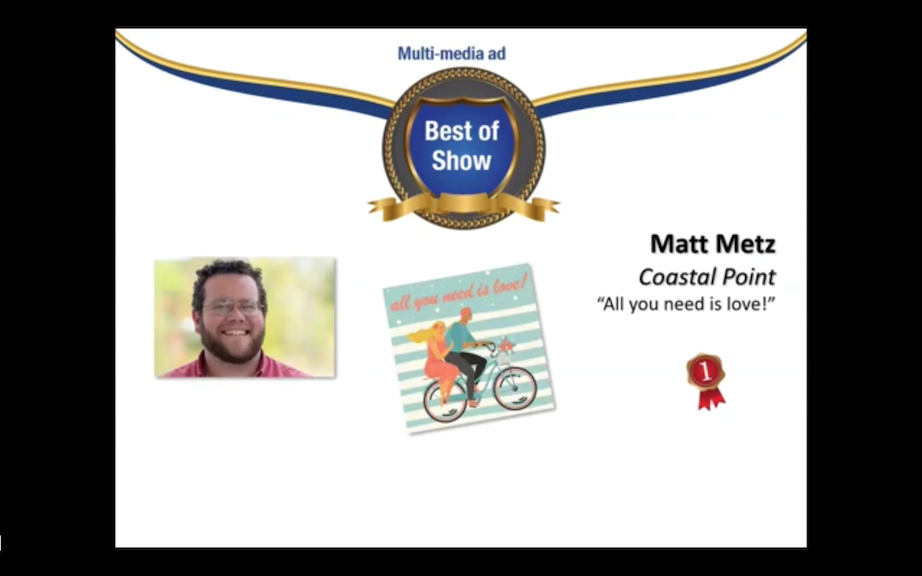 "Congratulations to everyone at the Coastal Point," Metz said. "We work hard, we have the dedication and, overall, the eternal pursuit of creating a wonderful local newspaper."
"Matt has been a one-man crew basically since the pandemic struck, and he has produced both quality and quantity that are to be commended. He deserves every bit of recognition he gets, and I suspect his talent and drive will lead him to great things long into the future," McCann said.
Coastal Point's Indian River High School 2020 Graduation booklet won first place for a News-Driven Special Section.
"The Class of 2020 is one that should be in all of our hearts, as the pandemic truly stripped them of a lifetime of memories and experiences last year. We really scrambled to try to come up with a way to honor them and their struggles, and we figured this could be our contribution. It's nice to get recognized for that, but it was very heart-warming to hear parents and students last year just thank us for the booklet," McCann said.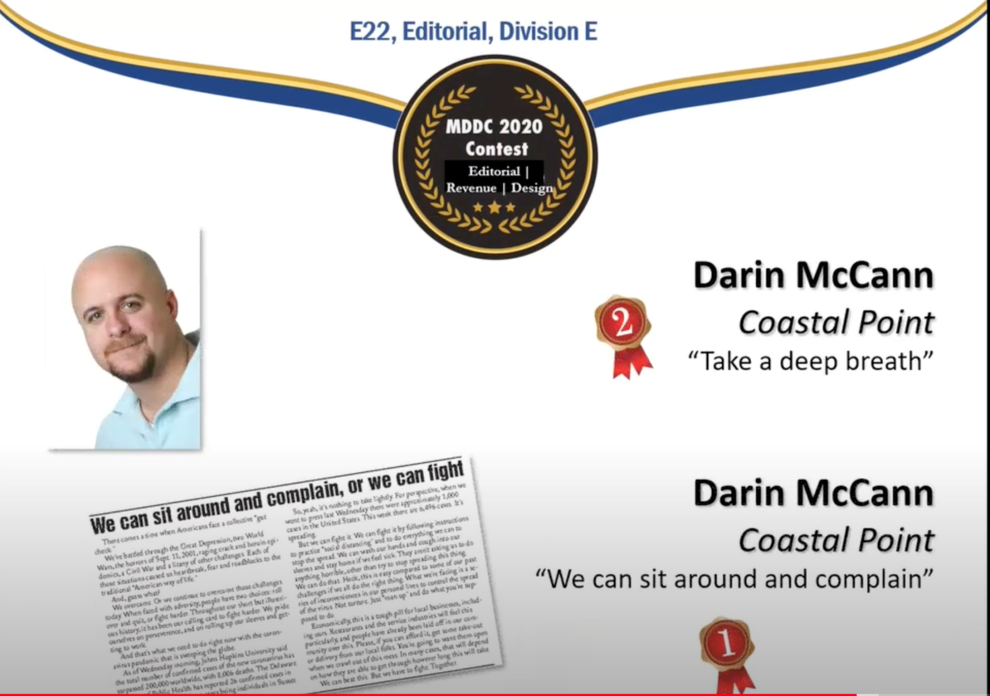 McCann himself won first and second place for Editorial, first and second place for Local Column: Critical Thinking, and first and second place for Local Column: Feature or Humor, sweeping all of the contest's opinion categories — a rare feat.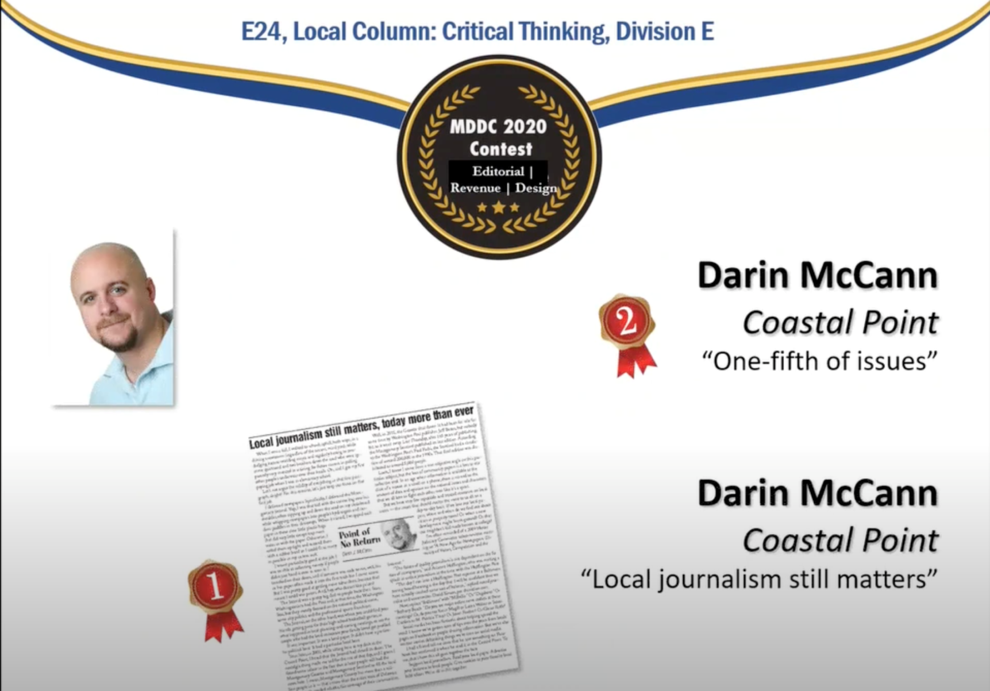 "It's certainly nice to get a little attention for my work, but it really speaks volumes to the people around me that I can afford to sit around and peck at my keyboard a few hours every week because they are such trusted professionals," McCann said.