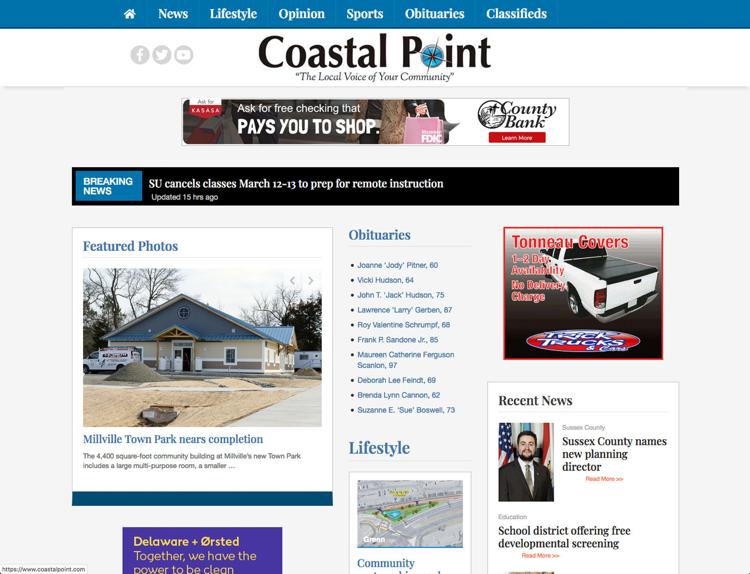 The Coastal Point announced this week that it has completely revamped its website, with a brand-new look and features that will add a more interactive approach to how the paper reflects the community.
The website, still located at CoastalPoint.com, now features more effectively packaged news and functions designed to make all of its content more easily accessible to Coastal Point readers, no matter what kind of device they're using to view the site.
Leading the transition to the new site is Coastal Point veteran M. Patricia Titus. Recently promoted to editor for Coastal Point's digital properties, Titus is "perfect for this role," said Coastal Point Executive Editor Darin McCann. "She has long embraced technology and has an excellent news mind.
"Most importantly," McCann said, "Tricia truly understands our readership, and is intent on providing them accurate, honest information in a timely manner. Communication has changed, and is changing still today — Tricia is the one to help us navigate that course."
Titus said much of the behind-the-scenes work on the new website has been in the hands of Point Technical Director Shaun Lambert.
"Shaun's spent months working with our new site designers to tailor this website to the Coastal Point and our readers," she said. "He's done everything from setting up the architecture of the site and overseeing the migration of existing content to the new site to showing me how to tailor the way photos are displayed on our front page."
"He and I are really excited about some of the new features — well, I think we all are, really — but some of these features are ones that he and I have been wanting to incorporate in the Coastal Point's website for more than a decade. I've been aiming to having this kind of future-proof, reader-friendly site, and Shaun has been doing the hard work it's taken to finally make it reality."
The upgraded site will allow the Coastal Point to interact with its readers in new ways, she said. And it's designed to be adaptive, changing its shape and size according to how the reader is viewing it.
"We know mobile is the leading way readers are getting their news these days, so we've picked a responsive site design that will adapt itself to the small screens of smartphones, the larger scale of tablets and the additional screen real estate they have on their desktop and laptop computers," Titus explained.
"This takes us to a new level with our digital presentation, and we're really excited for what we can now provide both our readers and advertising partners," McCann said.
Site offers a cornucopia of information, media and more
Describing some of the new ways readers will be able to access news and features, Titus explained, "We're fully integrating stories, photos, multimedia, social media, our events calendar and more." Readers, she said, "will have related stories available at the click of a button, whether by keyword or a 'more information' link, and if there's a calendar item associated with a story — say, an event that we've previewed — we can link directly to the calendar item and vice-versa."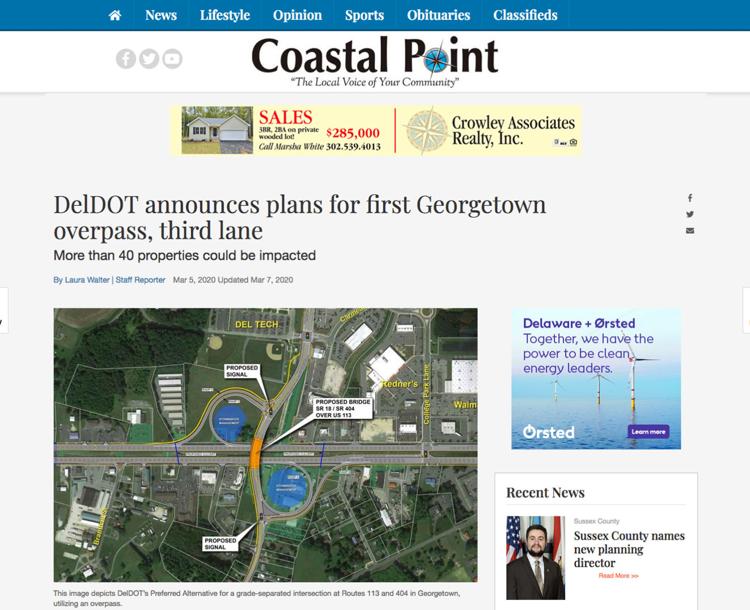 While there is a finite amount of space for the ink-and-paper version of the Coastal Point each week, the internet allows the staff to provide even more content for their readers, and allows for breaking news to be uploaded almost immediately, and developing stories to be updated between print editions.
"This new site has really opened up the amount that we can put online, and we'll be doing that throughout the week now, so there will be something new on the website every day," Titus said.
Multimedia opportunities abound on the new site. Within an article, Titus said, "related videos posted to our YouTube channel can be directly embedded in a story, and we can even include related tweets from Twitter. And if there's a map or other detailed image, we have integrated image tools so readers can zoom in to see exactly where a bridge is planned or scroll across a panoramic view."
"In some cases," Titus said, "we'll have many more photos than the one or two we were able to share in the past, so if your child is on the high-school softball team, there may be three or four images they're in, instead of one. We'll be getting in a much bigger slice of our community, and we're really excited about that.
"Our focus is, and always has been, on being a local voice covering this wonderful community in which we live, and this is really bringing that mission into the future, where our content and coverage can continue to reflect these places and these people, and tell their stories for generations to come."
Titus noted that, unlike many newspaper websites, the new CoastalPoint.com doesn't use a paywall to force users to pay to see its content.
"That goes for our oldest stories and our newest ones, and everything in between. There's no limit to the number of stories you can see, whether you're reading the site for the first time or you read it every day. And if you want to look back to what was in the news 10 years ago, it's all freely available. Our print edition is free, and our website keeps to that philosophy of free access to news."
The new website doesn't just make it easier for Coastal Point staff to keep the community informed — readers themselves will be able to submit information much more easily, such as for entries in the Calendar section, Titus said.
"We're changing from having our events calendar in a single document to using individual calendar entries that will continuously update as events go from upcoming to past, and we'll be able to much more easily offer information on recurring events," she said.
Site users can now submit their own calendar items and other content directly on the website.
"We'll have a staff member reviewing and approving those calendar submissions throughout the week, so it will be even more timely than it has been in the past, and it will also be even easier for readers to contact an event organizer or visit a related website," Titus said.
Advertisers, too, will find more opportunities to promote their businesses on the new website, said Coastal Point Publisher Susan Lyons.
"I can't express how excited I am about our new site," Lyons said. "We have partnered with the top web designers in the newspaper industry. They understand our clients' needs. The opportunities for our advertisers have significantly increased. Now we can target banner ads in specific spots on the site that work best for that particular business."
Lyons said anyone with advertising question should feel free to contact newly promoted Advertising Manager Susan Mutz at susan.mutz@coastalpoint.com.
Mutz, she said, "plays a vital role in our operation and provides exceptional customer service to our clients."
New site allows readers to share content, to and from Coastal Point
The new site offers some new twists on news sharing and saving for its readers. Each story will have its own "share" links, as well as an option to save it for future reference, making it easier for readers to use social media and email to share stories with friends and family. They can also follow Point writers, so fans of McCann's weekly Point of No Return column can get notified whenever a new one is published.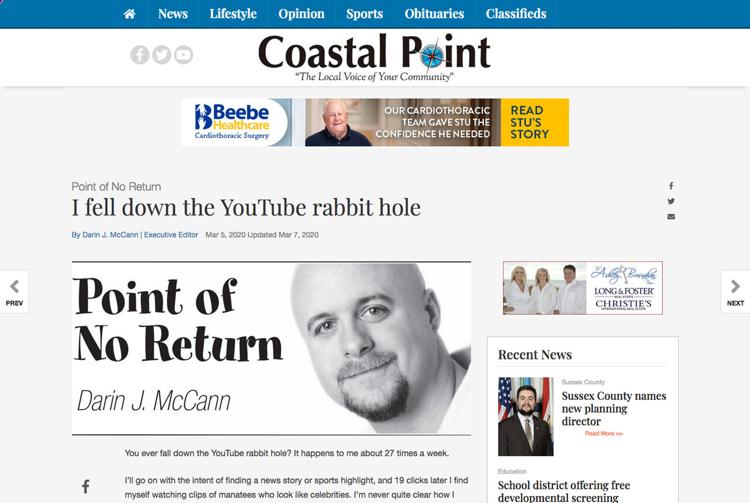 "Our website visitors can set up their own accounts on our website now, which, in addition to saving stories for later, means they can easily submit events, send us story ideas, pass along a photo they'd like to see online or in the print edition, submit a letter to the editor, or share a wedding, birth or anniversary announcement," Titus said.
"We won't ever sell anyone's information — it's all for in-house use related to features for our readers," who also don't have to register for an account if all they want to do is read Coastal Point stories, she said.
The website will now create more personalized story suggestions for individual users, so fans of Indian River sports will get more sports stories suggested, whereas those who read stories about Ocean View will get more Ocean View stories suggested to them as they move around the site, for example.
"The new website is more tightly integrated with the Coastal Point's social media accounts, so when we post a breaking-news story to the website, it will go right out to Facebook and Twitter. That means social media users will hear about things in a much more timely fashion, right where they choose to get their news and interact with friends and family," Titus said.
News and feature categories have been streamlined to make things easier to find, emphasizing the use of keywords to allow users to really focus their attention on the topics that they want to know more about, she said.
"They can make use of the menus, but they'll also be offered an arrow taking them right to the next story or a left arrow to view a prior story."
The new digital "front page" also features more stories, Titus said, "ranging from the biggest stories of the week and our most striking images to the most recent news items, big or small." Readers can also scroll through the sports or entertainment stories at a glance, she said.
Titus said that with the new website, Coastal Point reporters are "going to be much more nimble, since we'll be able to file stories more quickly — even from out in the field — and integrate photos and other media right from there. And our social media integration will send out breaking news instantly, right from our on-scene reporters to our readers who prefer those channels."
"We will continue to evolve with new technology but hold very true to our core of being an honest, fair news source for the people of this community, and those who love it. We're going to work our tails off to give them exactly that," McCann said.