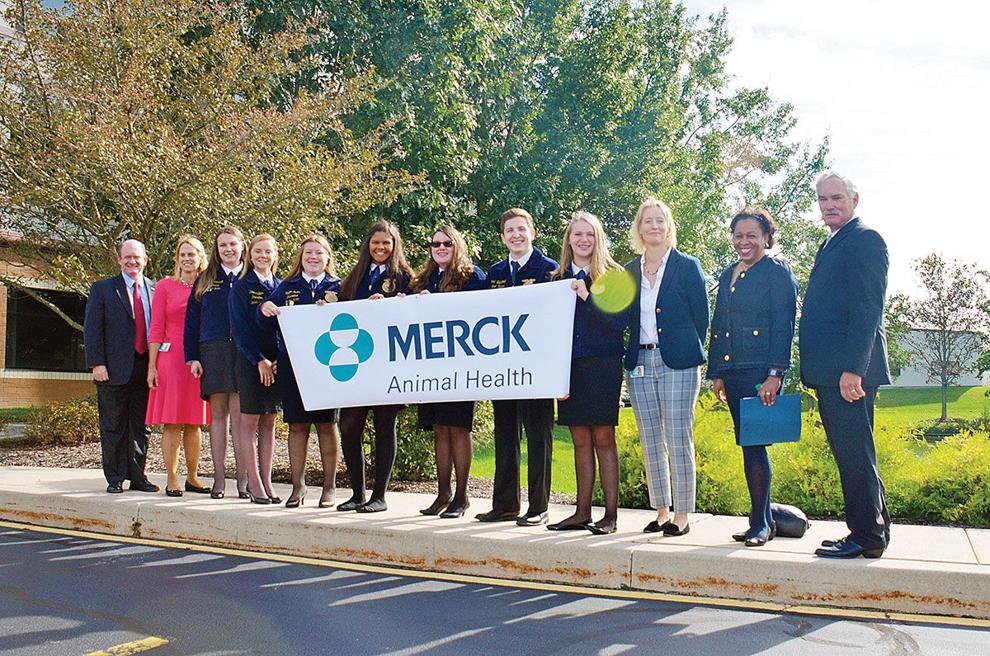 Millsboro Middle School is only a half-mile away from a major laboratory and vaccine manufacturer. But a small group of students experienced their very first trip inside the gates of Merck Animal Health facility for Manufacturing Day on Oct. 7.
A handful of Future Farmers of America (FFA) members joined U.S. Sen. Chris Coons, USDA Under-Secretary Michael Scuse and other national leaders to learn that agriculture isn't just growing plants or livestock. Merck is one of many manufacturers in the agriculture field, creating poultry vaccines.
"To me, it was kind of an eye-opener, because I've never been in here before, and I've just imagined it as a factory. But it's so much more than that," said student Taylor Bullis.
Indeed, the media wasn't even allowed to attend the tour of the facility, but the students and senator said it was interesting.
"We looked through a microscope at a cell line that they use for vaccine production — a cell line where the virus is actually growing and busting open the cell walls, essentially," Coons said. "And then we did candling of a series of eggs that are at different stages of growth."
"You take a light, and you shine it on top of the eggshell, and you can see all the veins inside of the egg, and the embryo and all that stuff … to see the development," student Jessica Lewis said.
The goal is to see different stages of the embryo's development.
"It relates so much to what we do in class, right?" FFA advisor Susan Mitchell asked her students.
"We talk about it all the time — it's so much science now. It's what we push in my classroom," Mitchell said. "But the fact that they can actually see the hands-on, and what we do and how applicable it is to real-life agriculture — it's a good feeling. I feel like you guys got it today."
"Agriculture is not just about the ranches, the farmers. It's about the people who invest their time developing, like, vaccines for rabies and working on the agriculture epidemic," Kelso said. "The White House issued a statement saying we need agriculture to prevent the world's economic problems — we're the highest producer of chicken [as a county] — if we were to go out of business with our chickens, how the whole economy would collapse. It'd be catastrophic, basically."
Messing with people's food sources can cause economic turmoil, Mitchell said, because of rising costs to find remaining food or import more.
"The agriculture industry here in Delaware has about an $8-billion impact. So it's extremely important for us to be able to feed the people in our state and country and the world, so that they … have the time to pursue research and development, technology and science," said University of Delaware student David Townsend, former FFA state officer.
"There's so many opportunities within the agriculture sector that are just as important to help our farmers and ranchers stay profitable," Scuse said. "Look at how important this facility is, to provide vaccines so that we have a healthy livestock and poultry industry — the research side of it, the development, the testing, just the different jobs that there are within this one facility."
An ag career might include engineering; plant and livestock genetics; drone technology to survey fields; satellite technology and much more.
"So the whole day is to try to bring awareness about the diversity in jobs within the agriculture sector," said Scuse, who works for the USDA's Farm & Foreign Agricultural Services.
Manufacturing Day is "an annual celebration of the strength of American manufacturing and an opportunity to educate and motivate the next generation of manufacturers," according to the senator's office.
The adult delegation also visited New Castle's Croda Inc. facility, which produces bio-based chemicals, and the Delaware Manufacturing Development Center (DMDC), which provides training through Polytech Adult Education center in Dover.
The delegation included the Delaware and national heads of the Manufacturing Extension Partnership program, a nonprofit that helps small- and medium-sized manufacturers.
"We've traditionally been known for helping clients through [various] certifications," said Delaware MEP head Rustyn Stoops. "We're also helping manufacturers go global … helping manufacturers get their strategic plans in place to go overseas."
If people aren't talking to MEP, they should be, Stoops said. MEP helps with growth, exporting, supply chains or new technology. The extension is found in in all 50 states and Puerto Rico.
"We're … helping get them to the latest technologies and information they need to be successful in this global environment," Stoops said. "We work with … state and federal partners, other industry resources — we help companies pull it all together."