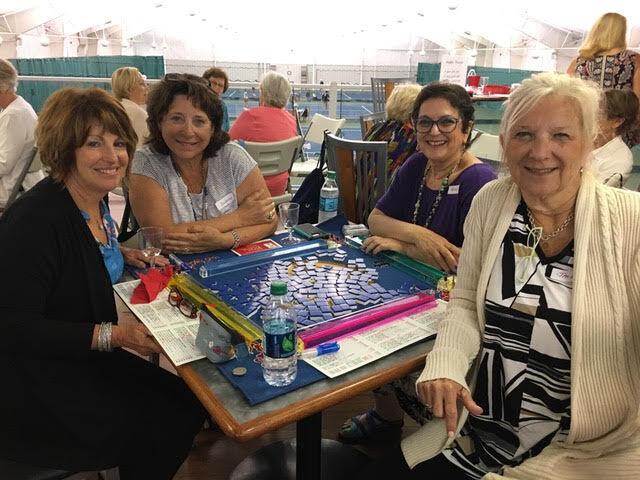 The daylong party is usually fun and games, but the cause is not. Every year, Delaware Womenade hosts a fundraiser to benefit women's emergency shelters in Kent and Sussex counties. Although the fourth annual Games Day, set for for Sept. 14, was canceled (to prevent the spread of COVID-19), emergency shelters need support as much as ever.
That's why the Womenade Sussex County chapter is encouraging the public to send donations directly to the People's Place domestic violence programs and shelters, to support local women in crisis.
"This year, in lieu of Games Day, Womenade is reaching out to you for donations to help these women and children 'find their path to growth and independence' and live a life free of violence," organizers said. "You can set up your own games for the planned date of Sept. 14, or you can play another day."
Usually hosting a day of board games, auctions and catering in Ocean View, the local Womenade group are cutting to the chase this year: Delaware families need help now.
"It's important because there are so many women and children who are living in very violent situations, and they're escaping for their lives," branch founder Teresa Zatcoff has previously said.
The People's Place shelter programs have witnessed more hotline calls with police involvement. Due to the pandemic, SAFE and Abriendo Puertas need to physically spread their services farther, in order to maintain social distancing at the shelters and on public transit.
Especially this year, there have been concerns about increased abuse during the pandemic, especially with raised tensions, families being homebound, stress over work or finances, and limited access to typical resources during the shutdowns.
Cash is king in 2020, as many shelters have politely declined most supplies, in order to prevent the spread of COVID-19. Monetary donations keep these groups running.
But over the years, Delaware Womenade has contributed tens of thousands of dollars' worth of funds and supplies, thanks to monthly club dinners and annual supply drives. The donations "help the families find their path to growth and independence."
Womenade is a grassroots organization of women helping women, located throughout the country. The Bethany-area group (formerly known as Delaware by the Sea Womenade) was founded around 2010, solely to support People's Place, a Milford non-profit that operates three emergency shelters for victims of domestic violence in southern Delaware. The first Games Day was organized after People's Place lost about $1 million in government support.
Amongst other things, People's Place operates two SAFE ("safety, advocacy, freedom and empowerment") shelters and one Abriendo Puertas (meaning "opening doors" in Spanish) shelter.
"We are basically a group of women that are living in this community … trying to make a difference for women that really come from such horrific situations with abuse," said Zatcoff. "It's really about women getting together. It's very easy. You can give whatever you can afford."
Violence isn't the only way people control their romantic partners. Some abusers destroy birth certificates, Social Security cards or immigration documents. They control household moneys, so the victim can't attain financial independence. Survivors may need a hand with anything from clothing and housing deposits to childcare and auto repairs.
"It's prevalent in our community and the world where we live," Zatcoff said. "They have the courage to leave their situations, which is so hard, and we can provide the necessary help that will put them in the right direction and make their lives a little happier."
Shelter locations are not advertised, in order to prevent the abusive persons from tracking down their estranged partners. Statewide, People's Place also offers counseling, job placement, community justice, life skills, domestic violence services, emergency shelters and more (details at http://peoplesplace2.com).
Learn more about Delaware Womenade by emailing delawarewomenade@gmail.com.
Donations are tax deductible. People can use either of these options to ensure the donations are directed to the shelter programs:
• Mail a check to "People's Place2" (memo "SAFE and AP"); 1129 Airport Rd.; Milford, DE 19963; Attn.: Kim Rigby
• Donate online at www.peoplesplace2.com (Click "Donate Now." Under "I would like to direct my gift to," select "Other." Under "Unrestricted (u) or List Specific Program…," write "DV Program. Under "If you'd like to include a message…" write "This donation is given to SAFE and Abriendo Puertas on behalf of Delaware Womenade.")
"With the COVID-19 pandemic impacting everyday life, we thank you for your support and wish you and your family health and safety," organizers said. "Without you, none of this is possible!"