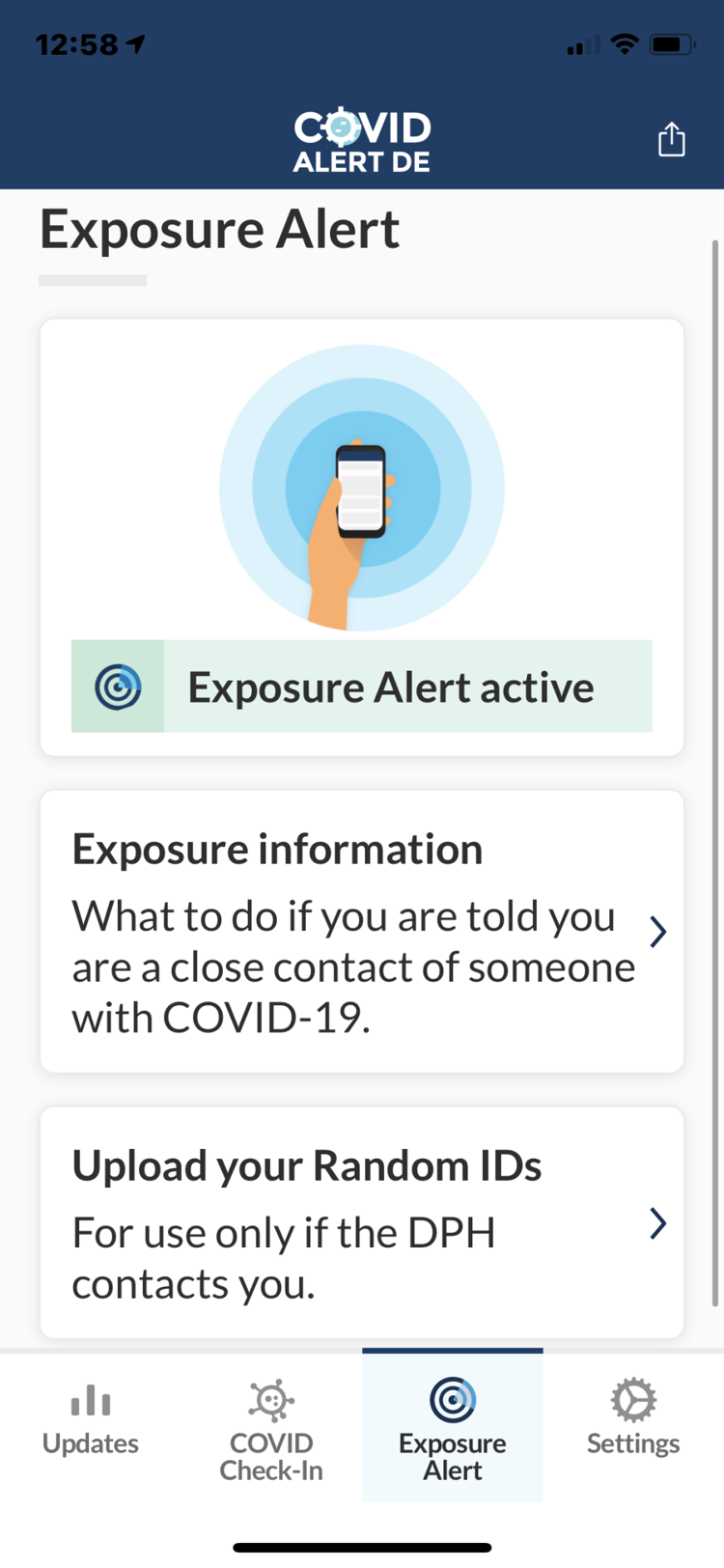 Last month, Virginia became the first state in the nation to launch a COVID-19 tracing app for smartphones. The announcement came with many questions, concerns and reassurances about users' privacy, as people asked how the app could possibly notify people they might have been exposed to the novel coronavirus without keeping track of their every move and their personal information.
Now, Delaware has launched its own app, which like the Virginia app uses a new specialized COVID-19 function of Apple and Google smartphone software to allow users to opt in to the notifications and, if they test positive for COVID-19, provide the information that will then allow people they've come into contact with to be notified that they should get tested.
And the questions nearly everyone is asking are the same: Is my personal information at risk if I have this app installed? Is the government now tracking my every move?
The short answer to both questions is no, and we'll get into the details of why. But first, some basics.
Gov. John Carney, the Delaware Department of Health & Social Services (DHSS), and the Delaware Department of Technology & Information (DTI) on Tuesday, Sept. 15, launched COVID Alert DE — a mobile app available in the App Store or Google Play that is designed to help Delaware fight community spread of COVID-19.
The free mobile app — available to anyone 18 or older who lives, works or attends college in Delaware — uses Bluetooth technology from Google and Apple to securely and anonymously alert users who have been in close contact with someone who tested positive for COVID-19. COVID Alert DE also allows users to log symptoms and get more information on COVID-19 in Delaware.
"This app is an important tool to help Delawareans understand the risks of COVID-19, and to help fight community spread of this virus," said Carney. "Knowing you've had a potential exposure and taking the basic precautions is the best way to protect your most vulnerable family members, friends and neighbors who are at risk of serious illness. I would encourage all Delawareans to download this app and help in our fight against COVID-19."
COVID Alert DE was created in partnership with Ireland-based software developer NearForm. The app is designed to allow for interoperability and exposure notifications across state lines in states that also have exposure notification apps and use the same Bluetooth technology developed by Apple and Google.
Officials emphasized that the app is not a substitute for basic precautionary measures — including mask-wearing, social distancing in public and frequent handwashing. But they also touted its ability to improve the efficiency of contact tracing in the effort to fight to spread of the virus from infected individuals, including those who may have been asymptomatic at the time.
"COVID Alert DE is a new and important tool in the fight against COVID-19 because it supplements the work of the Division of Public Health's contact tracing teams," explained DHSS Secretary Molly Magarik. "Typical contact tracing relies on an individual remembering the names of people they have been in contact with — and for how long. Using the COVID Alert DE app will help to speed up the process of notifying close contacts and identifying close contacts.
"Because we expect younger people to embrace the app at higher rates, we are especially pleased that the University of Delaware and Delaware State University are prepared to promote the app among their students and staff," she added.
Bluetooth tech limits personal info collected
Users of COVID Alert DE may receive an exposure notification if they were in close proximity of someone who tested positive for COVID-19, and also has the app downloaded on their phone. Close proximity is defined as within 6 feet for 15 minutes or more. The app uses Bluetooth technology to recognize when other phones nearby are running the application.
"The COVID Alert DE Mobile App puts power in citizens' hands to protect each other in the fight against COVID-19," said Cian O'Maidin, CEO of NearForm. "The open-source technology was built with privacy and data protection at its core," he emphasized. "The app exchanges regularly-changing anonymous Bluetooth ID, to break transmission chains. The State of Delaware has taken a great approach, using technology that has been peer-reviewed and rolled out successfully in Ireland and parts of the UK. We look forward to working with them to slow the spread of the virus."
Officials have emphasized that the COVID Alert DE app does not collect or share personal information that can identify users. The app also does not use Global Positioning System (GPS) location data to detect the location of users or track movements. Instead, the app uses Bluetooth Low Energy (BTE) technology, which allows phones with the app to recognize when it is near other phones also running the application.
Essentially, the app identifies other phones running the app that are in close enough proximity for long enough for the virus to have spread from one phone's owner to the other phone's owner, and it anonymously keeps track of which phones have met that criteria, not using geographic location or phone numbers or other contact information, but a random identifier just for that phone's installation of the app.
If a user of the app later tests positive for COVID-19, the Department of Public Health will give them a special code that they can choose to enter in the app on their phone, which confirms the diagnosis and sets off notifications through the apps on all the phones that met the criteria for contact with the positive-testing person.
Delawareans identified as close contacts of positive cases may receive an alert from the app, as well as outreach from the Division of Public Health's (DPH) contact tracing team. An exposure alert on COVID Alert DE alone will not trigger a call from Delaware contact tracers, officials noted.
"The State of Delaware takes our obligation to protect your privacy very seriously," said Jason Clarke, acting chief information officer at the Delaware Department of Technology & Information (DTI). "We want to reassure app users that your identity and location remain anonymous and that your privacy is protected at all times.
"The app is a tool that can be leveraged to close the gap and provide awareness for you to act upon," he said. "Using the app can help protect you and ensure you are doing your part to help protect others against COVID-19."
Opt in to help fight the spread
So now that you understand the basics of how the app works, the next step is to install it from the Apple App Store or Google Play store. Once installed, the app asks the user to confirm that they are opting in to the notification system by turning on a setting in the new COVID-19 notification element of the phone's operating system. This may require an OS update to your phone if you haven't done one recently (always a good idea for security and other features).
If a suitable app is not installed, the notification won't be active. Users must both download the app and turn on the notification in their phone's settings. That means there's no need to opt out, change settings or remove anything if you don't want to participate, even if you've updated to a version of your phone's OS that offers the notification system.
Once you've turned on the notification settings, you'll be asked to confirm that you're 18 or older, and, optionally, to provide some basic information, such as gender, ethnic background, etc. Then, on the app's "Updates" tab, you can opt to answer a daily inquiry as to whether you're feeling well or whether you may have symptoms that could indicate a COVID-19 infection.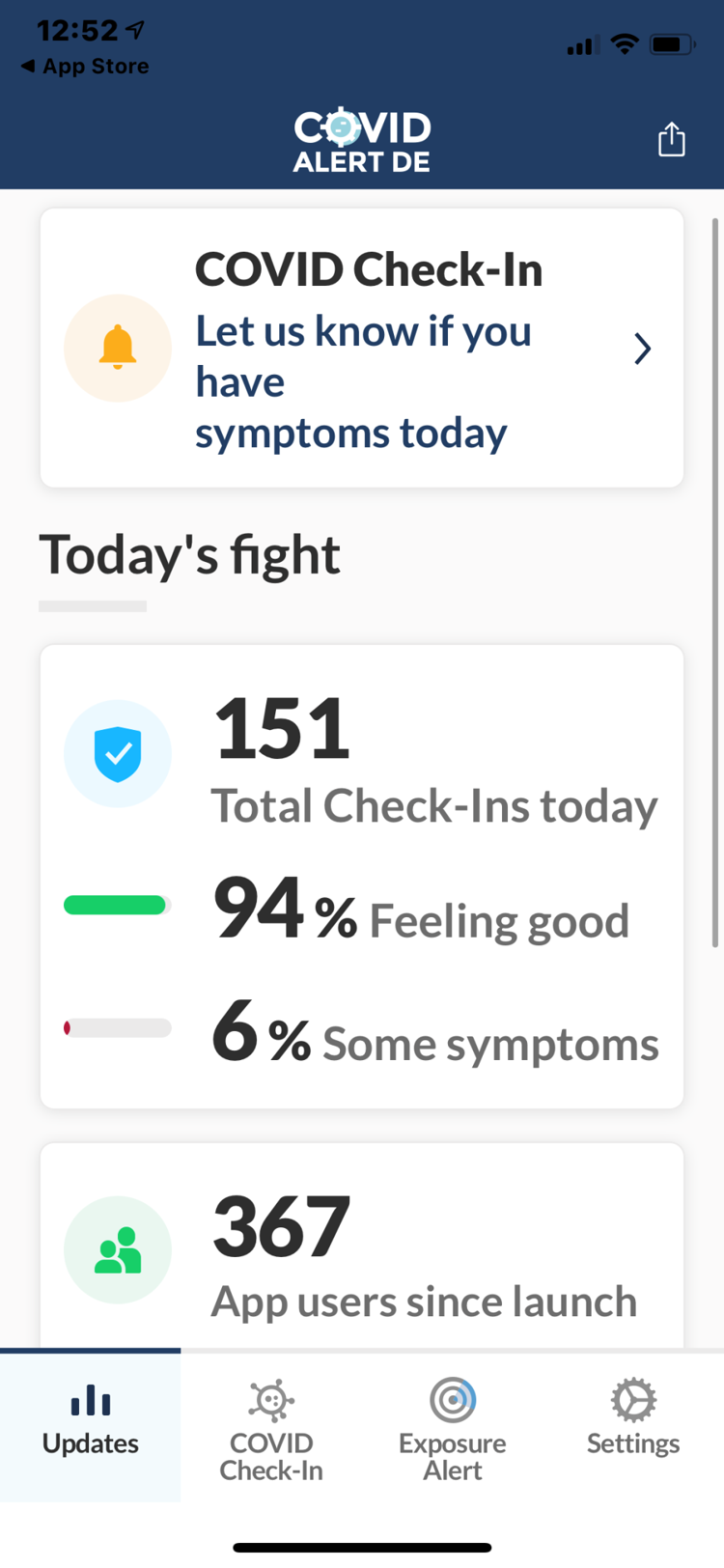 The Updates tab also has a section called "Today's fight," bringing home the message that we're all fighting this virus together. It gives a tally of the number of check-ins that have been made that day, and a percentage of how many users responded that they were feeling good and how many said they had some symptoms that day.
There's also a tally of the total number of users since the app launched — nearly 400 as of mid-day on Tuesday's launch day, and more than 9,400 as of mid-day Wednesday. That's nearly 10,000 Delawareans who are both more likely to find out quickly if they were infected and better able to avoid spreading the virus should they contract it. And there's an easy app-sharing button so you can encourage your friends and family to participate, too.
All in all, it's a pretty easy way to potentially save some lives, and to help keep others healthy.
The COVID Check-In tab of the app gives you that spot to check in daily, and offers more information on how to stop the spread of the virus. It also shows the history of your symptom reporting, showing "0 Symptoms" if you reported you didn't have any on a given day. This could be very useful if you had one or two symptoms you noticed early on but weren't sure if it might be COVID, as you can now better pinpoint when you might have first been ill.
The Exposure Alert tab confirms whether you have the exposure alert notifications active, as well as offering information on what to do if you're told someone you've been in close contact with has tested positive. This is also the screen where you would, optionally, enter your randomly assigned ID number if DPH officials contact you to inform you that you've tested positive. Only then would others using the app be notified if their phone has been in close proximity to your phone.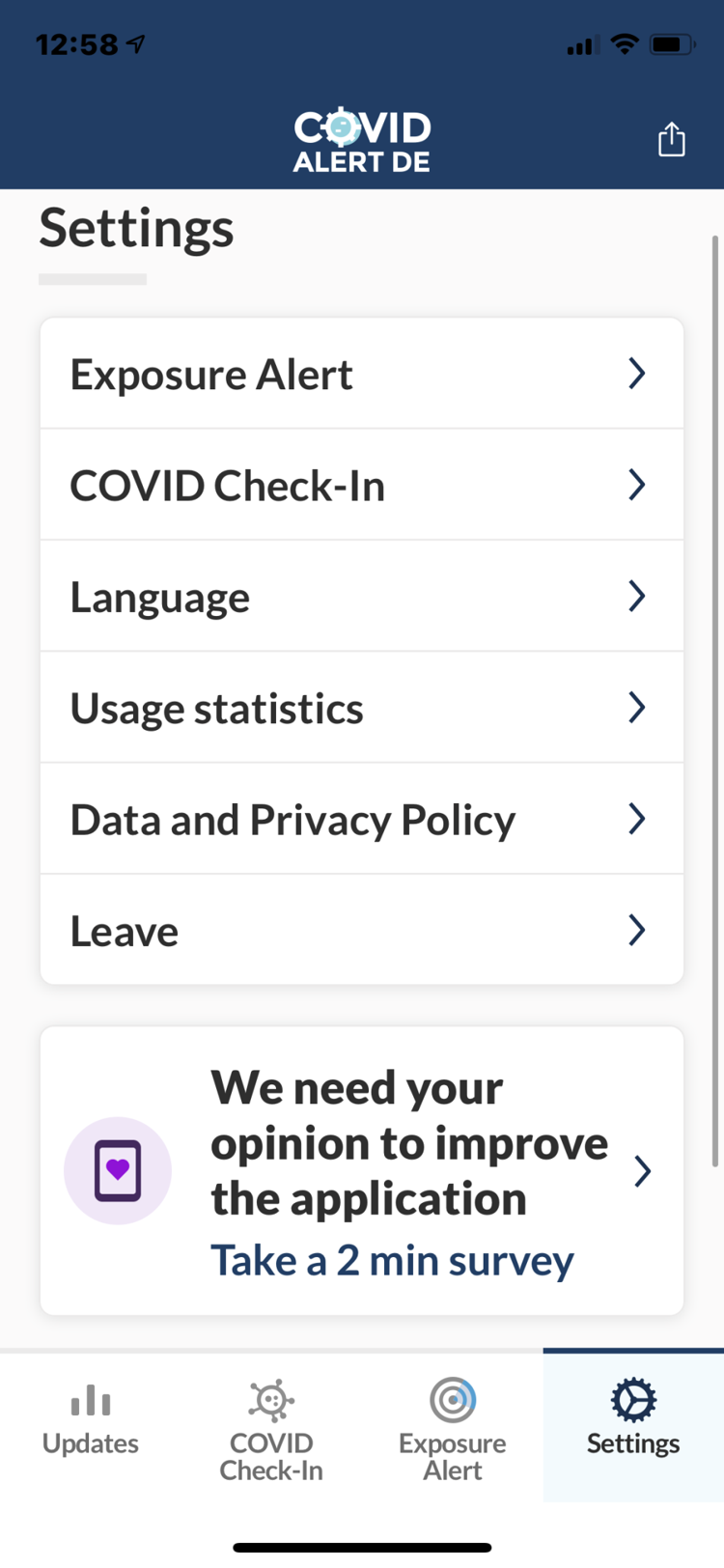 Finally, the Settings tab offers some basic information on the app, easy access to the Exposure Alert notification setting and the basic information you may have entered. (We don't recommend you try the Language setting option in the initial release of the app, at least on iOS — it crashed the app when we used it. Look for updates that will, hopefully, fix that. Personally, I'm hoping Irish is an option…)
And, most importantly for those whose privacy concerns aren't assuaged by the Bluetooth proximity system and the random ID numbers, it also has a "Leave" option, where you can opt back out of the app and its notifications, and delete the little bit of data the app stores on your phone.
Initially, each state or region was developing its own app and database system for these apps, but Apple and Google have been working to tie all the databases together so that even people traveling (Who's been in Maryland this week? It's basically down the street.) can be notified if they might have been exposed at home or while on vacation in another state. The ability to opt in to the notifications is still dependent on an individual state to have its official notification app available to install. Delaware is an early adopter, but many more states are in the process of rolling out their own apps.
Overall, the COVID Alert DE app is a very quick, simple and effective way to help fight the spread of a deadly illness that is also increasingly known for its long-term impacts on the bodies of those who get it and recover. We all need to do our part if we're going to eradicate this virus, and now we have a new tool to add to our hand sanitizer, masks and 6 feet of personal space.
Visit de.gov/covidalert for additional information about COVID Alert DE. Businesses, nonprofits or organizations interested in COVID Alert DE can email questions about partnership opportunities to DHSS_TownHall@delaware.gov. The app can be downloaded from the Apple Store (https://apps.apple.com/us/app/covid-alert-de/id1527783171) and the Google Play store (https://play.google.com/store/apps/details?id=gov.de.covidtracker).