The Capital Wing of the Commemorative Air Force (CAF) will bring its unique "art deco" Fairchild F24 World War II warbird to the "Wings & Wheels" event at the Delaware Coastal Airport in Georgetown on Saturday, Oct. 2.
The Capital Wing will also be flying its WWII Stinson L-5 Sentinel and Boeing PT-17 Stearman biplane. The Delaware Aviation Museum Foundation (DAMF), based in Georgetown, will have its North American B-25 twin-engine twin-tail WWII bomber Panchito flying overhead. Warbird rides will be available in all aircraft.
"The Fairchild F24 puts class back in classic warbirds. It's like a flying living room," organizers explained. "This aircraft is instantly recognizable from its big, gull-like yellow wings. The Capital Wing airplane is one of only five of its type still airworthy in the U.S. and the only one known to be flying rides for the public."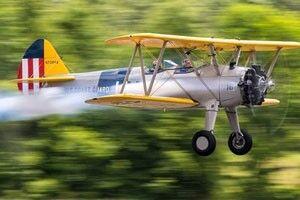 The Fairchild carries up to three passengers and is considered ideal for rides for families with children older than 12.
Warbird Rides in the Fairchild, Stinson L-5 and Stearman biplane can be purchased in advance at the Capital Wing bookings website at https://www.capitalwingwarbirdrides.org/. A flight experience in the B-25 Panchito bomber can be purchased at the DAMF website at https://www.delawareaviationmuseum.org/damf/warbird_flt-adventures.html. Any unsold flights will be available for purchase onsite the day of the event.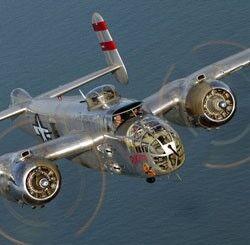 The "Wings & Wheels" event will be at the Delaware Coastal Airport from 10 a.m. to 4 p.m. on Saturday, Oct. 2.
"The Capital Wing is delighted to be able to show off our gorgeous example of Fairchild airplane design at Georgetown and provide warbird rides to the Delmarva public. Keeping our warbirds flying is a part of the CAF mission to honor the thousands of men and women who built, serviced and piloted these vintage WWII aircraft," said Pete Ballard, Warbird rides coordinator for the Capital Wing.
"We're also going to participate in the 'Flour Bombing' competition with our Stinson L-5 Sentinel, which was a forward air controller aircraft in WWII. The public will not want to miss this exciting event with aircraft trying to hit the bullseye from 200 feet above the runway," he said.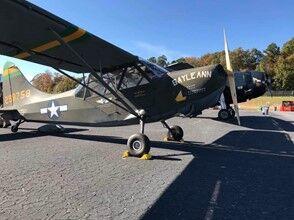 In addition to the warbirds, the U.S. Naval Academy parachute jump team will be performing, there will be a large WWII re-enactor encampment and the Historical Vintage Car Club of Delaware is holding a car show.
The Capital Wing is an all-volunteer non-profit organization based in Culpeper, Va., with more than 100 members and is a unit of the Commemorative Air Force, whose mission is to educate, inspire, and honor through flight and living-history experiences.
CAF Capital Wing aircraft and B-25 bomber rides sell out quickly, so it is recommended those interested purchase early. For more information regarding flight requirements, check-in times, cancelations and changes, email capitalwingcaf@gmail.com or webmaster@delawareaviationmuseum.org.
The Capital Wing, Commemorative Air Force and Delaware Aviation Museum Foundation are non-profit 501(c)(3) organizations and ticket purchases may be tax deductible.