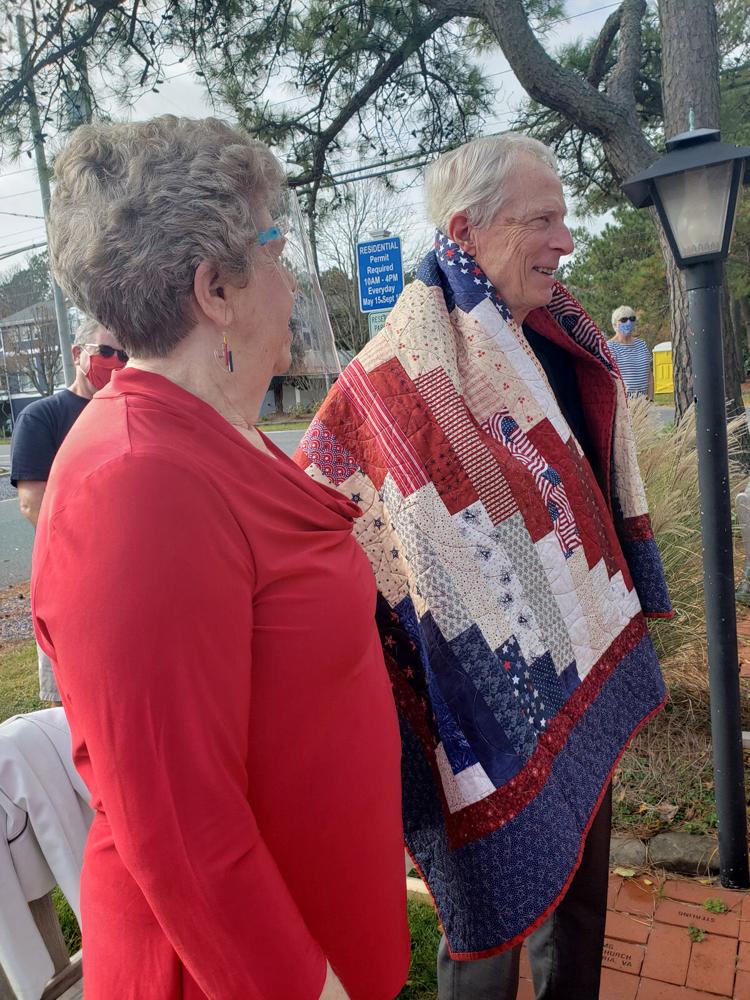 Five veterans were presented with handmade quilts, fashioned in shades of red, white and blue, at an "Honoring All Who Served" Veterans Day service at St. Martha's Episcopal Church in Bethany Beach.
As each name was called during the outdoor ceremony on the sunny morning of Wednesday, Nov. 11, a "Quilt of Valor," made by members of the St. Martha's Stitchers, was placed around the veteran's shoulders, evoking nods and smiles of appreciation and tear-filled eyes.
"These quilts were stitched with love, prayer and healing thoughts, and they are quite magnificent," the Rev. David Beresford, interim rector, said, adding that each quilt was "an expression of gratitude to comfort and thank veterans."
Recipients at the Nov. 11 ceremony were Hal Barber, Frank Bell, Clem Edgar, George Jones and Bill Parler.
Barber was in U.S. Naval Intelligence from 1944 to 1964. He started his career working with codes in the South Pacific and also represented the United States at an international trade fair in Zagreb, Yugoslavia. He was awarded a medal from the Freedom Foundation for helping to bring understanding of the American way to the world, according to information provided by the church.
After completing active service, he worked at the National Security Agency and the Armed Forces Security Agency, traveling widely in the United States and overseas.
He and his wife, Dottie, and their family, have attended St. Martha's since the 1970s.
Bell graduated from the Merchant Marine Academy in 1958, earning a commission in the Navy Reserve and serving until 1964.  His travels in dangerous Cold War years took him to Lebanon in 1956 to deliver supplies to Marines under fire.
After completing military service, he worked as an engineer for Sperry and Westinghouse, eventually joining the National Security Agency until retirement.
He and his wife, Jean, have attended St. Martha's since 2007.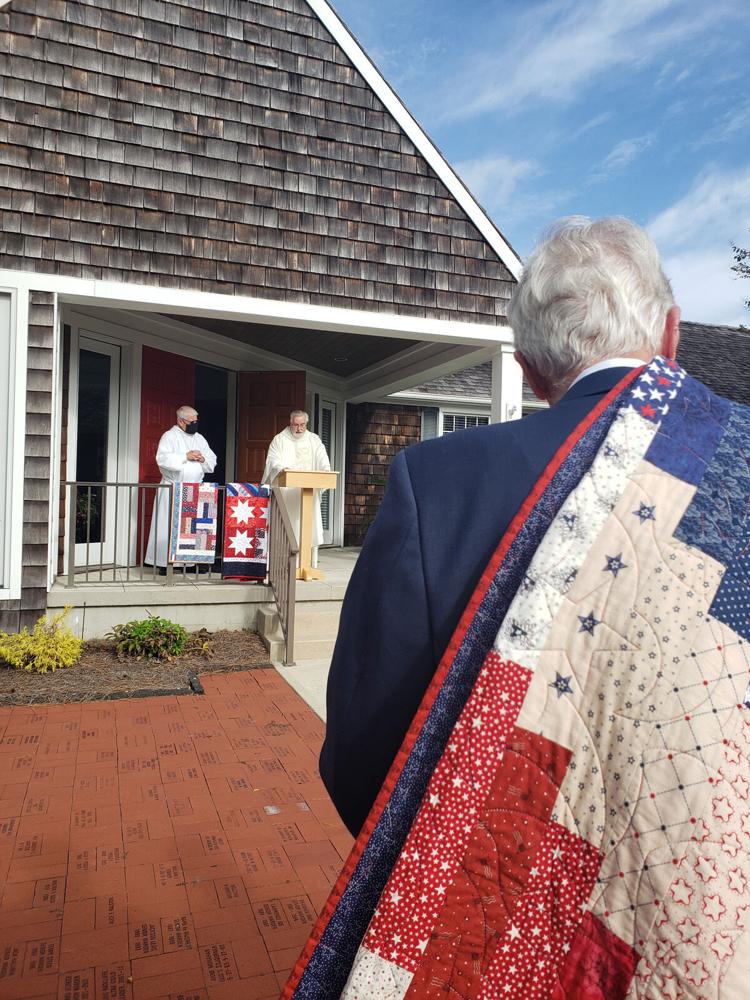 Edgar was commissioned through ROTC as a lieutenant in the Army Engineer Corps, serving from 1965 to 1967. He was stationed at an airbase near Saigon during the Vietnam War, commanding an engineering detachment building housing, latrines and mess halls. He was the architect and taught himself key elements of construction. Later, he worked in the plastics and paper industry in engineering, manufacturing and specialized sales for global companies such as Scott, Kimberly Clark and Hasten.
He and his wife, Tina, and their family have attended St. Martha's since the 1960s.
Jones served in the U.S. Army's counter-intelligence corps from 1963 to 1967. About two and a half of those years were in Germany, in a small but secure location near Frankfurt during the Vietnam War. He met his wife, Kristin, while in Germany, where her father ran an American company. They have been married for 52 years.
After serving in the military, he became a newspaper reporter for the Frederick Post in Frederick Md., then for the New York Times.
He and his wife, Kristin, have attended St. Martha's since 2002.
Parler graduated from the U.S. Naval Academy in 1951 and served in the Navy on active duty and in the reserves for 25 years, until around 1975. Immediately upon graduation from the Naval Academy, he was assigned to combat duty in the Korean War, as executive officer of large landing ships supporting Marines in close combat, including an especially harrowing evacuation of a Marine unit in extreme danger.
After completing active service, he earned a law degree from Harvard and continued serving the country as general counsel at the Nuclear Regulatory Commission.
He and his wife, Ann, have attended St. Martha's since 2005.
Beresford blessed the quilts and, in prayer, expressed thanks for those who fought for freedom "and entered into danger and were separated from those they loved for our sakes."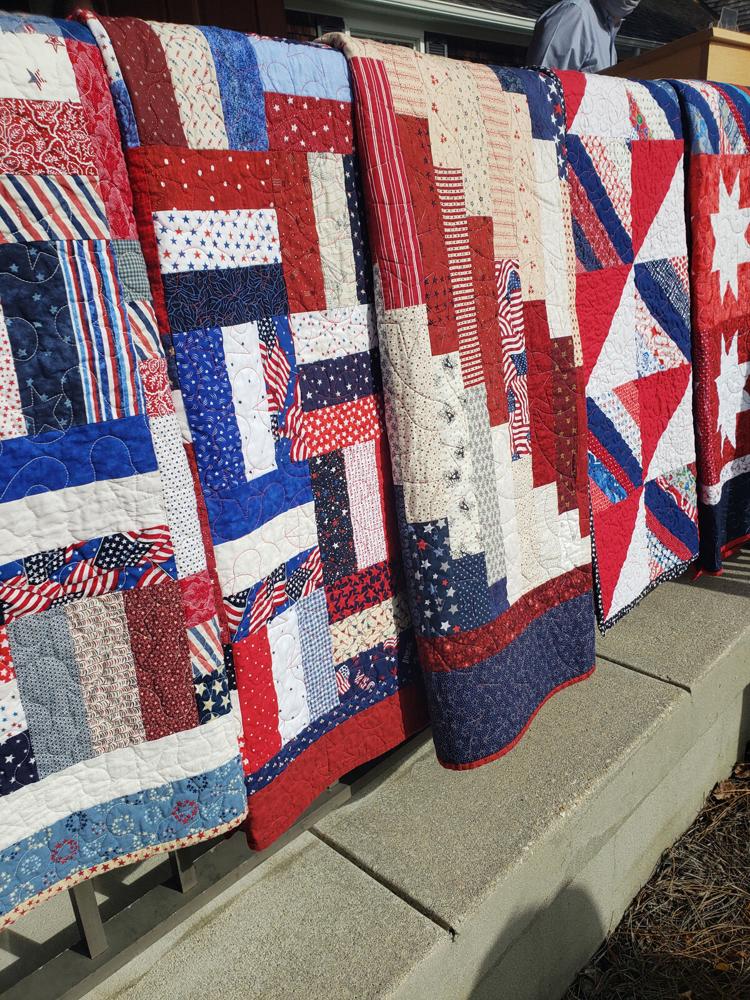 Recipients were chosen from among 20 veterans who attend St. Martha's and names on the weekly prayer list who are on active duty.
The program was sponsored by the Delaware Chapter of the National Quilt of Valor Foundation, whose mission is to "cover service members and veterans touched by war with comforting and healing Quilts of Valor."
More than 260,000 male and female veterans nationwide have received Quilts of Valor.
St. Martha's got involved in 2014, when church member Carol Boebel recruited members and friends to sew quilts for the annual Operations SEAs the Day Warrior Family Beach Week.
During the Veterans Day church service before the quilts were presented, Beresford talked about how his father, also a veteran, survived war and kept memorabilia from the places where he was stationed.
"A lot of soldiers at that time were just kids. We come to our Veterans Day service today and we are celebrating men, women and all veterans," he said, adding that believers are "encouraged by the words of Jesus."
"In Jesus we see the qualities of peace and not violence. The path to peace leads to eternal life and to God. As a people, we must not allow ourselves to slip into a kind of peaceful slumber but to … start now in the way we treat each other.
"It is Jesus who teaches us the way of peace."