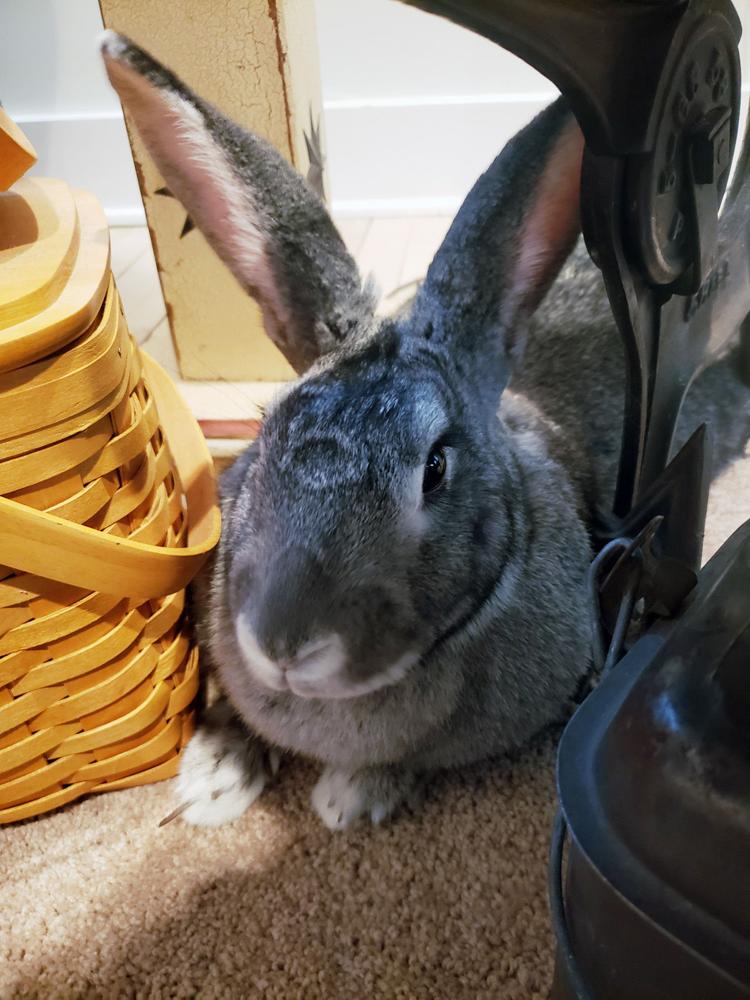 Biscuit wasn't too sure about the guest her family was welcoming.
At first, the gray, 2-year-old, 15-pound Flemish Giant rabbit calmly sniffed and peered out from her roomy cage but when her owner, Millsboro Mayor Michelle Truitt, lifted her onto the floor and a camera clicked, she hopped away and wedged herself under a table, next to a basket, for security, making Truitt and her teenaged daughters, Lindy and Leigha, laugh.
"She likes to find a place to squeeze in and settle," said Truitt, who is completing her first term as mayor.
"My dad came home from work and he said a man he works with was breeding these rabbits. He said, 'Would you girls be interested in having one?' and we said, 'Of course.' That was in May two years ago,'" said Leigha, a sophomore at Sussex Academy.
One of 11 or 12 in her litter, Biscuit was about a foot long when Robert Truitt took her home.
"She was really nice. She just wanted to sit on my lap, and I petted her," Leigha said.
"But she'll express her displeasure," Truitt added.
"She stomps her back feet," Leigha said about the large-eared pet who has a fondness for carrots, green peppers, lettuce and strawberries, along with her prepared rabbit food.
Both Lindy, a senior at Sussex Academy, and Leigha feed Biscuit and clean her cage, but Biscuit is allowed to hop around the house.
With a life expectancy of 10 to 15 years, Flemish Giant rabbits are considered the largest breed of the species. Bred for fur and meat, the animals became popular as pets because of their docile personalities.
Originating in Ghent, Belgium, and dating back to the 1860s, Flemish Giants have glossy fur and are identified by the American Rabbit Breed Association as having seven colors — black, blue, fawn, sandy, light gray, steel gray and white.
"She lays on the furniture with us. She's nosy. She tries to see what we're doing all the time," Lindy said.
"She likes to investigate," Truitt said, laughing as she recalled the rabbit chewing through a charger wire, and somehow escaping being shocked or injured.
"She can be stubborn. She jumped out through the top of her cage a few months ago. She has woken me up a couple times in the middle of the night stomping her feet," Lindy said, as Truitt explained the rabbit gets scared when there's a thunderstorm or other loud sounds, like tree trimming outdoors.
In past years, the Truitt family had a dachshund named Oscar, fish and guinea pigs. Rob Truitt, a state trooper, had a K-9 police dog — a German shepherd called Hunter — who died in 2004. The family feeds outdoor cats, but Biscuit has their full affection.
"I like having a pet to play with. She likes being around our family," Lindy said.
"That makes it fun."