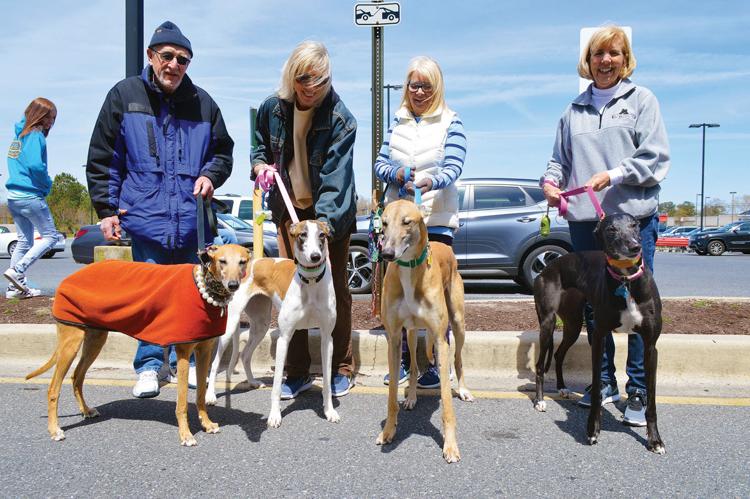 Greyhounds seek homes in Delaware
With a long snout and elegant legs, the greyhound has captured hearts of some Delawareans. Greyhound Pet Adoptions of Delaware (GPAD) is a volunteer group dedicated to finding homes for retired greyhounds.
The dogs are all former racing dogs who have outlived their usefulness on the track. With competition having once been thrust upon them, the retired animals are sent north for adoptions.
Once a month, the GPAD volunteers meet at the Millville Petco to encourage pet adoptions and introduce available dogs to curious visitors. Last year, they found homes for 50 dogs.
All of the humans said they fell in love with greyhounds when they first met the tall, slim creatures.
For such an athletic animal, greyhounds are surprisingly docile, like "45 mph couch potatoes," Mary Buckley said.
"They sleep like they race," Ron Wohlust joked, boasting that the dogs are easygoing, rarely bark and are good with other animals and small children.
People can meet greyhounds at the GPAD booth on the second Sunday of each month from 11 a.m. to 1 p.m. at Petco in Millville.
GPAD will also have a booth at Companions at the Campgrounds, a family-friendly event on Saturday, May 12, from 10 a.m. to 3 p.m. at The Resort at Massey's Landing, 20628 Long Beach Drive, near Long Neck.
The group also hosts greyhound meet-ups and walks around Sussex County. Details and schedules for Greyhound Pet Adoptions of Delaware are online at www.gpadelaware.org.
By Laura Walter
Staff Reporter