Teayra Bowden has never tried vaping.
The high school senior sees classmates puffing favorite flavors and knows they mostly duck into the restroom at school to do it, but she sees the devices not as cool, but as dangerous.
"Everybody always says tobacco and nicotine products are bad, but nobody ever explains it. … I really found out what is in cigarettes, what is in vaping devices, that makes them so bad.
"The biggest thing I learned is that there is rocket fuel in both and I was blown away. I thought rocket fuel was just for rockets, made specifically for that purpose. It made me think all the smoke that comes from rockets, the smoke that comes from our cars, that's disgusting," said the Wilmington, Del., resident, who attends Mount Pleasant High School.
"It's really bad for you. I wouldn't want to that in my body," she said.
Neither does she have friends who vape — although she sees others vape, largely, she said, as the result of peer pressure.
"Of course, if your friends are doing it, you're going to be like, 'I want to try it.' There's a lot of vaping at school parties," she said.
The smell is fruity or minty, and some vaping devices look like computer flash drives, so it's not easy to tell if a student is vaping, she said.
Bowden, 17, has been a member of Kick Butts Generation of Delaware for about five years.
"I went to the meeting and I learned a lot of information," she said, explaining that members of the organization visit middle schools.
"We set up a flash mob. Before lunch we go to random tables in our Kick Butts Generation T-shirts and they say, 'Hey, who are you?' We start telling them who we are.
"Music plays and we randomly get up and do choreography to it, then we talk about our organization and give them really cool facts. People learn a lot from us. We've had a lot of people come up to us and say, 'Wow, I didn't know this. I'm going to stop smoking. I'm going to tell my family about this,'" she said.
"The American Lung Association has been sounding the alarm for more than a decade about e-cigarettes, the use of e-cigarettes and vaping. We know we need to protect our children from all tobacco products," Deborah Brown, chief mission officer for the American Lung Association's Newark office, told the Coastal Point.
Vaping, she explained, is inhaling the vapor from a liquid that is heated and that contains several chemicals and heavy metals.
More than one in four high school students now vape, and there has been a 135 percent increase in e-cigarette use. Brown said the average age group for vaping is 11, 12 and 13, through teen and adult years.
"It's so popular because, with young people, there's peer pressure. I don't think young people understand the nicotine dependence that can come from these products. But we have done such a good job of educating them about the harms of traditional cigarettes," she said.
She said she knows of many young people who become dependent on e-cigarettes and have great difficulty quitting.
"Vaping and e-cigarettes are considered tobacco products. Young people are more likely to use e-cigarettes or vape if their peers do. Young people think e-cigarettes or vaping is safer. They are unaware of the nicotine and dependency. We know flavors play a big role in young people starting to use these products," she said.
Anna Miller, lead nurse for the Indian River School District, who floats from school to school, told the Coastal Point that, until recently, vaping was limited to high school- and middle school-aged children.
"Now, society has let go, so much, of parental support and parental constraint, and kids question their parents and authority younger and younger. … Because of the Internet, children are exposed to so much more than they use to be. It would have been unheard of that fourth-graders would know about cigarettes or e-cigarettes, but now everything on the internet is up front and in their faces," she said.
School officials started becoming more concerned about vaping about a year ago, she said.
"Locally, we haven't experienced it as much as some of the bigger metropolitan areas have, but once metropolitan areas get it in the news, you start to scratch your head and say, 'I wonder if that kid I saw today was vaping,'" she said.
At a lecture she attended, Miller learned about toxic poison in e-cigarette vapor.
"People have a false sense of security with these e-cigarettes. It is nicotine in water, but there is a list of about 60-plus other chemicals — bleach… there could be arsenic.
"And those particles are very fine, so they are inhaled, but they are also falling onto your furniture. Are they accumulating? If these chemicals are laying on this furniture, are our children ingesting these chemicals without actually vaping them?" Miller said.
Because they are flavored, she said, it's difficult for parents to know if children are vaping.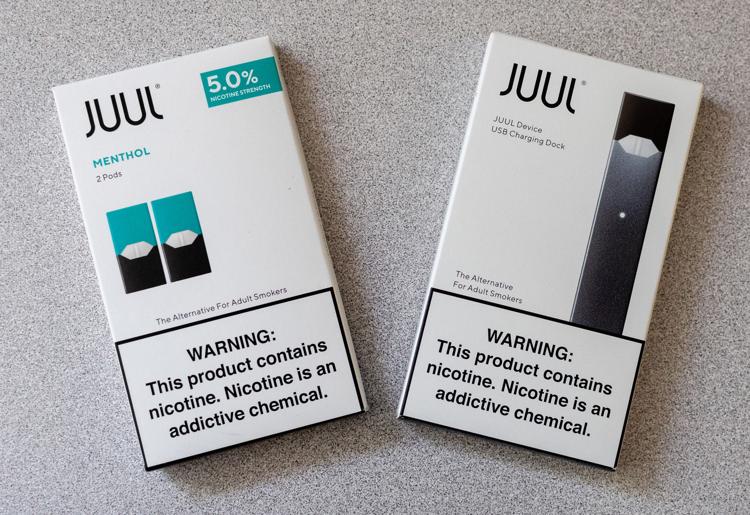 "If your kid comes in the door smelling like grape Kool-Aid, the parents are not always thinking about him doing something harmful. Whereas, if a kid was hanging out back smoking cigarettes, when they come in, they stink. They smell like cigarettes," she said.
Students hear about dangers of vaping in health class at school, but a major curriculum change to really target it would require approval from the board of education, Miller said.
In the health office, though, she gently counsels students.
"Nurses say, 'Hey, your teacher kind of has a concern about you. You've had your head down a lot.' You use that opportunity not to jump straight to vaping, but to say, 'Did you sleep well last night? Did you eat breakfast? How did you end up in the nurse's office?' It's kind of that subtle way to get around to it," she said.
High nicotine levels inhaled while vaping can cause headaches in school-aged children, as well as difficulty focusing and restlessness that nurses ask about.
"Even if they flat-out deny it, a friend might tell the teacher, 'I saw John when he got to school this morning, and smoke was rolling out of his car.'
"If a student refuses to admit it, there's not a lot you can do about it," she said, but some freely admit it, or ask if a student who has become ill was vaping.
"If they're scared enough, they'll talk to me about it," she said.
Some students vape marijuana oil, but generally they are high-school age, Miller said.
"We haven't seen that at young ages," she said.
She suggested parents help their youngsters by setting a good example and supporting them as they try to quit. Tips are on the website at www.kidshealth.org.
In January, the Trump Administration announced that thousands of flavored e-cigarettes will be allowed to remain on the market, "a reversal from when they said they would clear the market from all flavored e-cigarettes," Brown said.
"So there are some loopholes that are going to leave children unprotected. The American Lung Association is very concerned about that," she said.
She's said she's optimistic, though, about the proposed Reversing the Youth Tobacco Epidemic Act, which would remove all flavored tobacco products.
"Juul would be prohibited in this bill. The flavored pods would be prohibited. One loophole is a puff bar will be allowed," she noted.
"A puff bar is small enough to fit into a pocket. It resembles a flash drive and heats up a cartridge of liquid to create a vapor. It is exempted from the Trump Administration's guidance because it's pre-charged for use and already filled for use. Once the liquid runs out, it can't be recharged or refilled," Brown said.
Its many flavors include mango, blueberry, strawberry and cool mint.
"It's just trading one device for another device," Brown said.
"We'll keep seeing particular devices over the next year. We're going to see many, many devices on the market that meet the loophole and that are permitted by the Trump Administration. So we are really concerned, and that is one of the reasons we are supporting that Reversing the Youth Tobacco Epidemic Act," she said.
The bill has the support of U.S. Rep. Lisa Blunt Rochester (D-Del.).
"When you implement these laws, it takes all of us. All of us are part of making sure we help our young people remain tobacco free," Brown said.
"If we see people selling these products to young people, we have to make sure we educate these people that it is the law. The American Lung Association warns against the use of all e-cigarettes. Inhalation of harmful chemicals found in e-cigarettes can cause irreversible lung damage and lung disease," Brown said.