Surrounded by fresh air, warm sun and a cool ocean nearby, it seems that lifeguards may have the right idea for their morning workouts. And, having retired after 29 years as a patrol captain throughout Fenwick Island and Bethany Beach, Tim Ferry is starting a business based on his lifetime of experience with those intense beachfront exercises.
Coastal Lifesaving is for anyone who either wants to exercise like a lifeguard, or train to actually become a lifeguard.
Ferry will do three types of training, starting with the general, hour-long morning fitness class. To watch from the boardwalk, the guards' daily training looks effective and pretty fun. Now, laypeople can have that experience.
"The bootcamp is for anybody. … I hope to see ages 14 to 60 out there," said Ferry.
Beach fitness requires different skills from what even all-star athletes might use.
"It's not like running on the football field or the soccer field. … It uses different muscles in the body," said Ferry, who has 43 total years in lifeguarding.
Nature's elements give a unique kind of resistance, from the ocean currents to soft sand. Fitness sessions will include "plenty of running, swimming, sit-ups, squats. … They're going to get an absolutely great workout. It's going to be fun and challenging," with music, group learning and relay races. Workouts will change with each class, and everyone can work at their own level.
Lifeguard training covers the typical physical requirements for most pool and beach patrols, and skills including entering the water properly, rescue techniques, equipment use and using semaphore (a signal system using two flags). Though the course does not issue any official license or certification, successful participants will receive certificate of completion and will meet qualifications for most local patrols.
"I will prep and train them, but I go above and beyond what a typical tryout would be. Most of the patrols have similar type of tryout every year, based on USLA standards," Ferry said. "This allows me to prepare them even before the summer starts."
Athletes coming in from the baseball field or other types of sports may be fit, but Ferry's class focuses on the specific physical skills needed for lifeguarding, assuring participants will be ready to successfully try out for local patrols, training in hand.
"That quickness is really what the guards do: jumping off the stand, running out to the water and a quick sprint swim out to the victim, and bringing them back to shore," he said.
The lifeguard training program is for anyone who wants to get a head start on learning to lifeguard (or the person who needs a little more training to pass try-outs).
If people want to train with Ferry with the idea of future lifeguard employment, he also hopes to build a pool of candidates. With participants' permission, Ferry will record their best times to submit to local patrols. That could save time later. If a nearby captain needs to make several hires quickly, he or she could get the training records from Coastal Lifesaving and potentially save time on training new staff.
"Eventually, they'll be able to come to me and say, 'Hey, you got anybody?'" Ferry said.
"I do not hire people. I tell them that it may lead to employment," he added. However, "I've had 43 years. I think most captains would accept my recommendations."
Not having this type of training doesn't prevent anyone from trying out for a beach patrol on their own time — it's just another option for training.
Ferry can also train lifeguards for lifeguard competitions, which are like a field day or Olympics of lifeguard skills: running, swimming, relays, semaphore and much more.
"Competition is a big part of the lifeguarding community. It motivates, encourages. … Some of them are training for the first time, some of them are honing-in on their strengths," said Ferry, whose personal competition specialties are beach flags and the 4x100 sprint. "There's great camaraderie and competition when all the local patrols get together. [After] all that training and hard work … the guys and girls really look forward to showcasing their skills, working as a team."
Specialized guard training can be scheduled on an individual basis, as needed.
Ferry has been a part of hundreds of rescues while also training new generations of lifesavers. As a captain, Ferry has coached and trained multiple USLA national lifeguard competition champions and ILS World Championship competitors. Ferry himself has won 18 beach flag national championships and two 4x100 national championships (and medaled twice in the world championships).
Ferry currently holds the positions of United States Lifesaving Association (USLA) Mid-Atlantic Region vice-president and Sussex County Lifesaving Association (SCLA) president. His fitness business is not officially affiliate with those organizations, but Ferry uses those standards for his training.
At the beach and in the classroom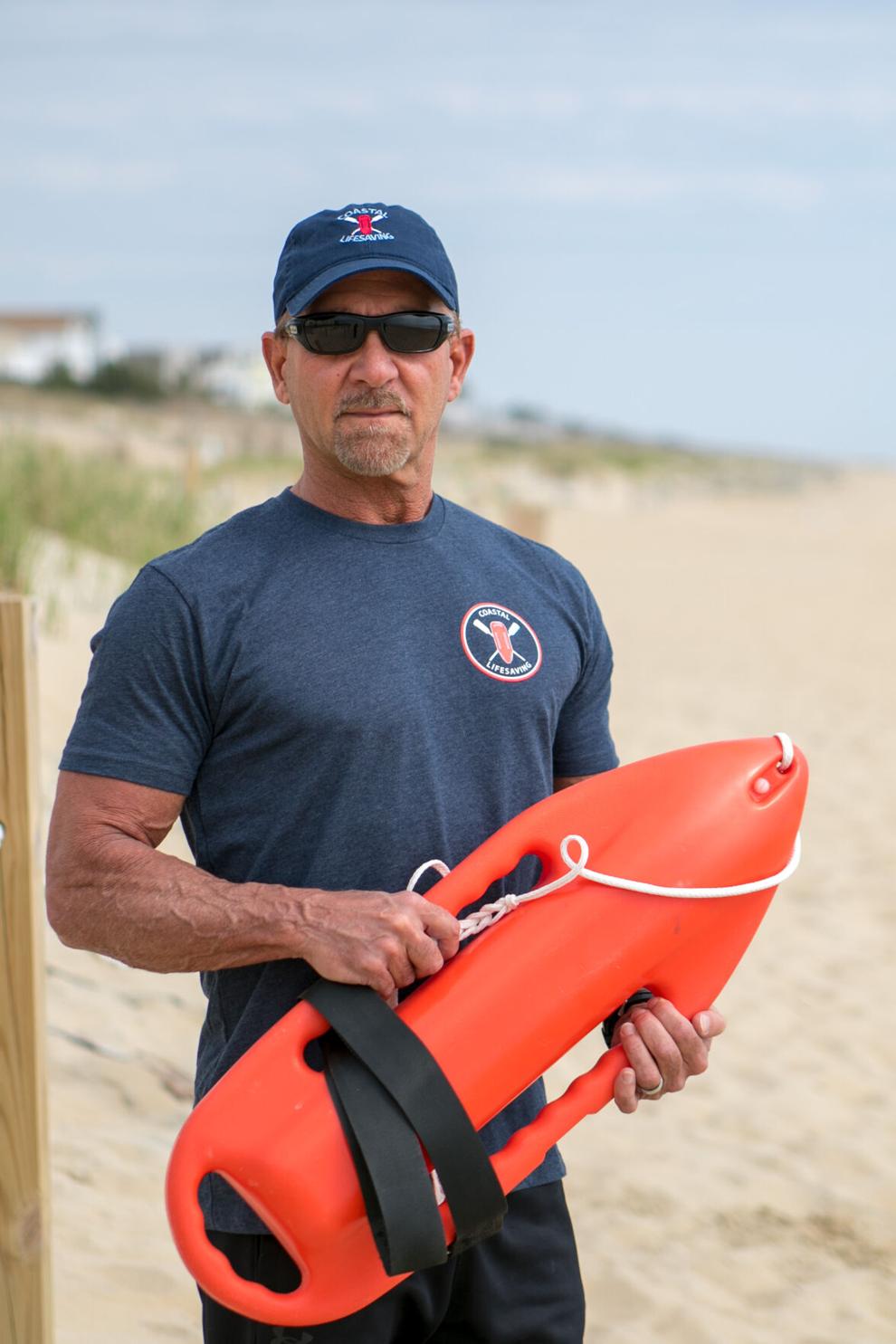 For approximately 30 years, when not on the beach, Ferry has taught and counseled middle- and high-schoolers in the Indian River School District and also in Worcester County, Md. He has also taught Wilmington University courses in teaching and counseling. Coaching teens and adults always felt like an extension of his own classroom, he said.
Remembering his first years on the beach patrol, Ferry's voice turned nostalgic.
"I was 15 years old, and my family had vacationed in Bethany every summer since I remember, and I just had always watched" the guards. When he was finally old enough to try out, Ferry said he really appreciated the responsibility. "It made me train even harder and be more diligent … because I wanted to make sure that everybody was safe on my beach all the time."
He said he felt the same magic in lifeguarding as with teaching: "The first time … you work with a kid in the classroom and you see that 'lightbulb' go on, you will always remember that. Same thing with your first rescue, the adrenaline. … You get that person in, and you never forget that feeling."
On the beach, he said, he's seen families grow up and friendships grow closer.
"You've got their back, and they've got your back. You have to" in order to stay safe. "So they become lifelong friends. It's awesome to watch. And then they tell their friends and family," and the patrol grows.
Coastal Lifesaving classes will meet directly on the beach at Fenwick Island (at Fenwick Avenue and 146th Street, near the Delaware state line). Delaware COVID-19 protocols will be followed. As of Coastal Point press time, face coverings are not required for rigorous outdoor exercise, and individuals will maintain at least 6 feet of social distance between households.
Regular fitness classes cost about $15 each, or people can save money by preregistering online for three or five sessions. Cash-paying drop-ins are also welcome. Coastal Lifesaving branded gear will also be available for sale soon.
For more details, videos or registration for summer 2021, contact Coastal Lifesaving at www.coastallifesaving.com or (302) 344-1993.