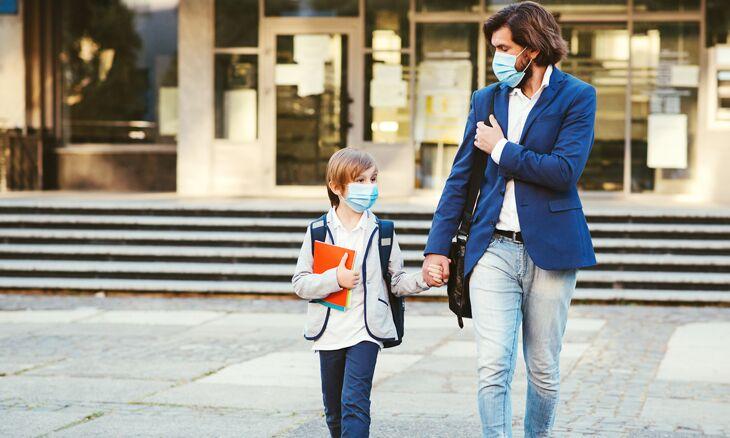 As a parent we all want what's best for our children, but delivering on meeting the needs of our kids — physically, emotionally, educationally — is not always easy. When life is chaotic and stressors are high, the challenges of parenting are often heightened.
Here are some healthy-parenting tips to benefit your children and you, even when you're faced with demanding schedules and competing priorities in life. As part of Bayhealth's commitment to families in our community, this story is part of a series. This is the first of three stories we're sharing about parenting during the pandemic.
Choose a parenting theme based on your values
Start with an overall theme for your parenting style, based on your values. This theme should then carry through in all interactions with your children.
What is important to you can be a great place to start with a theme. Think about how you would want to be treated. Practice the golden rule. Practice kindness. Let this be your legacy with then. A couple can pick a theme together or can meet in the middle with two themes that complement each other, such as respect and love.
Focus on quality rather than quantity
When it comes to raising kids, the quality of your interactions is what matters most. Children are not bought easily by expensive vacations or fancy toys. Think of your best childhood memories — oftentimes they don't come with a large price tag.
Make the most of everyday moments, as those will be the ones that your children store as memories. Learning how to relax with your kids is essential.
Children build positive memories when they and the parent can relax and have fun, even doing mundane daily activities. Maybe this means cooking dinner together while lip syncing to a favorite song, or something spontaneous like splashing in mud puddles after a rain. These relaxed times are also when children share and communicate the most.
Find activities to enjoy together
Parents should look for activities that they and their children can enjoy together regularly. It need not be anything elaborate. Simple things like being outdoors, doing nature walks or scavenger hunts can address the health, educational and emotional needs of the family.
I also suggest family game nights with board games or guessing games you can play while in the car. Games teach so many skills and we can relax at the same time — if we don't take winning too seriously. Another great way to bond with your kids is through sports or the arts.
Establish family traditions
Having rituals that can be easily incorporated into the daily or weekly routine can help keep everyone grounded. You don't have to feel pressured to make this happen every day, but try for at least once a week.
One of my favorites is having a traditional way to end the day. Our family does something before bedtime we call "Reflections," where we sit around the table and light a candle. Sometimes we all hold hands and have a moment of silence, or one of us prepares a question — something silly or profound, like "If you could be an animal, what would you be and why?" or "If you could change something about the world what would it be?" Then we usually end with something we are grateful for.
Traditions like this can be effective in calming down and grounding everyone, particularly during stressful weeks. Each family should do what works for them. It could be just tucking in your child and saying what you are grateful for.
These tips can help you get into a parenting groove that generates positivity for the whole family.
Families are such beautiful systems, each one is unique and quirky. You don't have to be like anyone else. Being yourself teaches your children to do the same.