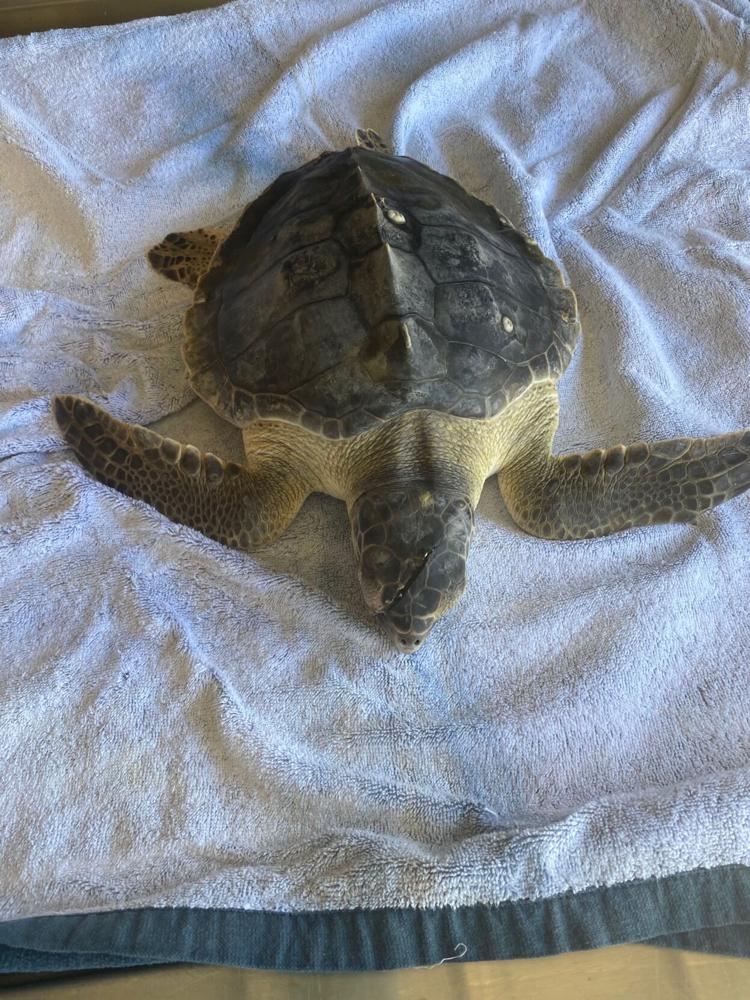 A juvenile Kemp's Ridley sea turtle, the rarest of turtles and listed as "critically endangered," was rescued by members of MERR Institute on Thursday, Sept. 3, in Fenwick Island.
MERR responded to a call last Thursday morning from a Keenwick on the Bay resident who discovered the injured turtle. Video revealed that it was exhibiting some abnormal behavior and bringing its flipper up toward its head, where there was a wound.
MERR responders brought the turtle back to its facilities, where it was examined and prepped for transport to the National Aquarium for rehabilitation. The wound could have been caused by a boat propeller and impacted the top of the head and right eye. The turtle was also underweight and dehydrated, but fairly lively.
Kemp's Ridleys are the smallest of all sea turtle species and change color as they mature. As hatchlings, they are almost entirely dark purple on both sides, but mature adults have a yellow-green or white coloring. They generally prefer warm waters and are rare outside the Gulf of Mexico; however, juveniles regularly migrate to the east coast of North America from Florida to New England.
"I don't know if it still has vision in the injured eye, or if the injuries are more extensive than we can determine upon an external exam," said MERR Executive Director Suzanne Thurman. "But the Aquarium will perform diagnostics to get a more in-depth picture of her condition."
The turtle was named Dread Pirate Roberts, "Pirate" for short (due to its eye), but it will be renamed at the Aquarium once it arrives. When information is available, MERR will post on its website at merrinstitute.org and its Facebook page at facebook.com/MERRInstitute.
When encountering a marine mammal or sea turtle in Delaware, people are asked to report it as soon as possible to MERR at its 24-hour hotline: (302)228-5029. MERR is a 501(c)(3) organization dedicated to the conservation of marine mammals and sea turtles and their habitat. MERR is on call 24/7 to provide response for marine animals that have stranded due to illness, injury or death, wherever they might occur throughout the state of Delaware.