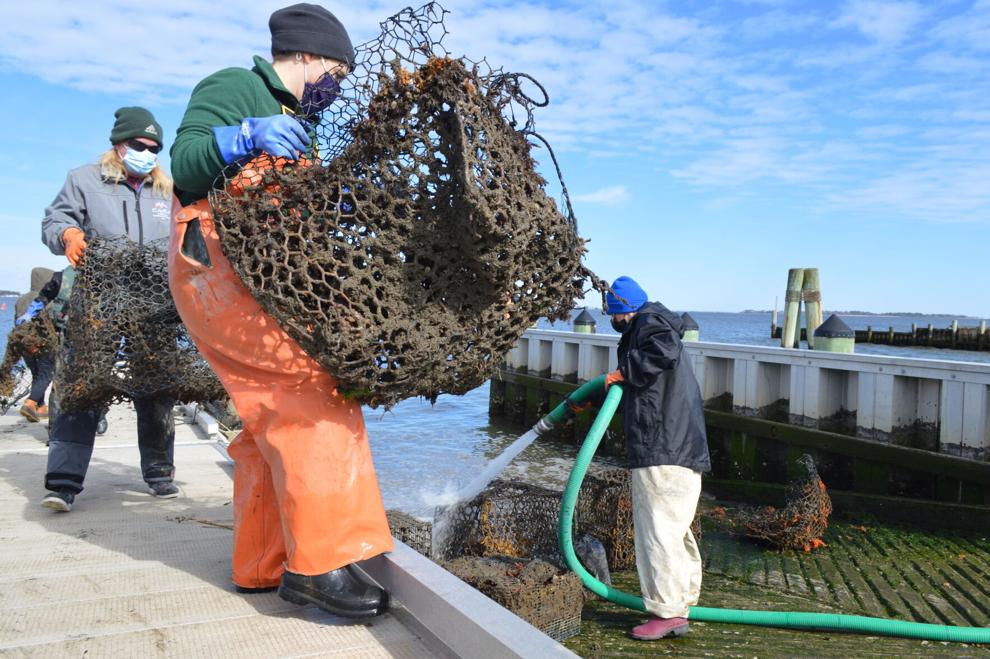 Crab pots by the dozen were hauled out of the water, dripping with mud and a few small fishes. The goal? To catch as few crabs as possible.
Volunteers spent a few days on the Indian River in early February for the Derelict Crab Pot Round-Up. They launched from Holts Landing with a goal of removing as much refuse from the inland bays as possible.
"You've got these beautiful waterways that are shallow, and you've got more and more people using them every year," said volunteer Gary Nennstiehl of Lewes. "And if you don't take care of it, it's not going to be the pristine environment that you want it to be. So, this is just one small step to help make it better."
He and others answered the call from Delaware Sea Grant and CSHEL for a cleanup and research effort. The hardest part is repeatedly hauling the pots out of the water and aboard the boat.
"Some of them … had 8 or 10 inches of solid mud in them. It was really heavy," said Nennstiehl, who brought a crew in their mid-60s and installed a davit — a miniature crane — onto his 23-foot Carolina Skiff boat to help. "We weren't the youngest people out there, so we had to work a little bit smarter."
Most of the pots his crew collected seemed "older and in disrepair; parts were broken," which suggests they'd been underwater for longer than one year.
Delaware doesn't have a dedicated cleanup underwater cleanup program, so "hundreds and hundreds" of lost and forgotten crab pots have accumulated over the years. With a pilot program and two winters of official work, scientists hope to determine what's out there and how quickly it accumulates.
The crab fishery and recreational crabbing are a solid chunk of Delaware's economy. But when lost underwater, the cages will continue "ghost fishing," trapping and killing animals. They cause navigation problems for other boats in the shallow inland bays, and they scour the delicate seafloor habitat.
The effort is part of a partnership of Sea Grant and the Coastal Sediments, Hydrodynamics & Engineering Lab (CSHEL), both active under the University of Delaware College of Earth, Ocean & Environment.
Previously, the research staff had done an initial sonar scan of the region, mapping the seabed for likely crab pots. Then, on the work days, university boats launched early to pinpoint the crab pots, quickly attach marker buoys and sail on. The volunteers sailed behind to haul the pots aboard. Finally, a johnboat buzzed around the bays to taxi the individual pots to shore. Pots were unloaded, hosed off with bay water, weighed and loaded onto truck to be refurbished or scrapped. On Feb. 6, they reached their goal of 53 pots, in addition to the 21 collected on Feb. 4.
"It's just beautiful to be out on the water, and it was nice to see the cooperation between the people involved," Nennstiehl said. "It's one of the projects that, at the end of the day, you just feel really good about what you did."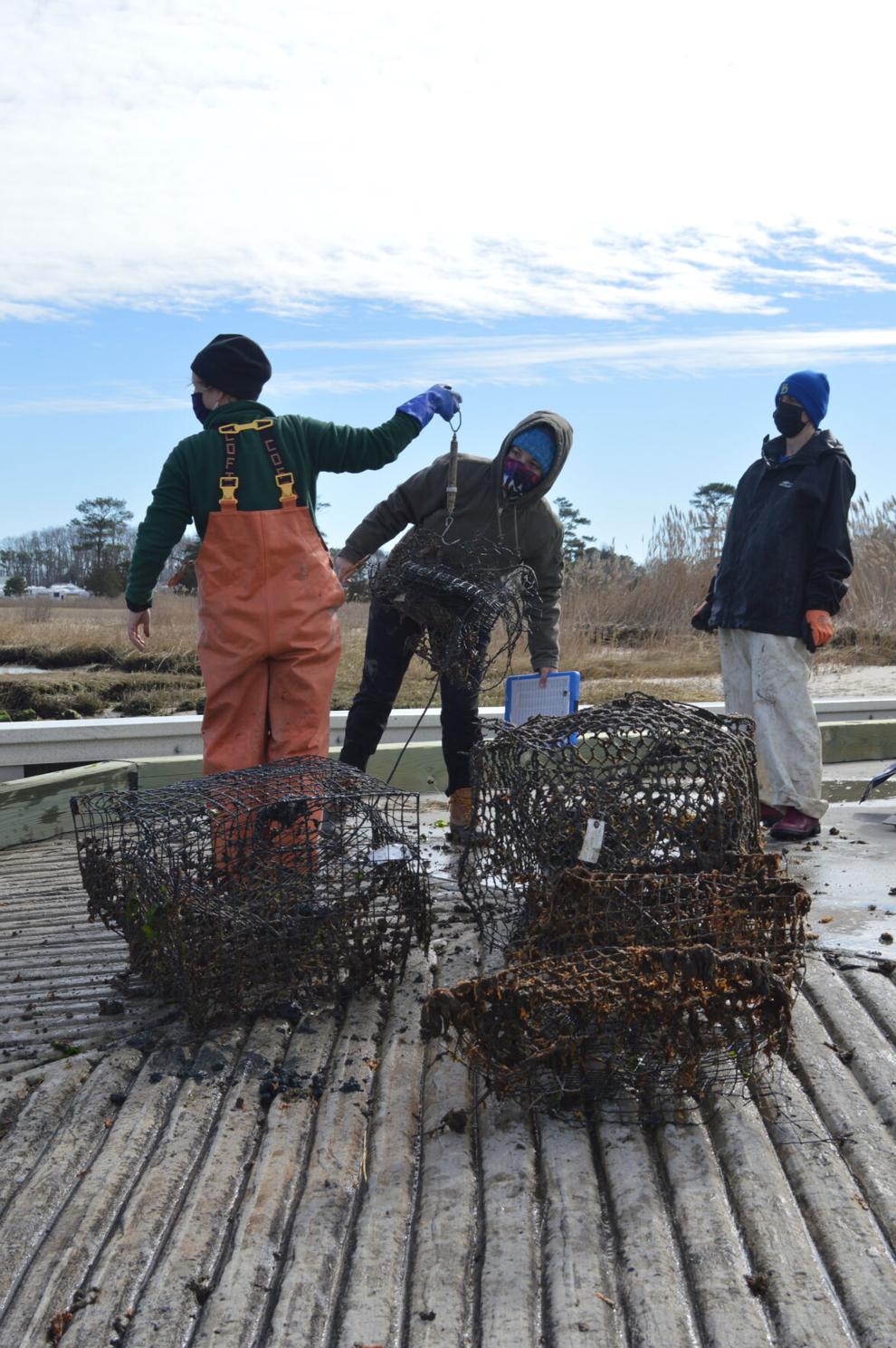 The event attracted other folks hoping to peer beneath the water's edge.
"We're looking for particular algae that have been seen in the bays here," said volunteer Janet Lawson of Lewes. She described a red algae that could be included in cow feed, reducing the methane that livestock belch into the atmosphere (a.k.a. cow burps). "If it grows here naturally, it's something of interest."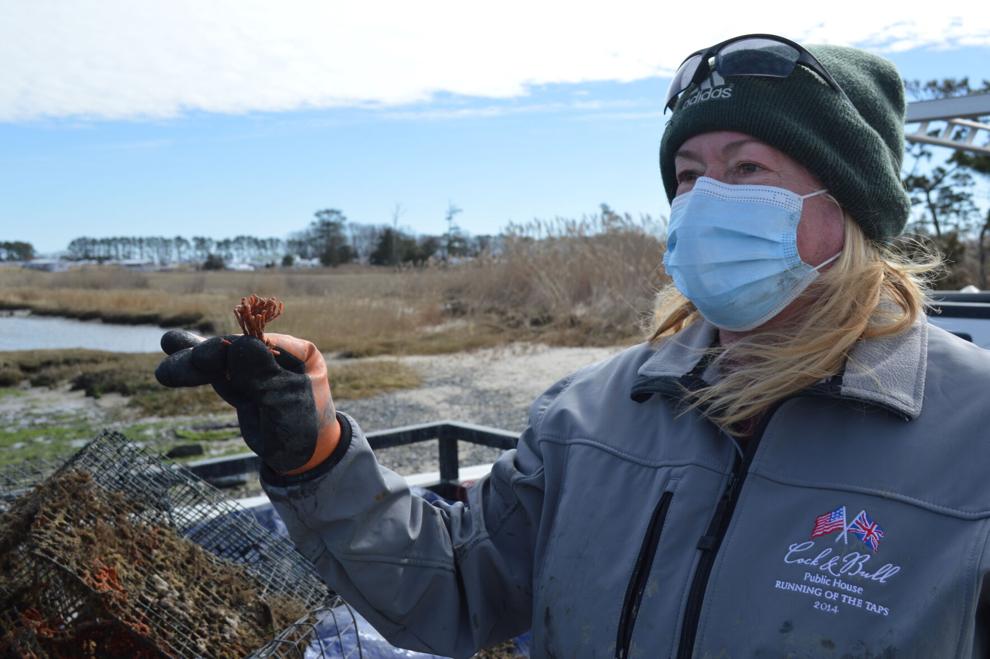 Anecdotally, that variety of algae was spotted at the 2020 crab pot collection. Lawson hoped to see it this time, too, perhaps clinging to one of the many muddied wire cages, while she helped haul equipment ashore.
Blustery conditions limited their work days, but they still have another year in their NOAA grant. Until then, "Think about what you can do on the water" to keep pots in place, said Kate Fleming, a Sea Grant coastal ecology specialist.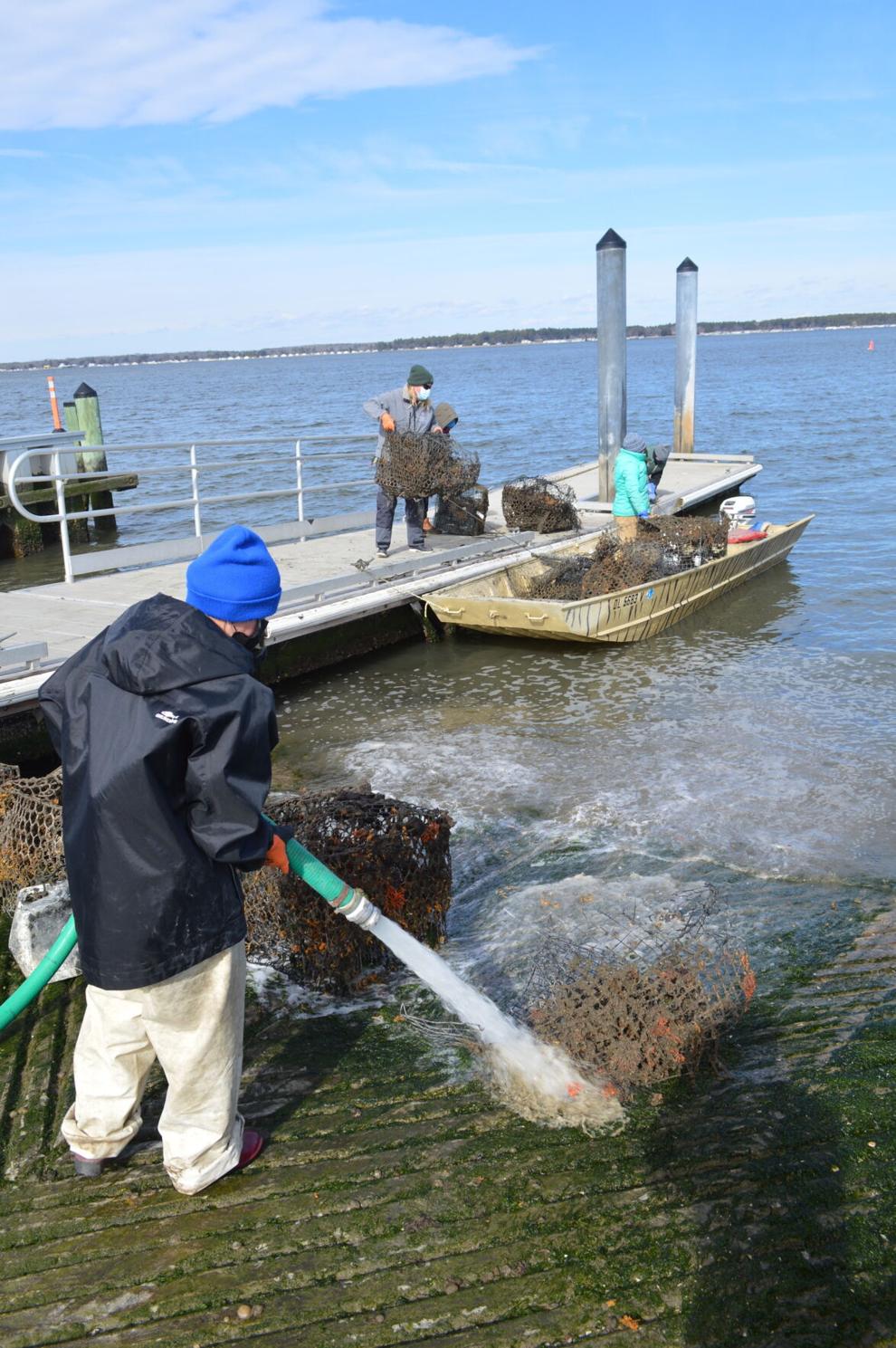 Delaware Sea Grant offers tips to prevent losing crab pots and make them more environmentally friendly (www.deseagrant.org/derelict-crab-pots/#tips). The Derelict Crab Pot Round-Up will return next winter. Interested volunteers should contact Delaware Sea Grant and look for training opportunities this fall.