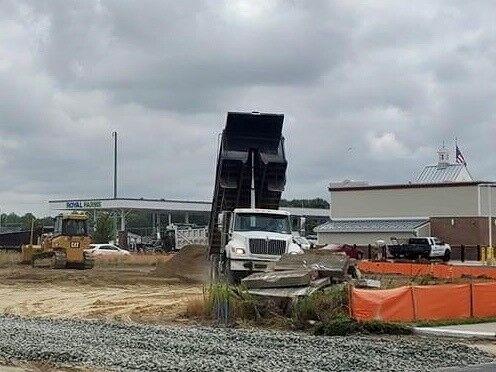 When the new Grotto Pizza opens in Millsboro's Peninsula Crossing shopping center in the spring of 2021, it will provide about 65 jobs and be the first Grotto restaurant in three states to feature an outdoor firepit and cornhole.
"There will be seating outside and couple outdoor games on our patio. We realize people want to have a little bit of an entertainment venue, too," Jeffrey Gosnear, vice president, told the Coastal Point this week.
"The patio and the games will be facing Route 113, but you won't see them. We will have a lot of landscaping around them," he noted. "We're very excited about the new restaurant. The exterior is mostly done. The interior, we are still about two and a half months away before the interior is done. We're looking at an early March opening. I don't have an exact date, but probably the second week of March," Gosnear said.
"With all the closures and shutdowns with COVID-19, we wanted to make sure we were all ready. We purposely delayed construction from March or April last year. As soon as the first shut down came around March 16, I said, 'Let's put a brake on it for a couple months.' Then we pulled the trigger in June," said Gosnear, adding that the restaurant will have the same design as the Grotto restaurant in Camden, Del., but with a solid roof covering the patio.
There will be a soft opening for staff, friends, family "and a lot of people who helped put the building together," he said. The grand opening will likely be a week or so later.
Hiring will begin in early February.
"There are some nice jobs for people. Our staff does pretty well," he said.
The 212-seat, 6,558-square-foot restaurant with sports bar will be the 23rd for the family, which opened the business in 1960, using the slogan "the legendary taste."
Early this year, Assistant Millsboro Town Manager Jamie Burk said the Town was "extremely excited to announce the site plan approval of Grotto Pizza."
"Several months ago, we had a citizens' survey, and sit-down restaurants — especially sports bars — were at the top of the list. Grotto is a well-known regional chain, and we feel it's going to greatly benefit the Millsboro area," Burk said.
Grotto has establishments in Delaware, Maryland and Pennsylvania, including in Bethany Beach, South Bethany, Long Neck, Rehoboth Beach, Ocean City and Dover. Along with 15 specialty pizzas, menu items include pasta, subs, salads, soups and appetizers.
Grotto was founded by Dominick Pulieri, a native of Wilkes-Barre, Pa., who taught biology, general science and chemistry in the Smyrna Special School District from 1965 to 1970.
"From an early age, Dominick was making pizzas in his brother-in-law, Joseph Paglianite's pizza restaurant in Harvey's Lake, Pa. It was at Joe's Pizza that Dominick's passion for pizza was ignited. In 1960, Dominick, along with his brother-in-law, Joe and sister, Mary Jean Paglianite, ventured to Delaware to open a pizza restaurant. This was the birth of Grotto Pizza," according to the history on the company's website at www.grottopizza.com.
"During this first summer, pizza slices sold for 20 cents each and a whole pizza was $1.60. The challenge, however, was to introduce pizza in an area where it was not recognized.
"To create a market for his pizza, Dominick and his sister spent long hours talking to people and handing free samples to the people who passed by his restaurant. In July of that summer, he noticed he was starting to get many repeat guests, and it was the local Sussex County guests, and later the tourists, who put Grotto Pizza on the map.
"In the years that followed, Grotto Pizza has continued to grow and prosper. In 1963, Grotto Pizza opened a second location on the boardwalk in Rehoboth Beach. In 1967, the original Rehoboth Avenue take-out stand moved to its present location in the arcade building," the history states.
In 1974, Pulieri opened Grotto Pizza as a year-round restaurant.