David Godwin was selling vine-reddened tomatoes and fragrant peaches at the Millsboro Farmers' Market on a recent Saturday morning, accompanied by his 12-year-old son, Mitchell, who arranged stalks of corn on the long table where shoppers stop and select fruits and vegetables to grace their dinner tables.
"Everybody is tickled. They're happy to have us here. They are buying corn and tomatoes. That's the staple," a beaming Godwin said, predicting local watermelon and cantaloupe, expected in late July, would be as popular.
"Oh, I love watermelon. It's what summer is made of," said Tammy Vander, visiting from Lancaster, Pa., as she headed toward Godwin's stand.
"I made a big circle in the town hall parking lot here, and I stopped to see what all the vendors have. I bought this and that for my mother or neighbor if I saw something I thought they'd like. You know, flowers or something. But for me? I never leave a farmers' market without an armful of corn and enough tomatoes to make a huge salad with cucumbers and onions," she said.
She glanced heavenward, laughed and added, "Goodness, I'm making myself hungry."
Nearby, vendor Kit Jaracy was selling shirts with the words "I'm hooked on LSD — Lower Slower Delaware," and the Grace's Crafts table was lined with a set of five vases that spelled out the word "faith," as well as wreaths and other decorative items.
Those with a sweet tooth were drawn to a sign advertising fudge in flavors including chocolate peanut butter, Fireball whiskey and black walnut.
Holly Dattilo of Gumboro was selling porch signs — tall, narrow wooden signs that lean against the outside front wall of a home, on the porch, printed vertically with a family's last name or the word "welcome."
"That's the big thing, these porch signs. They are all custom-made," she said, standing in her trailer, which also contains a variety of T-shirts, pillows and signs, one of which said, "Congratulations on your divorce. We hated him" and another "I'm a better person when I'm tan."
Bouquets of flowers were arranged in vintage bottles, and there was pottery, decorative wooden ladder and large toy cars — even scrapple sandwiches.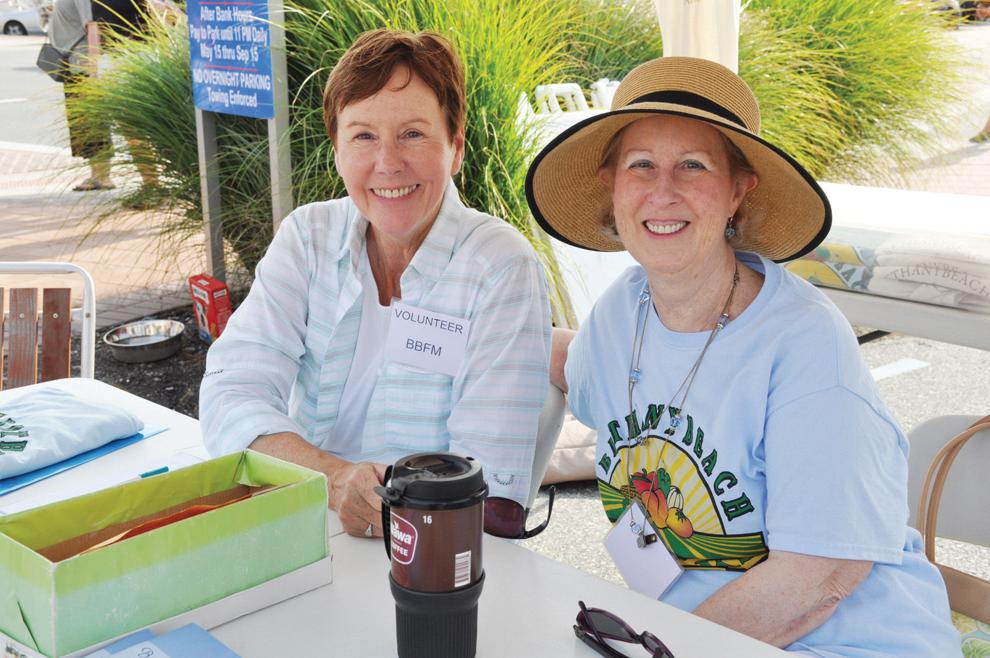 No wonder farmers' markets are so popular in Sussex County. Shoppers can find everything from A to Z — apple pies to zucchini.
"We're really fortunate. We have our beach, and we have our ag. What a perfect combination," said Lauren Weaver, executive director of the Bethany-Fenwick Area Chamber of Commerce.
"Tourism and agriculture are the top two. In these coastal towns, that is the perfect blend of these two coming together. We're having a great year and seeing incredible volume at our farmers' markets. There is nothing like peaches and blueberries and strawberries," she said, adding that those who browse will also find exotic mushrooms, herbs, spices, honey and baked goods from Old World Breads bakery in Lewes. (Advance orders for bread can be placed at www.oldworldbreads.com/farmers-markets.)
The Millsboro Farmers Market is open from 8 a.m. to noon on Saturdays. For more information, call Mayor Michelle Truitt at (302) 245-0440 or e-mail michellet@millsboro.org.
In Bethany Beach, the market is held at the intersection of Garfield Parkway and Pennsylvania Avenue, in the PNC Bank parking lot, on Sundays from 8 a.m. to noon, through Sept. 5. Call Doug Mowrey at (301) 717-0492 or e-mail dougmowrey@gmail.com for more information.
The Farmers' Market at the Marketplace at Sea Colony is at 33546 Market Place near Bethany Beach, on Wednesdays from 8 a.m.to noon, through Aug. 25. E-mail Henry Bennett at henry@bennettorchards.com for more information.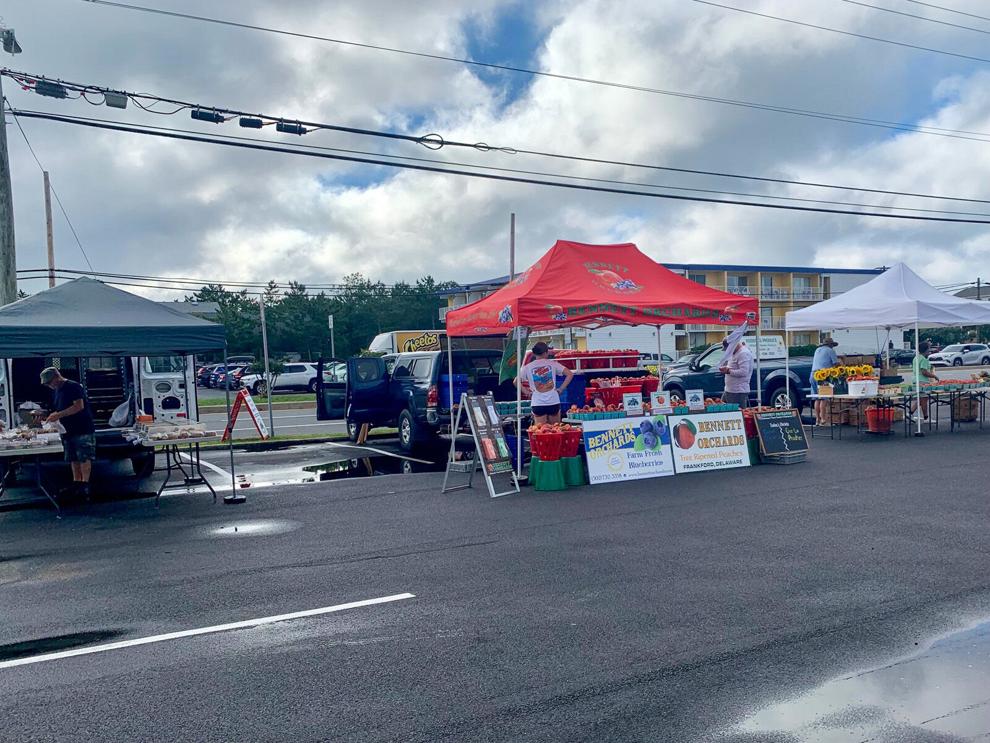 The Farmers' Market at Warren Station, Fenwick Island, is at 1406 Coastal Highway, bayside, Fridays from 8 a.m. to noon, through Sept.3. Call Albert Hudson at (302) 841-0068 or e-mail skhudson51@gmail.com for more information.
The Fenwick Island Lions Club is also raising money for community service projects by selling raffle tickets at the farmers' market in Fenwick Island, said Linda St. Clair, club second vice president and immediate past president. The prize is an off-season, three-night, four-day stay at a bayside condominium on 15th Street in Ocean City, Md. Tickets cost $5 each or $10 for three, and only 500 are being sold. The drawing will be on Nov. 8.
Tickets are also being sold outside Warren Station on Tuesday evenings from 5 to 7. Proceeds will benefit Lions Club service projects including Meals on Wheels and Delaware Food Bank distribution.
"Farmers' markets are wonderful. They're a wonderful experience," Kathy Jackson, marketing specialist for the Delaware Department of Agriculture, told the Coastal Point this week.
"People can get the absolute best produce they can find anywhere. Often the produce was picked that day or the day before. You are buying directly from a farmer or grower from the Delmarva area.
"There are a lot of markets with well-established farmers. Some of them are even multi-generational farmers, and that's a really cool thing, to support them," Jackson said.
She recommended the website at delawaregrown.com, where there's a map to find locations, dates and times of the state's farmers' markets, as well as tips for produce storage and other helpful information, such as the fact that Delaware grows more lima beans than any other state in the country.
Recipes are offered on the website, too, including Baked Apples & Oats, Watermelon & Berry Salad, Blueberry Popsicles and Peach Custard Pie.
"Farmers; markets allow new farms to find their niche, to find a market," Jackson said.
"There are a lot of farmers who are just starting out that are selling their produce at farmers' markets. There's nothing better than the produce you get at a farmers' market, but you're really doing something wonderful for the farmers who live in your area."