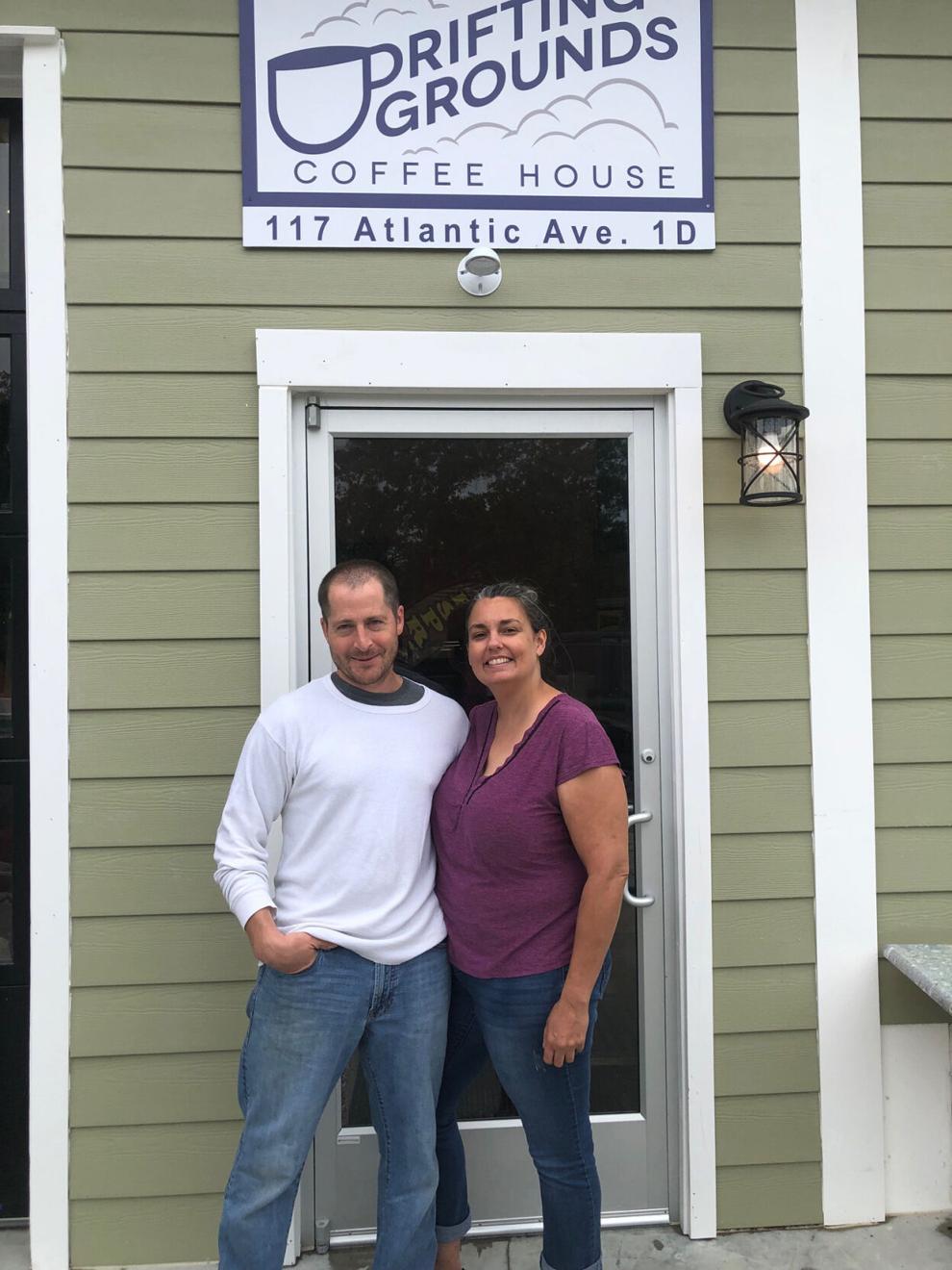 Christian Heneghan is excited to announce that Drifting Grounds, the Ocean View coffeeshop, is slated for its grand opening this weekend, on a "sneak preview" basis.
The labor of love has involved family members — including a build-out of new rear-corner space at 117 Atlantic Avenue (Route 26). The coffeeshop space is courtesy of his brother's ownership of the 100-year-old building, and design and construction were done by Heneghan's uncle, Nick Bartolomeo, who figured-out how to integrate the coffeeshop rather seamlessly into the family-owned toy store and bookstore.
The space has a lofty feel and does connect directly to the Yesterday's Fun toy store and the Turning Pages book lounge. Drifting Grounds will keep its trademark yellow food trailer and convert that outdoor vehicle to a food-service extension with exhaust hood, to expand the menu.
Outdoor patio furniture and a relaxed Drifting Grounds coffeeshop vibe remain part of the coffee culture in Ocean View, with newer furnishings, a patio extension and more grassy areas available for customers. Drifting Grounds has built a massive walk-in refrigerator and freezer outside at the back of the longhouse building.
The 18-foot food trailer kept the business alive and brewing for more than a year. Heneghan said the pandemic and COVID-19 shutdowns, as well as new requirements from a former landlord at a space next door to what is now DiFebo's Market, forced his decision to close the old coffeehouse farther east on Route 26, at 29 Atlantic Avenue. Drifting Grounds held court at that location for five years before deciding to close and then relocate.
The new store hours will fluctuate at the grand re-opening, starting at 7:30 a.m. to 10:30 or 11 a.m. However, the hope is to be "firing on all cylinders" very soon, said Heneghan.
The decision to close, build and then re-open was a business risk; however, the functional outdoor trailer kept customers caffeinated and relatively happy for more than a year, he said.
"We repurposed some of the existing building," noted Heneghan of the new location. "The wall in the coffeeshop is original, century-old wood, and sealed [longhouse] walls." The work took more than a year and a couple months of reviews by the fire marshal and health department.
"This is a 100-year-old building and was never configured for food," said Heneghan. "There was a question of when we would be able to re-open here, and that is the reason for the food trailer, to be sure we would draw people and keep our customers."
"The corner space of this building was a lower-risk option," said Heneghan, than trying to find another retail location. "The outdoor walk-in refrigerator and freezer was also built with a long vision in mind. We just love the community space in our bookstore, and we have the option to break into the middle of the building for wine and dessert options," should there be an expansion.
"We have a big outdoor space here and upward growth ability," said Heneghan. "We wanted to do this [expansion] in conjunction with the food trailer, to provide much more flexibility for both indoor and outdoor seating."
In fact, customers have become somewhat familiar with the bright orange food trailer, which will now be converted back to food production while the baristas will be inside making coffees. "People have stayed with us," said Heneghan. "For some folks, it's easy to just roll-up" for carry-out orders, which are available on the Joe app.
"We may have lost a few who are awaiting the indoor coffee shop," he acknowledged.
The Heneghan family sticks together. Christian Heneghan's brother is local Ocean View merchant Brendan Heneghan, who with his wife, Kate, owns the toy store and the bookstore. The Heneghan parents, Phillip and Mary, are also co-owners of the building and often in Ocean View when they are not back in Rockville, Md. "Uncle Nick" is a designer and helped conceive of the creative concepts involved in making Drifting Grounds coffee a part of an existing retail store.
Drifting Grounds used licensed electricians, plumbers, carpenters and professional painters to help complete the vision — though everyone pitched-in. Christian Heneghan's girlfriend and partner is Erin Dressler-Looper. She enjoyed staining the barn door and wood frames, as well as helping to decorate the space.
Christian Heneghan also cited loyal employees, including Kylie, Matthew, Gretchen and Trevor, who have been with his shop for more than five years — four of the eight employees have been baristas and customer service agents nearly since the beginning of Drifting Grounds.
It's about the coffee
Drifting Grounds sources its coffee beans with Homestead Coffee Roasters in Upper Black Eddy, Pa. Heneghan said that his team provided vendors with a bid and "Homestead gave us the most thoughtful response."
"Our bean never changes," said Heneghan of the product consistency. "Our Arise bean brews and pairs well with milk" for lattes and other drinks. According to Homestead, Arise "has an incredible blend of caramel flavors with a cherry finish that bookends a rich chocolatey body with walnut highlights."
Heneghan's personal favorite drink is a cortado with oatmilk, or sometimes a red-eye, depending on the day.
There are four different dark roasts and seven different light roasts, which Drifting Grounds purchases in 5-pound bags. The beans are all ethically sourced, and Drifting Grounds may go through about 100 pounds (20 bags) each week. Heneghan said, "There is always something you should like" available at the shop.
Drifting Grounds does about a third of its annual business in the summer-season months, being especially busy in July and August, and another third of the business happens in the late spring and early fall months, bookending the summer season. The final third of their business occurs over the six months of the off-season, Heneghan reported.
But what about the yellow trailer?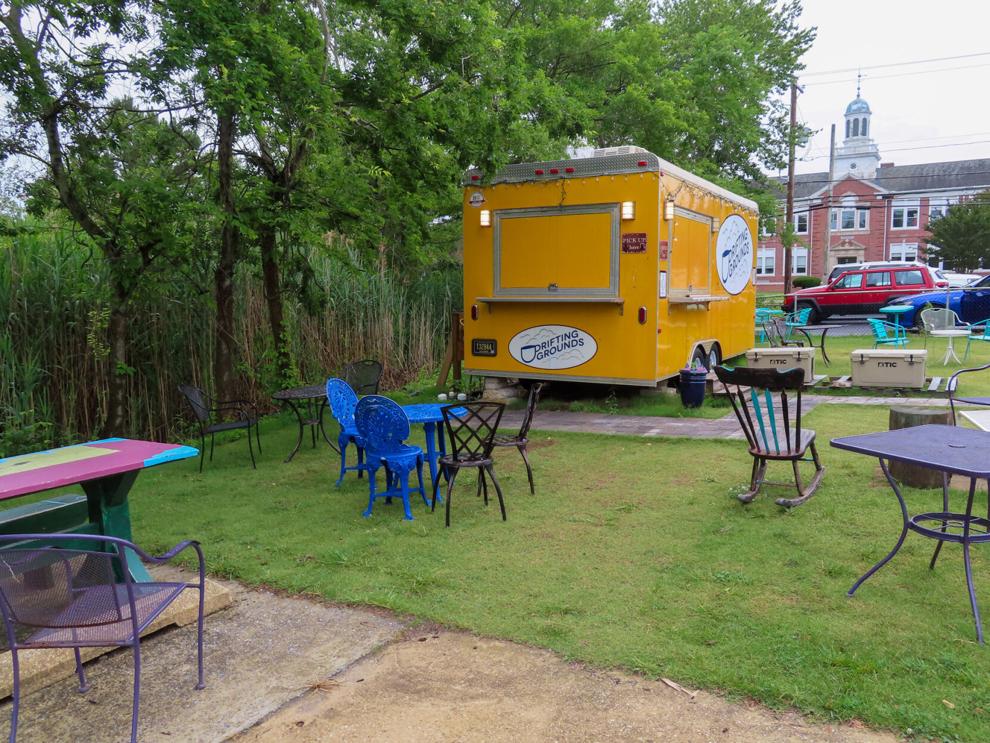 Heneghan said he needed a temporary solution to bridge from one store to the other. He also needed a space that was safe and temperature-controlled for his dedicated employees.
"We found a food trailer on an online site for food trucks," he said. "The trailer was down in Tennessee, so we had to go down and retrieve it."
"The trailer required some special electric hook-ups," which Drifting Grounds routed to the back of the trailer with help of an electrician.
This food trailer also had two windows, for ordering and for pick-up, and "that was the deciding factor" for the family to move on the investment.
The owner said that the trailer will be used to "scale-up food options and maximize our inside space" for guests. The inside kitchen has two massive convection ovens, and those do not require venting. The yellow trailer has fire-suppression equipment and is properly ventilated, with a hood to the exterior, so it will become a working kitchen unit.
"I am trying to get our customers and our staff inside for the summer," he added. "We may then have a few lunch options, and our old menu is coming back. The trailer will need to be shut down for a little bit" during the transitions at Drifting Grounds, he noted.