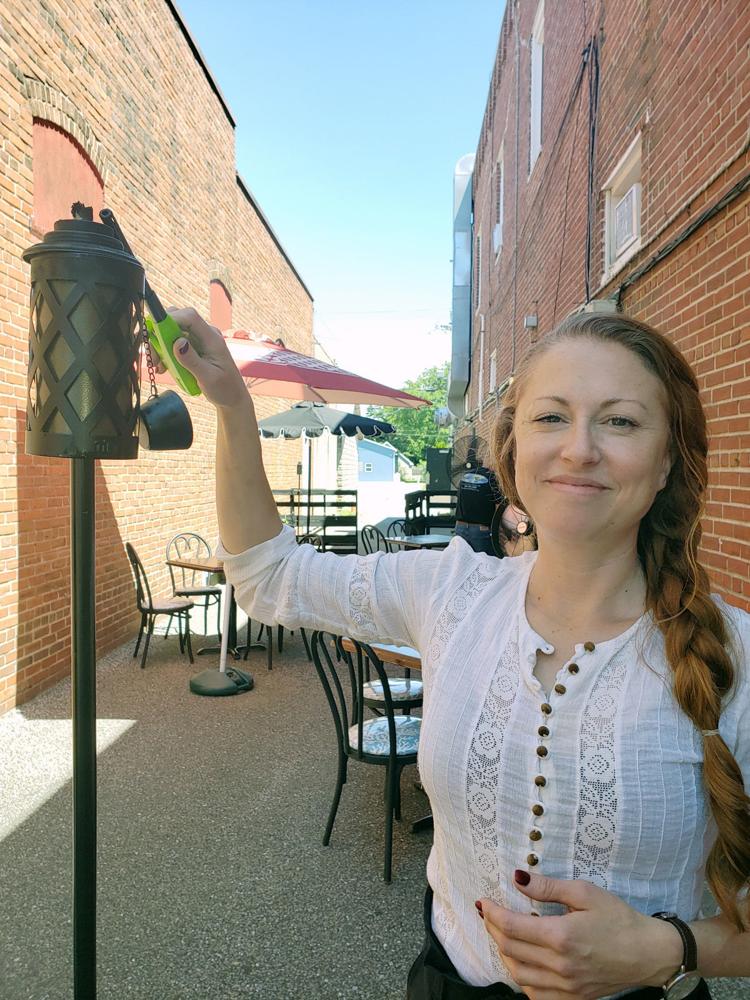 The arrangement of tables outside Blue Water Grill in Millsboro, complete with decorative torches and plants, creates a cozy setting for customers who enjoy dining alfresco.
"It's nice. We have had reggae music playing. Our customers like to sit outside in the evening, have dinner and talk," said owner Jessica Wiggins, as she arranged seating and lit torches one recent afternoon.
"I always wanted to put tables outdoors, but the Alcohol Beverage Commission specifies a floorplan. The Town is on board with us continuing to do this. They like the idea of us having outdoor seating.
"Now, we have a temporary ABC extension until July 31, then we have to go back to the ABC," she explained.
Wiggins said she'd like to have a local band that plays original music entertain at the Main Street establishment she and her husband, Josh, took over in 2007.
Five tables, with oversized umbrellas offering shade from the sun and seating for 20, are positioned far enough apart to keep customers safe. There is also indoor seating, by reservation, and carry out.
Manager Taylor Keen credited Wiggins for having a charming fence made from wood pallets, to section off the space from the street, painting it and adding attractive plants.
"The outdoor seating has been really great. Jessica put it on our Facebook page. We posted a picture, and people responded to it," she said.
The June 10 post announced the restaurant would open at 3 p.m. and added, "We've missed you."
Comments included "Need this in my life," "Risotto cakes!" and "We've missed you, too."
Hours are limited to 3 to 8 p.m. Wednesday to Saturday, and 9 a.m. to 2 p.m. for Sunday brunch. All guests must wear masks when walking through the restaurant, but not when sitting at tables and dining.
"We are constantly finding ways to improve BWG," the owners wrote on the restaurant's website.
"Between us, we have 25 years in the hospitality industry, and we love what we do. Owning our own restaurant is a dream come true. Moving to Millsboro has been one of the best decisions we've made. We love the town, and the people are phenomenal," the two wrote.