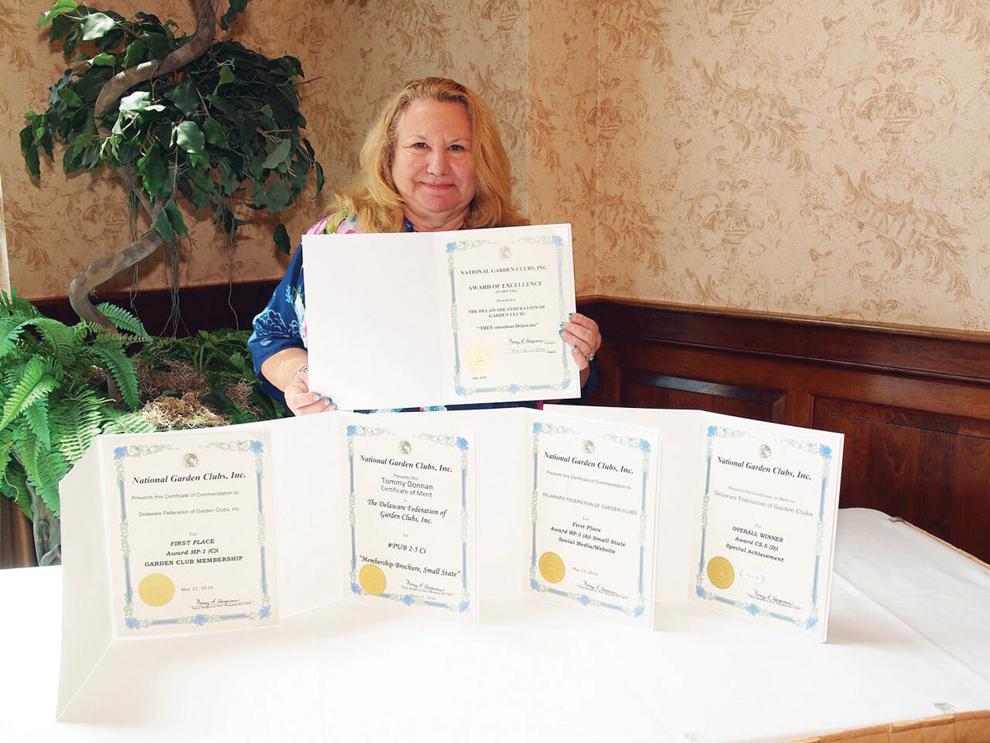 The Delaware Federation of Garden Clubs was recently recognized nationally by the National Garden Clubs — a not-for-profit educational organization comprising 50 state garden clubs and the National Capital Area, with 5,000-member garden clubs and 165,000 members.
"We've had several awards, which is so unusual for Delaware, because we're little. We're up against 49 states which are a lot bigger," said Delaware Federation of Garden Clubs President Lisa Arni.
Arni's President's Project for the DFGC's "TREE-mendous Delaware" tree planting at the Delaware Botanic Gardens was given the Award of Excellence by the National Garden Clubs.
As part of the project, for every $100 raised or donated, a native flowering tree will be planted in the woodlands of the Delaware Botanic Gardens. Those who donate $100 will be given a certificate from the DFGC in honor of, or in memory of, a loved one, family member or whomever they choose.
"The Delaware Botanic Gardens has no budget for where we're planting the trees, so when they heard the proposal, they were thrilled," said Arni. "The thing that made it work was the certificates, because they can be given out as a gift and also the donors are listed on our website with a link from the Delaware Botanic Gardens website."
Arni said the project follows the national group's theme.
"This president had the board approve 'Plant America,' which would be an eight-year project theme. They asked each state to come up with their own… We always felt trees were important. We had a project in Delaware not that long ago called 'Dimes for Delaware,' where each club collected money and we reforested Redden Forest. We ran out of trees to plant — in other words, they didn't want any more trees."
So far, the DFGC has given out more than 100 certificates through TREE-mendous Delaware.
"Which is tremendous!" said Arni. "The reason we won the award is that this project embraces all that National Garden Clubs is about, which is raising funds to plant trees that the public will view and will be pleasurable to them — not just for this generation but multi-generation. I don't know why it caught on… I expected to have about 25 trees in the first year, and we have 100.
"It's remarkable what has happened here; and it's gone outside of Delaware, too. We've had people who just heard about it who sent us money for trees from other states, and non-garden-club members have sent us money to purchase trees. So, it's gotten a little life of its own. We're pretty excited about it! It just took off, and people embraced it and really liked that the garden clubs are raising money to do it."
The DFGC also received a first-place award for its TREE-mendous Delaware Membership Growth.
"We still have until next April for this project. It's really taken off. Plus, we've added two new clubs — one in the Ocean View area and one in Bridgeville, and they've been growing," she said, noting that in the first nine months of the project, DFGC grew 4 percent, with an overall goal of a 10 percent increase.
"We're still looking to increase membership and looking to start new clubs — especially at night. We're finding we're missing a whole group of people that can't meet during the day, who work perhaps. We've started a couple of evening clubs, and they've really taken off."
The national convention at which the awards were presented was held in Philadelphia, Pa., on May 23. The DFGC also received a first-place award in Small-State Social Media Website (run by webmaster Margaret Woda) and an award of merit for its membership brochure, and individual clubs also received awards as well. Along with the certificates, the DFGC also received an engraved medallion.
"We just took home so many awards," said Arni. "I was never so shocked or proud of Delaware. Typically, being such a tiny state, we can't even compete with those states that have tens of thousands of members versus our 749. It's pretty spectacular."
Not only did the DFGC sweep the national awards, but in April the organization celebrated its 60th-anniversary Diamond Jubilee.
"Everything was diamonds, from the jewelry to the decorations," said Arni. "We put together a historical booklet going back all of the 60 years, highlighting each year. We went back 60 years for each club. We celebrated every 10 years, so we have the latest 10 years added to the booklet. The booklet keeps getting bigger and bigger with all the histories of all the garden clubs in Delaware."
Arni said she's excited to see what the club does in the next year and beyond, noting that she hopes more garden lovers consider joining an area club.
"Membership is key to keeping this organization going. If we don't have new members, it doesn't work."
For more information about Delaware garden clubs, or to become a member, visit www.DelawareGardenClubs.org or call Alva, membership chairwoman, at (302) 841-3632.
By Maria Counts
Staff Reporter