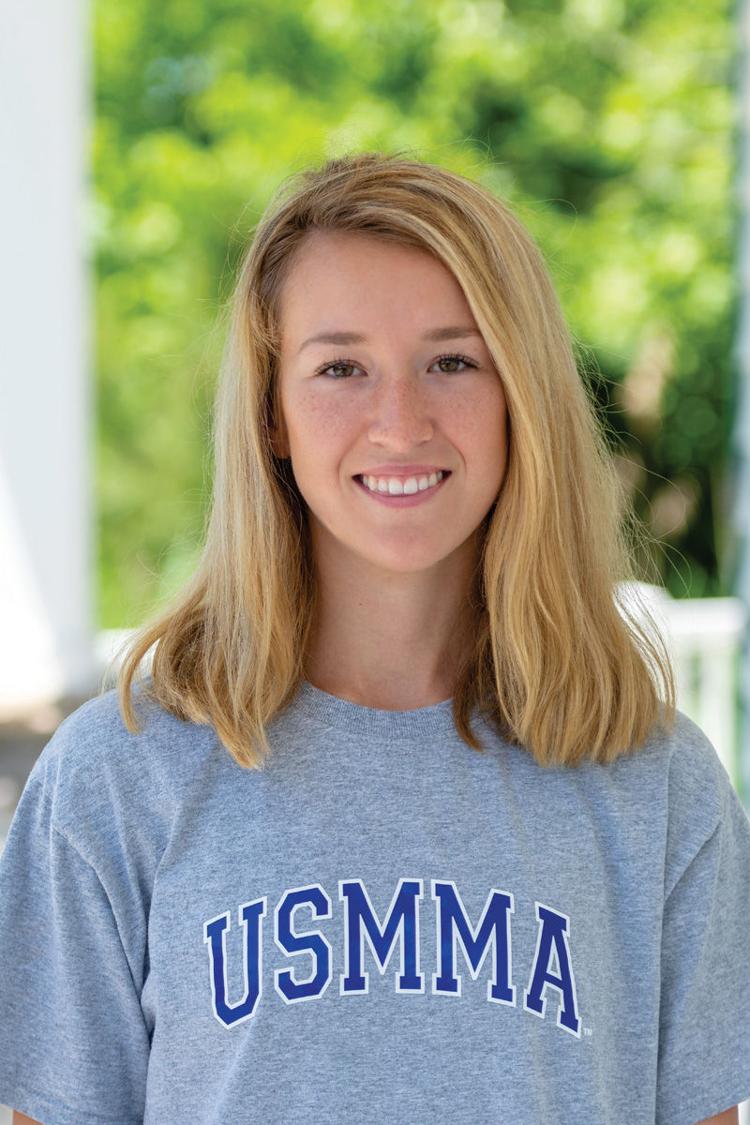 By Maria Counts
Staff Reporter
While many 18-year-olds are spending their summer vacation working in local businesses, in between trips to the beach, Helen Davis is spending precious time with family… and working out.
Davis, a Dagsboro resident who graduated from Indian River High School last month, will be leaving home at the end of the month for indoctrination (akin to boot camp) into the U.S. Merchant Marine Academy.
"Indoc is a three-week program where you're learning the ropes of the military, basically. It's going to be really difficult, because it'll be the first time I'll be away from my whole entire family, but I'll be surrounded by my 250 classmates going through crazy things, like waking up super-early, not being able to wear a watch so we don't know the time," said Davis.
"We're going to take math placement, working out every day, learning to square our corners… like every little bit for 21 days. That's the first mental test of many."
Davis said she began looking at military service academies after talking to her father about future career options.
"I didn't really decide until June last year that I was going to apply," she said. "I was talking to my dad one day about what I wanted to do as a career. I knew I wanted to help people and that I wanted to get that immediate effect, that immediate response.
"My dad had served in the Army — he enlisted right out of high school — and my mom is a nurse-practitioner. My dad is no longer in the Army, but I just loved hearing his stories… Every time I see someone in uniform, I have to thank them for their service. I just have that urge because I respect them so much. All of those things combined, it was like, 'OK — I have to serve.'"
She said she also knew she wanted to stay near the water — either to live nearby or to work on it, so she settled on applying to the Naval Academy.
"My initial interest was the Naval Academy in Annapolis. I even went there for an overnight candidate's visit weekend. I just fell in love with the atmosphere," she said. "I really enjoy structure. I think having rules and discipline is really helpful, for me especially. Not that I couldn't do well in a normal college, but I just prefer that one."
The U.S. Merchant Marine Academy (USMMA) wasn't on Davis' radar until last year, after she spoke to a friend, Reid Carey, who is a student there.
"He graduated from Worcester [Preparatory School] last year, and when I expressed my interest for the Naval Academy, he said, 'OK — so I know you've probably never heard of this school, but it's a great school. It's a hidden gem… You should try it.' I thought, 'What's the harm? I'm already applying to one academy, why not make it two?'"
An avid lacrosse player, Davis served as team captain for both her junior and senior years and was All-Conference recognized. In her applications to the academies, she noted she was interested in playing lacrosse, and last fall, the USMMA's lacrosse coach contacted her.
"He reached out to me and said, 'Hey, I'd love to have you over for a recruit visit. You can stay overnight with one of our freshmen to see how the life is.' I did that right after Thanksgiving, and I knew that was the place I wanted to go to," she recalled. "I turned all my focus to the academy and made it my first choice when I went to all of my senator interviews, and it all worked out in the end. I'm so happy."
Up for a challenge
Davis will be the first female student from Indian River to attend the USMMA. Not only is she a star athlete, but she was also a member of the National Honor Society and Leo Club, and served as president of Business Professionals of America (BPA) her senior year, even placing in a few competitions.
"I'm always one for a challenge, and everything was either a physical test or a mind game… testing your mental toughness. I love that because I like to prove myself over and over again. And I think it being a difficult school to get into made me want to take the challenge on even more," said Davis of the USMMA, noting that the school has a 16 percent acceptance rate.
Not only does a student need to get into the school based on their academic merits but they are also required to take a medical exam, complete a fitness assessment and receive a nomination to the academy from a U.S. Representative or U.S. Senator in their state.
Davis had received a Letter of Assurance from the USMMA; however, she would still need to receive a nomination to the academy.
While most students aim for just one nomination, Davis received a nomination from all three of Delaware's Congressional representatives — U.S. Sens. Tom Carper and Chris Coons, and U.S. Rep. Lisa Blunt Rochester.
"I applied to all three offices," said Davis, noting that she had a total of five interviews. "I was in BPA, so I had a lot of experience. I got first in the state for interview skills, so I wasn't nervous going in, but I really wanted to do well because I knew it would reflect in my final interviews."
The first two interviews took place at Indian River, but her final round of interviews were in Dover.
"The interviews — they were hard, but I was ready. I was surrounded by seven people, and it was about 15 minutes long. I really made sure I wasn't nervous in that time, because I was really confident, and still am, that I am a good candidate for this. I felt like I have such a strong passion for what I want to do," she said. "I am physically qualified, educationally qualified. I think my passion really pushed me over… For me it was, 'No one has done this before, I want to do it.'"
Davis thanked her guidance counselor, Stephanie Wilkinson, for her help throughout the process.
"She's one of the most helpful people ever, because if I got nervous about an interview, she'd remind me that I'd done it before and to stay calm. She really helped me when I needed to get little forms, like transcripts, along with my actual guidance counselor.
"Through BPA, she helped me gain confidence. She's always been encouraging me and I'm grateful for that second mom at school."
Davis received her first nomination letter in December, the day after her dad's birthday.
"I was so happy. My dad and I just hugged and said it was all worth it," she recalled. "I didn't need all three, but it was really reassuring that I was going where I belong, because they have faith in me. The fact that I got my favorite school nominated three times… it was meant to be."
In April, Davis finally received her official acceptance letter, surrounded by her lacrosse team and family.
"After my lacrosse game one day, I was checking my email on my phone… I had this gut feeling that I had heard from them. I opened the email — it said, 'Congratulations! Welcome to Kings Point…' I immediately burst into tears. My whole team was like, 'What's wrong? Are you hurt?' 'No! I finally got into school!' I ran across the field, and my mom and dad were like, 'Are you hurt?' 'No! I got in!'
"Everyone was hugging me and crying. It was the best feeling, because I was surrounded by my family and my team who I love. It was the best moment. I love reliving that."
Mental toughness key
Davis will begin indoctrination on June 29, but she has already started building relationships with her fellow USMMA classmates through Facebook.
"It's really encouraging that other people have the same questions and concerns. It's nice to know you're not alone. Everyone wants to act kind of tough coming in because, of course, it's a huge change, but it's nice to know everyone else has the same curiosity of 'What the heck is going to happen?'
"No one is better than anyone. We're all getting yelled at for the same silly things. We're all going through the same things. I'm excited because we're always going to have each other's backs. I have a family of 250 surrounding me every single day. It's really unique. Every other school is so spread out, and you don't really talk to everyone… This one, you have no other choice — it's all together."
During that 21-day training, Davis said she'll only have access to her cellphone for 10 minutes on Sundays, to contact her family. She will have no other communication with the outside world.
"I think that's part of the mental toughness that they're trying to instill in you — that you can't always call your family when you're in the middle of the sea. You have to be independent," she said.
According to its website, the USMMA is a "federal service academy that educates and graduates leaders of exemplary character who are inspired to serve the national security, marine transportation and economic needs of the United States as licensed Merchant Marine Officers and commissioned officers in the Armed Forces."
"Known for its rigorous academic program, USMMA requires more credit hours for a baccalaureate degree than any other federal service academy."
"It's a four-year service academy. It's actually the smallest of them all. I think an incoming class size is 250 students — 80 percent male, 20 percent female," said Davis. "You're have trimesters, and you have four years where you're basically working up to get your Coast Guard license.
"That's the final test at the end of your years, but you take really rigorous courses where you can major in engineering or what they call a 'deck major,' which is marine transportation, logistics and security, and that's what I'll be doing. I want to be the captain of a boat and work above ground on the seas…
"I do have this vision in my head that I want to be a captain of a big boat. In my mind, when I was applying to the Naval Academy, that was a huge destroyer. But, who knows? I might end up on a cruise ship. I might end up on a cargo ship. But I just want to be captain. I want to be one of the first females to have that honor."
Davis said that, along with taking the same kind of difficult classes that one would take at a regular four-year university, she will also be taking water-related courses, such as navigation.
"Then, your sophomore and junior year, you participate in a sea year. You and a partner who has an opposite major — since I'm a deck major, I'll work with an engineer — and you're assigned to a vessel, and you work on that vessel, paid, for five months.
"Five months of your sophomore year and five months of your junior year — because you need about 300 days experience. That's where you really get to see what job you want to fulfill. I think that's so cool, because that's unique from the other academies.
"I know with the Naval Academy, you get two weeks at a time on this boat, two weeks if you want to see how it is on the airplanes… You get bits and pieces, but this time it's legit. You're working, you're getting paid and traveling the world. I don't know where I'll be going or what vessel I'll be working on, but I'm so excited about that unique aspect."
Following graduation, she'll have the choice of serving for five years or going into the reserves while working in the maritime field.
"Basically, I'm signing up for a lot hard work, a lot of physical training and a really big mental challenge. I'm so excited!"
At home on the lacrosse field
While at the USMMA, Davis will also play lacrosse — something she said she's really looking forward to.
"I think this is going to bring a sense of home, because I've played lacrosse my whole life and I'll get to have a team there. A lot of it is strict — like, you can't talk to upperclassmen. But that doesn't matter, because you're on a team with them and you'll talk to them. I think that's going to be comforting because it's such a foreign environment."
With less than a month left in Delaware before she heads to New York, Davis said she is looking forward to spending quality time with her family.
"My dad and I have been watching YouTube videos about what to expect at Indoc and reading books about the sea. We've been practicing me driving his little Carolina skiff boat, just so I can get comfortable on the water. I've never been afraid of the water… I think it's so cool that you can manipulate the tides and the winds, and make it work to get to where you want to go.
"My dad really helped instill confidence in me. He said he's a little jealous of my curriculum. He grew up on boats and lived by the harbor in Baltimore. I think that's also where my passion for the sea came from.
"They've been so supportive," she said of her family. "I really couldn't have done it without them. There were nights where I'd have to stay up until 1 a.m. writing a letter or filling out a form, and my mom, dad or sister really supported me with that. I'm really grateful for that."