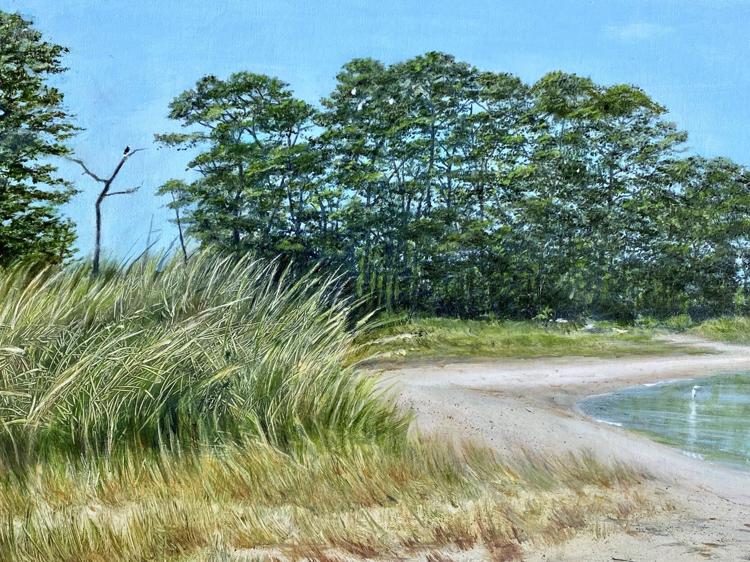 The Great American Paint In has selected coastal Delaware artist Ellen Rice to represent her home state in its endeavor to document the pandemic through the works of artists.
"We had a vision for this project to document history through great works of art," said Bill Weinaug, the founder of the project and owner of Gallery CERO near Orlando, Fla. "The collection we have amassed shows that this project connects with people, and I believe what we have put together will be a seminal work in studying this period of time."
Ellen Rice is best known for her light-filled regional landscapes and seascapes and inspirational paintings. Her works in oils, pastels and watercolor and their reproductions can be found in homes, offices and private, government and corporate collections in 14 countries on four continents.
The Great American Paint In is a juried collection featuring works created during artists' COVID-19 experiences, along with a story. There are no limits on form, medium or size, but the pieces must convey the unique emotion of this time through the artist's eyes. As the pandemic continues, the artists will continue submitting to the project, as well.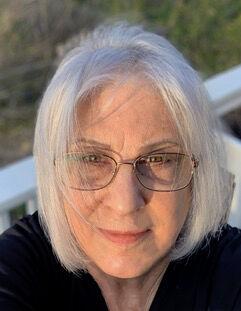 Works are available for viewing and purchase at www.thegreatpaint-in.com. Weinaug said the works collected for the Great American Paint In will eventually be published in a tabletop art history book.
The Great American Paint In was founded by Weinaug and his wife, Mary, art collectors and owners of a gallery under development at their riverside property in Florida. They said they were inspired by their love of art and the gravity of this moment in time and decided to take traditional "paint out" events and make it into a "paint in."
Said Rice, "I was thrilled to receive the news. I'd read about the Great American Paint In and had seen something about it on national television news, and I know and follow some of the artists who were already in the collection when my invitation came in, so I understood the magnitude of the invitation.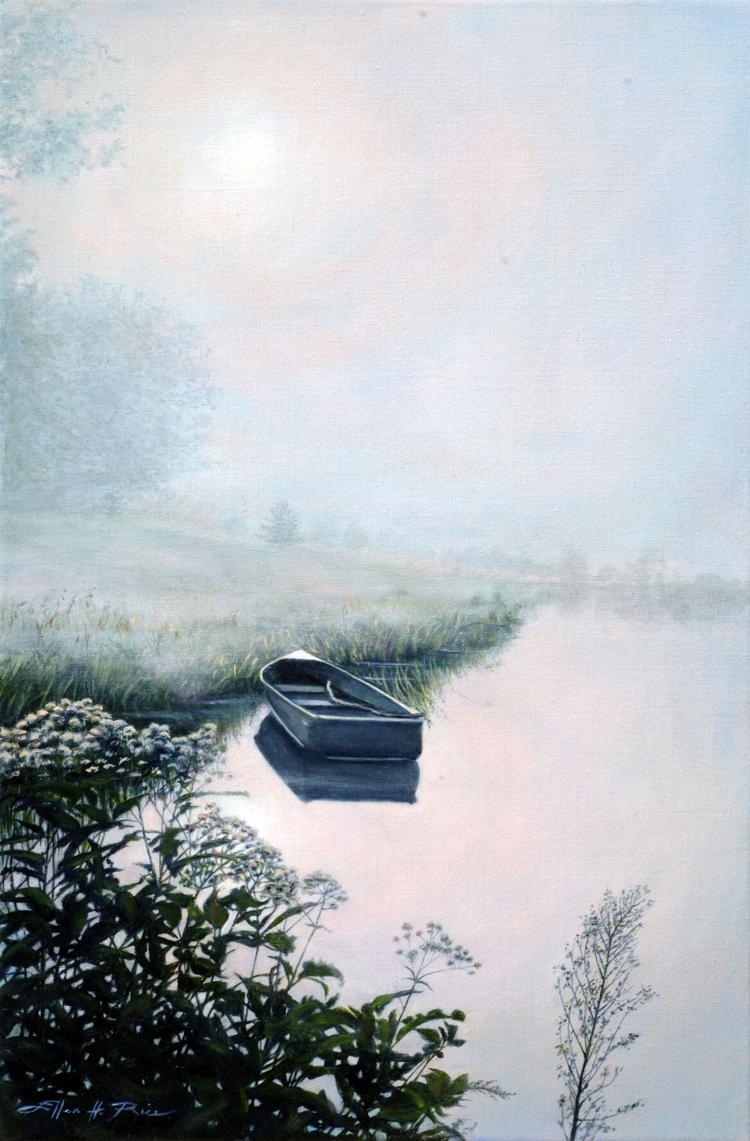 "The first painting I completed during COVID-19 was an 18-square-foot oil commission called 'Tranquility' for the Beebe South Coastal Cancer Treatment Center in Millville. The purpose of the art created for the center was to uplift people waiting for treatment, give them something to gaze upon and loose themselves in for a while, and I took this very seriously. When the pandemic hit, its purpose became even more meaningful. My thoughts were pretty much a constant prayer for enlightenment and healing for the entire world.
"My second painting during the pandemic was a commission for a gentleman who brought me a beautiful but damaged photograph he'd taken of a favorite place that he hoped I could recreate. The painting fit my mood. It is of a boat moored in the mist. I sought with this one to be true to his photo while focusing on the light burning through the mist, lighting the boat's bow and foreground foliage. I found it symbolic of the time. Keeping our eyes on the light, pointing our bows in the right direction, we will come through this.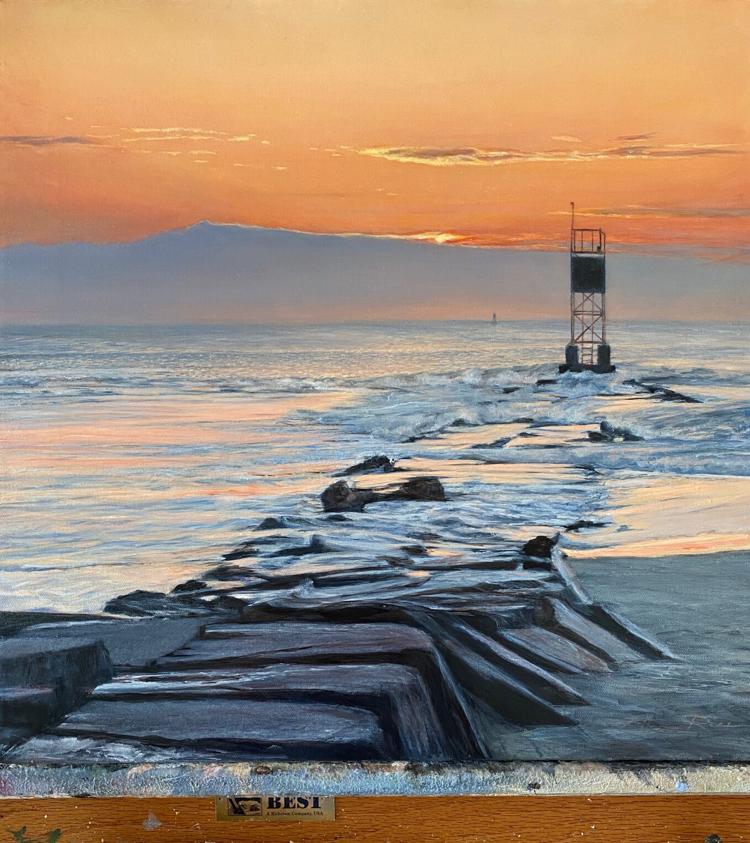 "My third COVID-19 painting, of Indian River Inlet at sunrise, is still in progress. Its lighting is tricky and I want it to be right, to glow, before releasing it. I am also working on a portrait and a couple of small, sunny ocean scenes, simple 'cheer-me-ups.' After finishing the misty painting, I craved brilliant colors, and 'Incoming Tide' fits that description well.
Rice's work can viewed online at ellenrice.gallery and can be viewed and purchased in person from her al fresco exhibit in the fresh air of the finished garage attached to the Ellen Rice Studio, Gallery & Learning Center on Cedar Neck Road, a temporary exhibit designed to keep people safe. The exhibit also features the handmade works of regional artisans who work in a variety of mediums.
Another 17 of Rice's works are also featured in 99 Sea Level and in the lobby, ballroom and other areas of Bethany Oceanside Suites, an oceanfront Marriott location in downtown Bethany Beach.
The Ellen Rice Studio is open every day except Wednesday. Hours are Monday through Saturday, 10 a.m. to 5 p.m. and Sunday, 10 a.m. to 4 p.m. Rice's original paintings are kept inside of the studio, not the al fresco exhibit. To make an appointment to see them, call (302) 539-3405.