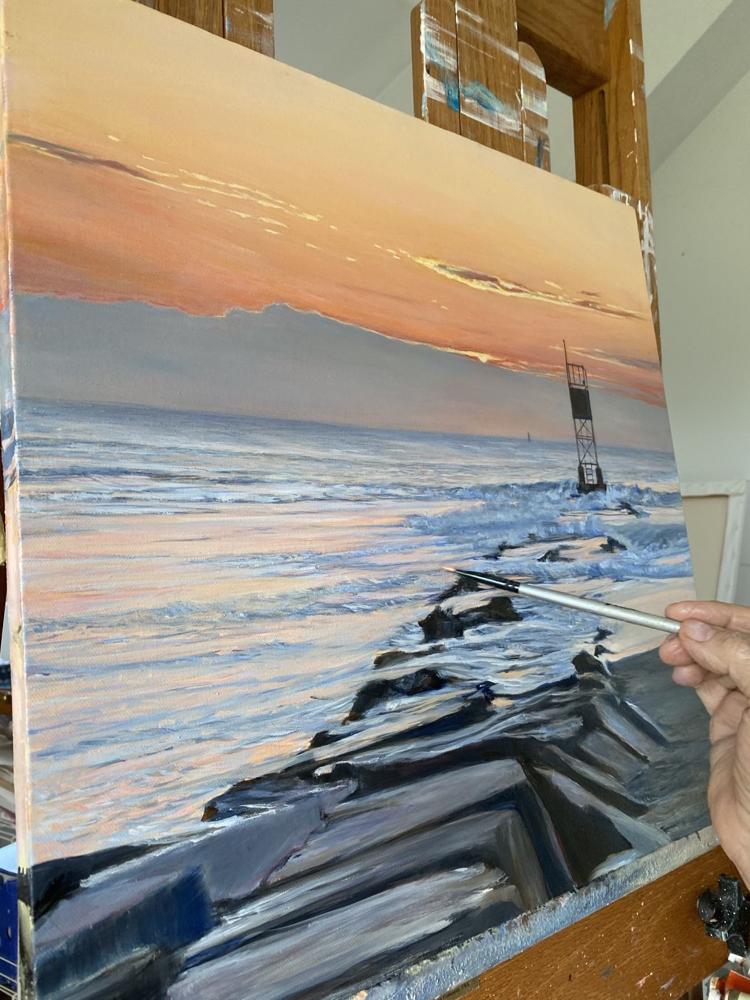 "It's been hard to know what to do in this time, so I've done what I do best: paint," said Delaware artist Ellen Rice this week from a new open-air exhibit at her studio and gallery on Cedar Neck Road in Ocean View.
This Saturday, July 4, at 11 a.m., Rice will debut a new oil painting and prints depicting the Indian River Inlet at sunrise, titled "Incoming Tide," in her new alfresco exhibit in the finished garage attached to the Ellen Rice Studio, Gallery & Learning Center.
She previewed the painting in progress on social media and said she got an overwhelming response — more than 21,000 likes and loves and several inquiries about the original.
"I haven't released the original for sale yet," she noted. "The print proofing process hasn't been completed."
The original will be shown upon request. The debuting prints will be available online and in the alfresco exhibit on Saturday, a space Rice said she feels will be comfortable for most people to enter.
"When we were allowed to reopen, it was with great caution. We debated letting people inside the lovely gallery space we created when we moved to this spot in October, but just couldn't see it. The garage area is almost as large as my first gallery space, so we decided to go for it!"
High ceilings, open windows, plus the back door and the double-car-wide door in front make it airy, Rice said, "like being outdoors but with a protective roof overhead." With safety in mind, all who enter the exhibit are required to wear masks, use the provided hand sanitizer and socially distance from those not in their party. Up to three can enter at one time.
"There's usually a good breeze going through and a lot of natural light coming in. For better lighting, all people have to do is request that the piece they're looking at be taken outside a few steps. There's no better, more true lighting to view art than daylight, the light by which I work.
"The open air exhibit feels a little like going back to basics — very basic," Rice said, "but I keep reminding myself that the thing that has propelled my success as a full-time artist over the years hasn't been the surroundings it's shown in, but the work itself."
Rice has been painting the Delaware coast professionally since the 1970s, selling her first oil to a fellow art class student in high school, graduating to human and animal portraiture, landscapes, seascapes and historic scenes, then newspaper and magazine illustrations, combining art with professional writing and photography until demands for her art persuaded her to go full time painting in the early 1990s, instigated by the release of her "Treasure Beaches of the Mid-Atlantic."
The map gained attention in newspapers and magazines nationwide, then put Rice in the spotlight on television and radio, culminating in a sellout appearance on QVC.
Rice has been named one of Delaware's Top 10 Shore Artists, Best Delaware Artist, PNC Artist of the Year, among other titles, and in its 21 years, her gallery has been named a top retailer of American art and fine craft by NICHE and one of "10 Must See Galleries and Museums in Delaware" by The Culture Trip, an international cultural review group with offices around the globe.
The Ellen Rice Studio & Gallery is at 30370 Cedar Neck Road, Ocean View, just past Big Fish Grill on the left and across the road from Bayside Jet Ski. Free parking is available. It is open six days a week, Monday, Tuesday, Thursday, Friday and Saturday from 10 a.m. to 5 p.m., and Sunday from 10 a.m. to 4 p.m.
More information is available by calling (302) 539-3405 and by visiting www.ellenrice.gallery. Members of the public who would like to view original paintings, which are kept inside the gallery's climate-controlled interior, are asked to call ahead for an appointment.