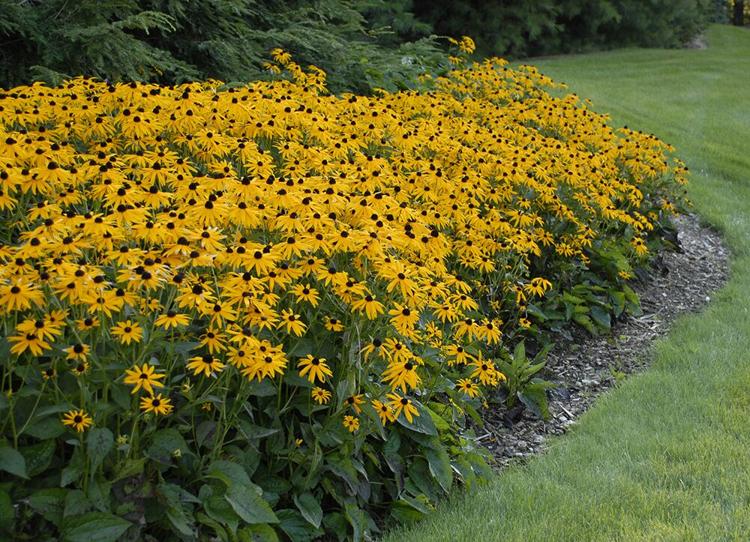 What is summer without the bright and cheerful flowers of black-eyed Susans? Long-blooming, tough and easy to grow, the rudbeckias are a large group (genus) of plants that many of us depend on in our summer gardens. And, did you know that there are actually two different kinds of flowers on them? Like all members of the sunflower family (which also includes sunflowers, coneflowers, asters, mums, and many, many more daisy types), each flower is divided into the ray flowers (what you know as the petals) and the disc flowers — teeny little flowers that make up the central cone.
There are a number of different species in the genus, mostly differentiated by size, flower color — they bloom in shades of yellow or orange — and the color of the flower's central cone. One species is rudbeckia fulgida, called black-eyed Susan. It gets to about 2 to 4 feet tall, with orange to golden yellow flowers. It grows in clumps, like all the black-eyed Susans, some of which will slowly spread to a good size. And, like the group, it likes full sun, but can take a little shade; it prefers moderately fertile moist, well drained soils.
"Goldsturm, getting to 1 to 2 feet tall, and "Little Suzy" (a dwarf form that grows to about 1 foot) are two common cultivars.
Another very common kind is rudbeckia hirta, also known as a black-eyed Susan. This is the official state flower of Maryland. It grows to about 2 feet, with hairy leaves, coarse stems, and flowers about 3 inches across. It can be short-lived in the garden, but many cultivars (cultivated varieties) have been developed that are showy workhorses, blooming all summer. Imagine a 6-foot-tall black-eyed Susan!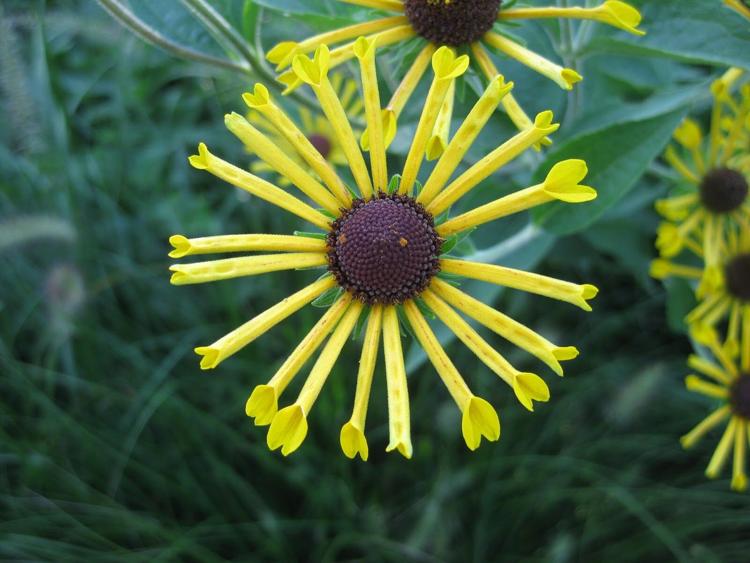 There are a few, including rudbeckia maxima, aptly called the great coneflower, or rudbeckia subtomentosa, the sweet coneflower (neither are really coneflowers). "Henry Eilers" is a cultivar of R. subtomentosa, getting to about 4 to 5 feet tall, with absolutely beautiful flowers with quilled petals.
No matter which of the Susans you choose, you'll have a cheerful, bright flower in your yard for a long time. With all of them, leave some of the flower heads so the birds can munch on the seeds, only cutting them back in late winter. Enjoy!