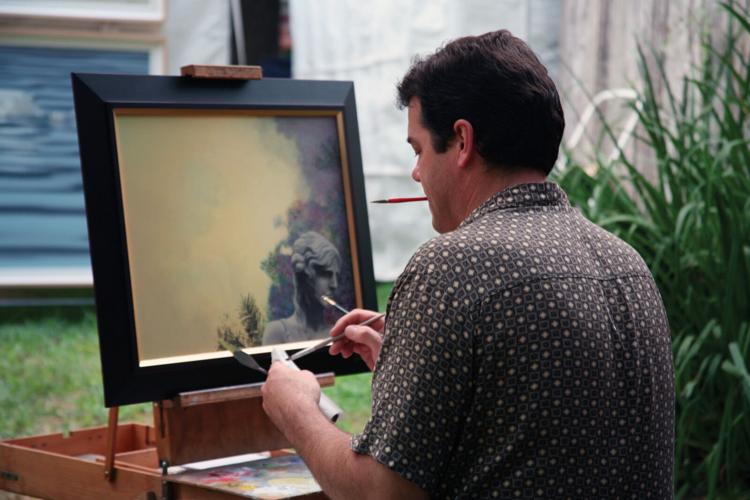 Local artist Damon Pla has opened a new studio, a space at 101 Atlantic Avenue in Ocean View where the acrylics artist creates his signature landscapes and surreal compositions and welcomes guests who enjoy his works on display and for sale.
Being positioned in the 800-square-foot gallery, with studio, forces the Dagsboro resident to maintain  a structured schedule, he said, adding he also has a studio in the Bethany Forest home he and wife, Dana Evans, share with  their 16-year-old daughter, Maya, and 10-year-old daughter, Zoey.
"It's working well, discipline-wise. Sometimes I realize I am still there at the new studio and it's after closing time.  It's a signifier that the discipline is working," he said during a recent afternoon conversation.
In 2001, Pla moved from Florida to Delaware, where he was busy painting murals. The last summer before relocating, he stayed north until October and said he "just fell in love with the seasons changing."
"It's gorgeous. There are no chunks of time that are signifiers in Florida, but here, I'm still near the beach and I get to enjoy the seasons. After painting murals for so many years up here, I met my wife and we had our first child, and I realized with her wanting to work, I wouldn't do murals as much. So, I started painting.
"There is somewhat of a connection for me between landscapes and surreal paintings, and that is the setting. Setting and time of day. I am obsessed with late afternoon light. It's how I wish all light would be at all times. I think we'd all be a little happier.
"When I was in high school, I was introduced to surrealism through Salvador Dali," he said. "I just didn't realize psychology and art mix together like that. I wanted my paintings to speak to others. Some images come to me and I just had to get them out."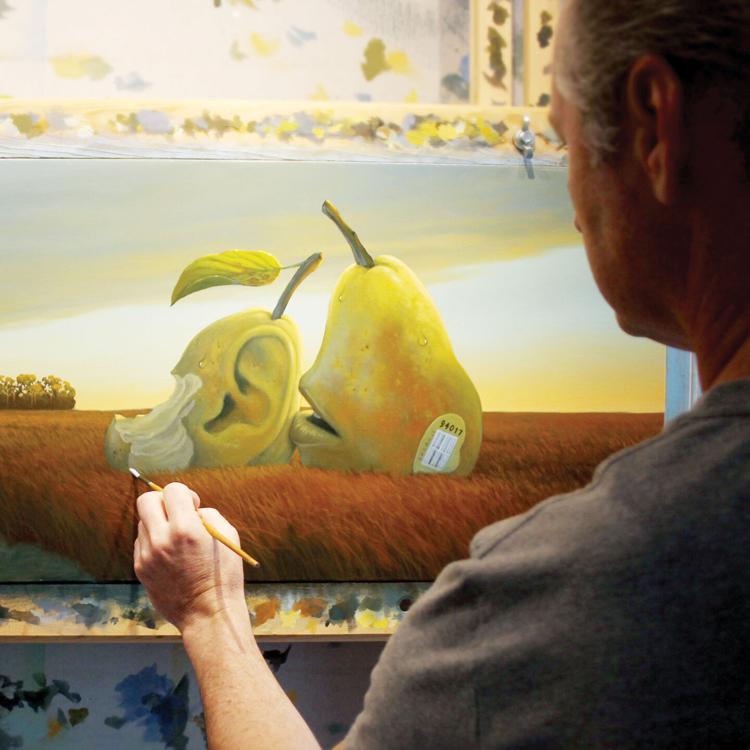 Pla sells nearly all of his works, as well as prints of them.
"I'm making room in my head for more images to grow so the tangible items themselves can easily be loved by other folks. But that image is burned into my memory," he said.
Paintings include "Inner Light," depicting hands coming through the canvas, one holding a match, lighting a lighthouse at the top as ocean water laps rocks nearby; and one, titled "Memories of Home," showing favorite household objects, such as a lamp and chair, washing away as the nearby home, rising into the air, is tethered to the ground.
Prices range from $500 to $15,000, but, he said, "I know where we live, so $12,000 paintings aren't flying off the wall every day."
"I try to maintain a good notion of the market," he said.
Pla, who also does his own printing, designed the interior of the studio, hung track lighting, installed wallboard, and built counters and walls. "I had an idea of how I wanted it to be presented," he said.
Interestingly, his entire family is interested in art, with his wife, who specializes in hair colors at her salon, Indigo Opal in Rehoboth Beach. Maya, a junior at Indian River High School, has performed in plays, is in the band, and loves acting and singing. Her younger sister is following in her footsteps and goes with her father to the studio to draw and paint.
"I am so proud of them," said Pla, who has been on the art circuit in the area for 15 years.
"Now, this new studio — it opened about four weeks ago — the swinging door, is a big deal for me. As artists, we all wait for weekends, for art shows to come up. I used to do three or four a month. Now I am eight minutes from home, and it's wonderful to come here to the studio and flip on the lights. People come and go. It's been a real warm welcome, and it makes my work more available to the public," Pla said.
The studio is open Mondays, Wednesdays, Thursdays, Fridays and Saturdays from 10 a.m. to 4 p.m. and Sundays from noon to 4 p.m. It is closed on Tuesdays.
"I always wanted to open a gallery," Pla said, a happiness in his voice. "What artist wouldn't?"