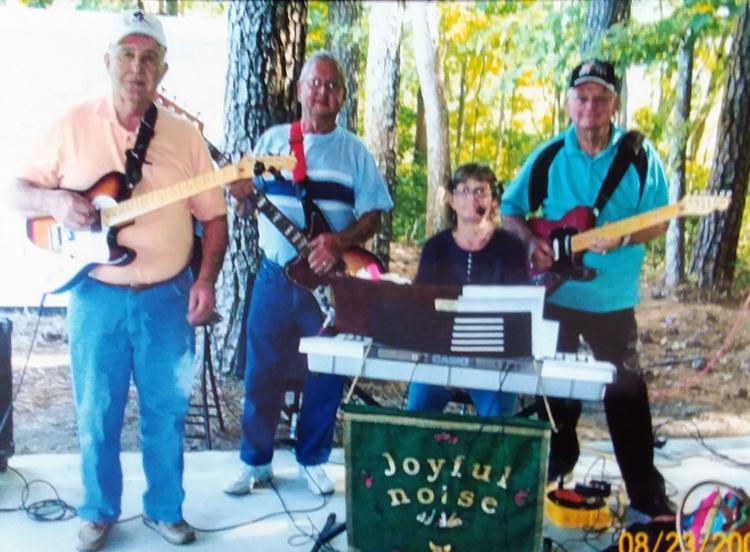 There's going to be toe-tapping music on the porch, country tunes and old-time gospel that conjure memories of a simpler time.
That's what Joyful Noise takes to assisted living facilities and churches in South Coastal Delaware, and it's what they are promising from the porch of lead guitarist Lee Hall's home, at 5 p.m. on Father's Day, Sunday, June 21, at 355 Peachtree Lane in Millsboro.
The 81-year-old Berlin, Md., native formed the singing group with his daughter, Debbie Littleton, and friend Larry Curry of Ocean Pines, Md.
Littleton is vocalist and plays keyboards. Curry, also 81, plays bass guitar. Another member is recovering from a stroke and won't be with them.
"My daughter is 61, and she's been playing since she was 13. She started playing in church around that age, and I always played in church for years and years. Then, about 10 years ago, we started a group.
"We play clean country and gospel. We don't do barroom songs and things like that, but we do Loretta Lynn, older gospel stuff like 'I'll Fly Away,' 'Amazing Grace,'" said Hall, retired from a lawn equipment business he ran in Berlin.
Joyful Noise performs about six times each month, always on weekends, but hasn't been out since early March since restrictions were put in place to protect against the coronavirus.
"In this time of the pandemic and so much negative news, we are trying something positive," his wife, Barbara, said, adding that the singers also go to nursing homes.
She reminded those attending to take lawn chairs, wear masks and remain safe distances from each other.
"Anybody is welcome to come," Hall said.
"We've been entertaining for years, and this time we thought we'd do something for the neighborhood. We decided we'd open it up for our community."