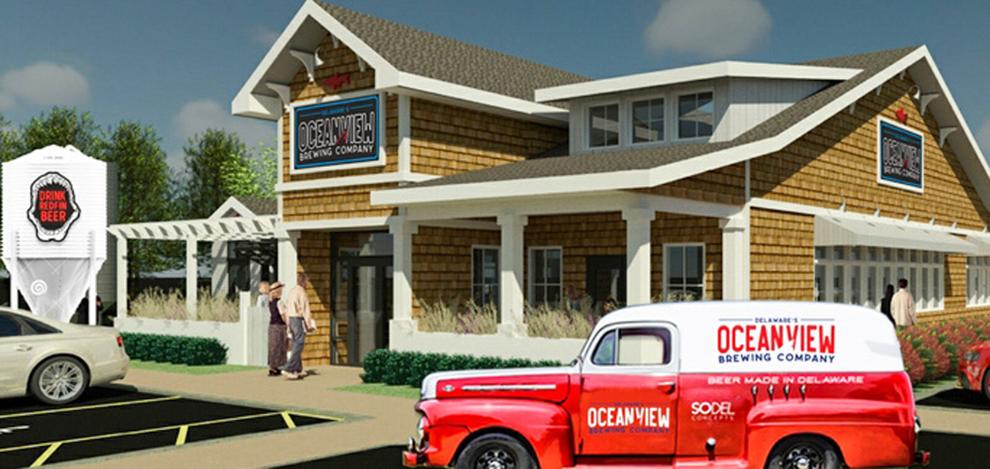 SoDel Concepts' new, 200-seat Ocean View Brewing Company is expected to open in March, providing about 80 new jobs and with Duck Fat Popcorn and Sloppy Joe Eggrolls on the menu.
"Duck Fat Popcorn is cooked in rendered duck fat, then it's tossed with Old Bay and sprinkled with powdered sugar for that sweet and salty taste," Douglas Ruley, Vice President of Culinary Operations for SoDel, told Coastal Point.
"Duck fat is like bacon fat but without the smokiness. We will also have Bavarian pretzels. We are likely to bring back some old favorites like our Sloppy Joe Eggrolls. They are made with seasoned beef in an eggroll wrapper and served with a special spicy ketchup. For vegetarians we are looking at avocado toast and we will have Local Vegetable Grinders, sandwiches with fresh-roasted vegetables, arugula and garlic mayonnaise on a fresh tortilla roll," Ruley said.
"We don't want to copy exactly what we have done at Thompson Island but we want to take what did well and bring it to Ocean View in a different light. At Thompson Island the focal point is great beer and traditional beer and we also have some beers that are dessert inspired. We might take the flavor of a doughnut, for example, and infuse it into the beer. Also at Thompson, we are known for fried chicken and we will bring that to Ocean View. We will have deviled eggs and probably gumbo because it compliments the beer," he said.
Types of beers are now being planned, he said, and that the company's Beer Director and Head Brewer were heading to Germany this week to become familiar with equipment that will be used.
The 5,000-square-foot Ocean View establishment, at the corner of Route 26 and Woodland Avenue, will have a coastal feel, likely with an Americana interior in shades of red, white and blue instead of a nautical theme.
"We want it to feel bright and inviting. We will brew beer on the second floor, so if you come in and look up you will see all the equipment. We will probably have tours of the brewery eventually," Ruley said.
For non-drinkers, Matt's brand sodas will be available in several flavors including orange, cherry, root beer and ginger.
"Even if you don't eat meat or drink, we've got you covered. We put love into what we do. We are chef-driven," he said.
Taylor Smith of southern Pennsylvania will be the Brew Master at the restaurant that will also boast a beer garden, fireplace and outdoor dining. It will be the second brewpub for SoDel, a hospitality group based in Rehoboth Beach, and serve lunch and dinner.
Scott Kammerer, president of SoDel Concepts, said he is looking forward to "bringing a first-class brewpub to Ocean View."
"We love the community, which has supported NorthEast Seafood Kitchen, also in Ocean View, as well as our restaurants in Bethany Beach and Fenwick Island. We have so many loyal customers in the area, and this has been a long time coming," he said.
"Our food is really good, consistently fresh and local," said Nelia Dolan, who handles public relations for SoDel.
"We try to concentrate on that but we also pride ourselves on our service. We have a pretty intense training schedule for all of the employees. We added on a training department last year. We really pride ourselves on having good servers that know a lot about everything they are serving," she said.
SoDel Concepts opened Thompson Island Brewing Company in Rehoboth Beach in 2019. Once the Ocean View restaurant opens, the company will have 14 restaurants.