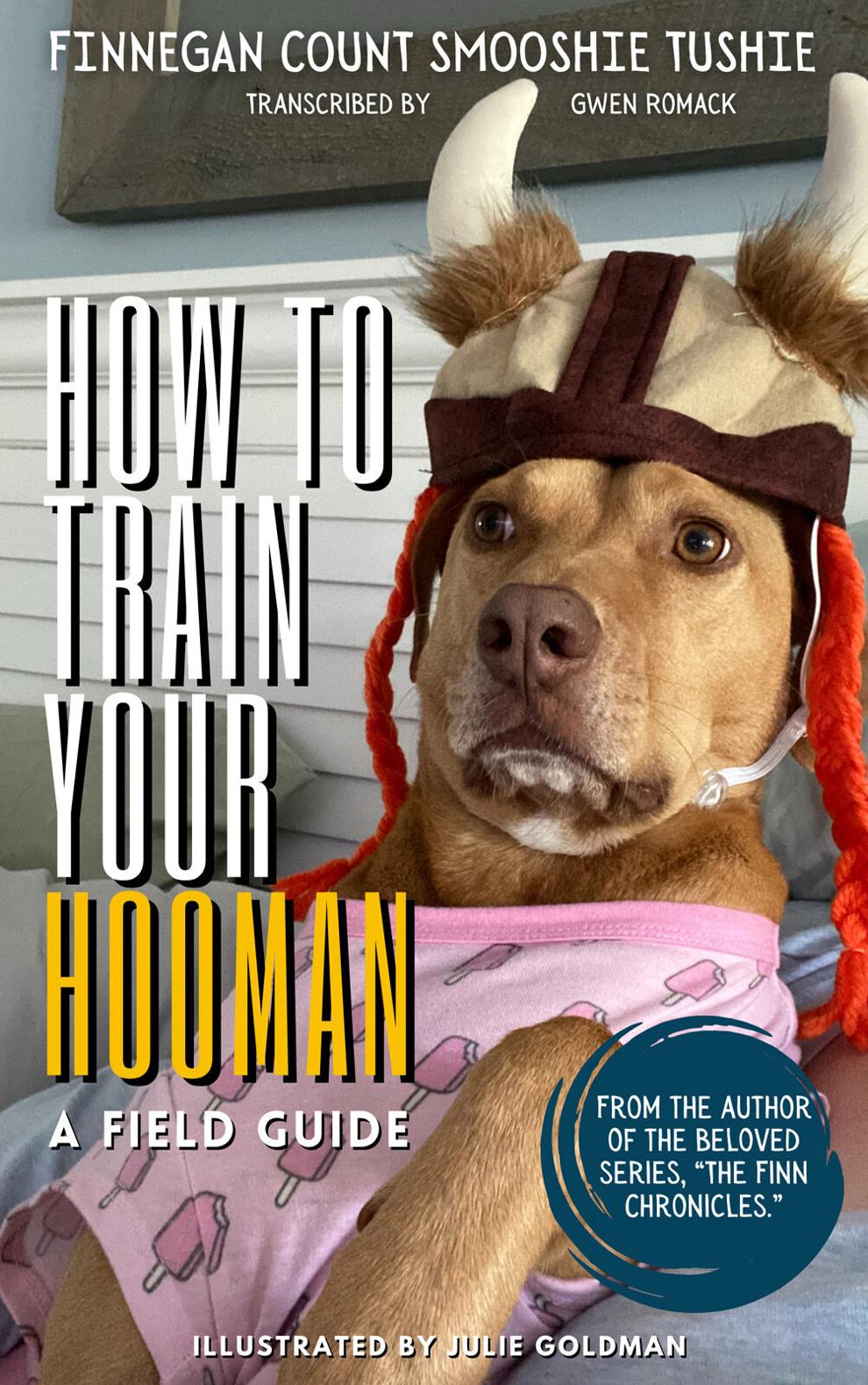 Well, look who's back, guaranteeing guidance with a woof and a wag, and teaching all dogs new tricks.
It's 3-year-old Finn the Vizsla-beagle-pit bull mix, who recently released his third book, "How to Train Your Hooman."
The peppy puppy has two previous volumes under his collar that readers have found entertaining and endearing. The third is now for sale in stores including Browseabout Books in Rehoboth Beach, Patti's Hallmark in Millville, Biblion Books in Lewes, Greyhound Books in Berlin, Md., and Fenwick Hardware in Fenwick Island.
The 112-page, $14.99 book is also available online at https://www.thefinnchronicles.com/where-to-buy/ or by e-mailing Finn's owner and appointed transcriber, Gwen Romack, who calls it "pawket" sized. Her e-mail address, named for Finn's term of endearment for her, is thesquishyone@thefinnchronicles.com.
Described as a field guide that teaches furry friends Finn's tried-and-true techniques for "getting unruly hoomans to capitulate," "How to Train Your Hooman" is the brainchild of Romack, but all the credit goes to the dog, whose goal, she said, is to convince the world he's a five-star boy living in a two-star world.
That makes it necessary to train Romack and her husband, Evan Somerstein — his own often-hopeless humans.
For instance, will they let the dog sleep with them? Finn is confident these rules are most flexible because humans are, after all, pushovers.
Many new dog owners firmly state, "No dogs in bed," but Finn observed that warning quickly changes to, "OK, maybe tonight if you want to cuddle."
That evolves into, "Fine. Just stay down there, OK?" and ends up with the dog sleeping on the owner's face "or tucked into their business end."
"When they start snoring like chainsaws cutting through a forest, it's time. Once they're asleep they are more malleable. Approach the side of the bed with the hooman you think most likely to crack — this is usually the female hooman. Place your lookers and ear flaps into the sad 'I'm just an innocent puppy, why don't you love me?' position and begin negotiations. I usually begin with a soft whimper that's quiet but loud enough for her to hear over the chainsaws," Finn advises.
In the "Love Hurts" chapter, Finn explains his system for "strategic retaliation" when the humans fail to live up to his standards.
"He provides his fellow canines with a ranking system of things to destroy, warning that going for something too precious (like a wedding cake or shoe with a red bottom) will mean you hear about it forever. Targeting something important but not too important (like drywall) is a better option."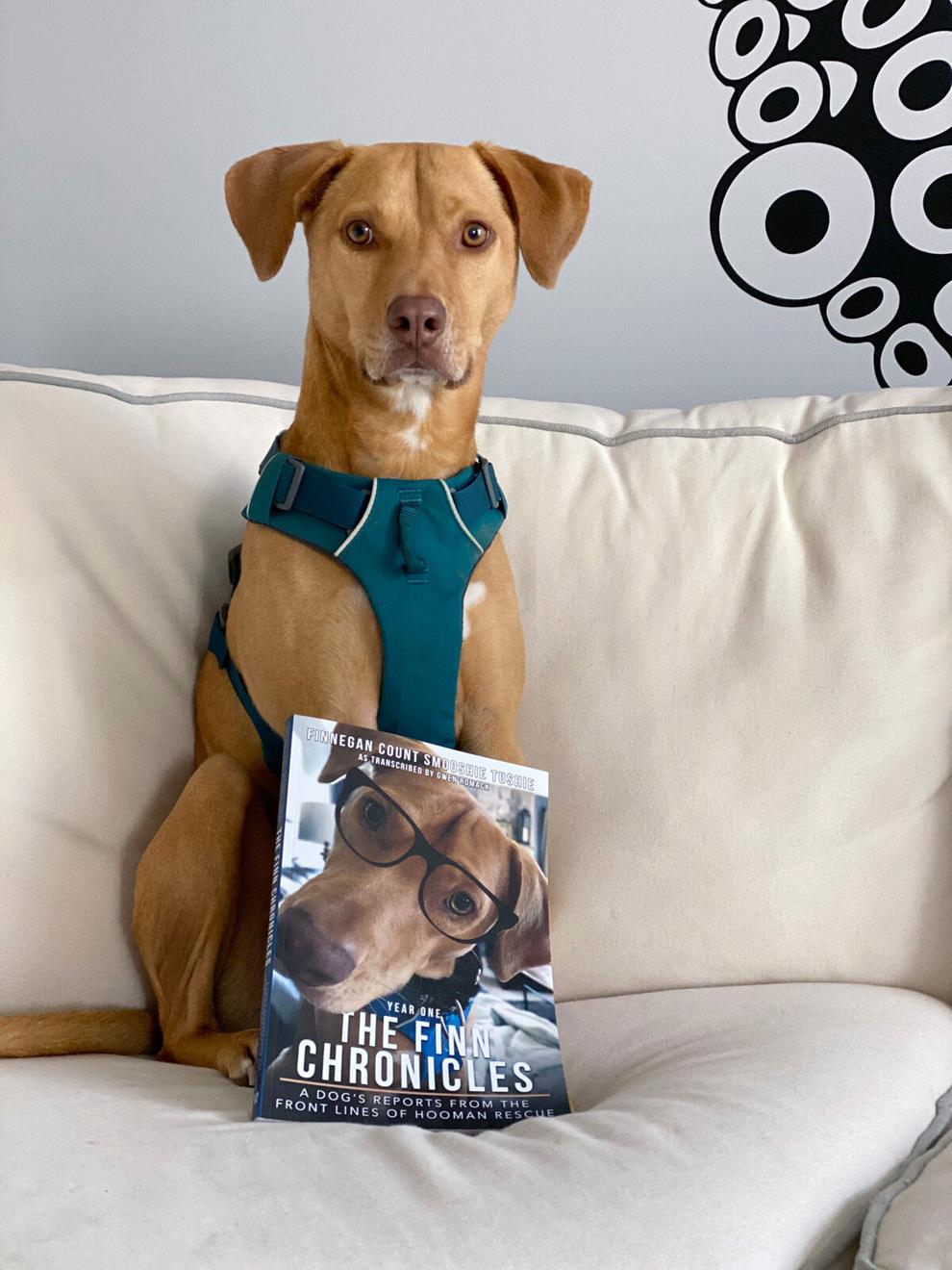 Other topics in Volume 3 include "Singing the Song of Our People," "What's That? I Can't Hear You Hooman," "You Can Vomit Anytime You Want," "Maximizing Treatage," "Walkies: Problems and Solutions" and "What the Bafftub?"
Since the first book, "The Finn Chronicles: Year One," was published in July 2020, Finn's words have reached fans in the United States, as well as in the United Kingdom, Canada, Germany, Australia, Argentina, Cambodia, the Philippines, Brazil and even the Swiss Alps.
"The Finn Chronicles: Year Two" followed.
Romack has also involved Finn in Zoom classroom sessions with children, using an activity book based on his antics. Children are taught about dog care, rescue, dangerous foods to avoid and how to interact with pets, and the book includes pages to color.
"I'm more excited about it than his books. It turned out so cute. The illustrator did it based on Finn. I worked with a veterinarian, mothers and teachers. I really wanted to teach kids and explain what a rescue is and why it's important. It's live on Amazon. I'm hoping it will go in Easter baskets," Romack said this week from Frederick, Md., where she and her husband are preparing the home they own there for sale — an undertaking that has rocked Finn's routine.
"He's pretty stressed. He has a little OCD, you know, so if a chair is in the wrong place, he'll bark at it until we move it," Romack said, adding that Finn goes to doggy day-camp, where he plays all day and returns home tired — but not too tired to exercise his exhortations.
"It's been such a weird and wonderful time on this new adventure. Becoming an author and learning the ropes has been a wonderful distraction from unemployment, the pandemic and all the unrest coming across TV and social media this year," Romack said.
"And the daily comments, messages and reviews I get from fans about how Finn's books have helped them through a hard time, made them laugh or gotten their usually-stubborn teenagers to read — those have been a life-raft for me, she said.
"Every single message fills me with joy. We all need more moments of laughter and happiness, especially now. I love that I can offer that through the books and even Finn's social media posts and videos. It's funny that a slow-motion video of Finn mastering his new twirl trick can make so many people feel good for 10 seconds. I just love that, for me and for them."