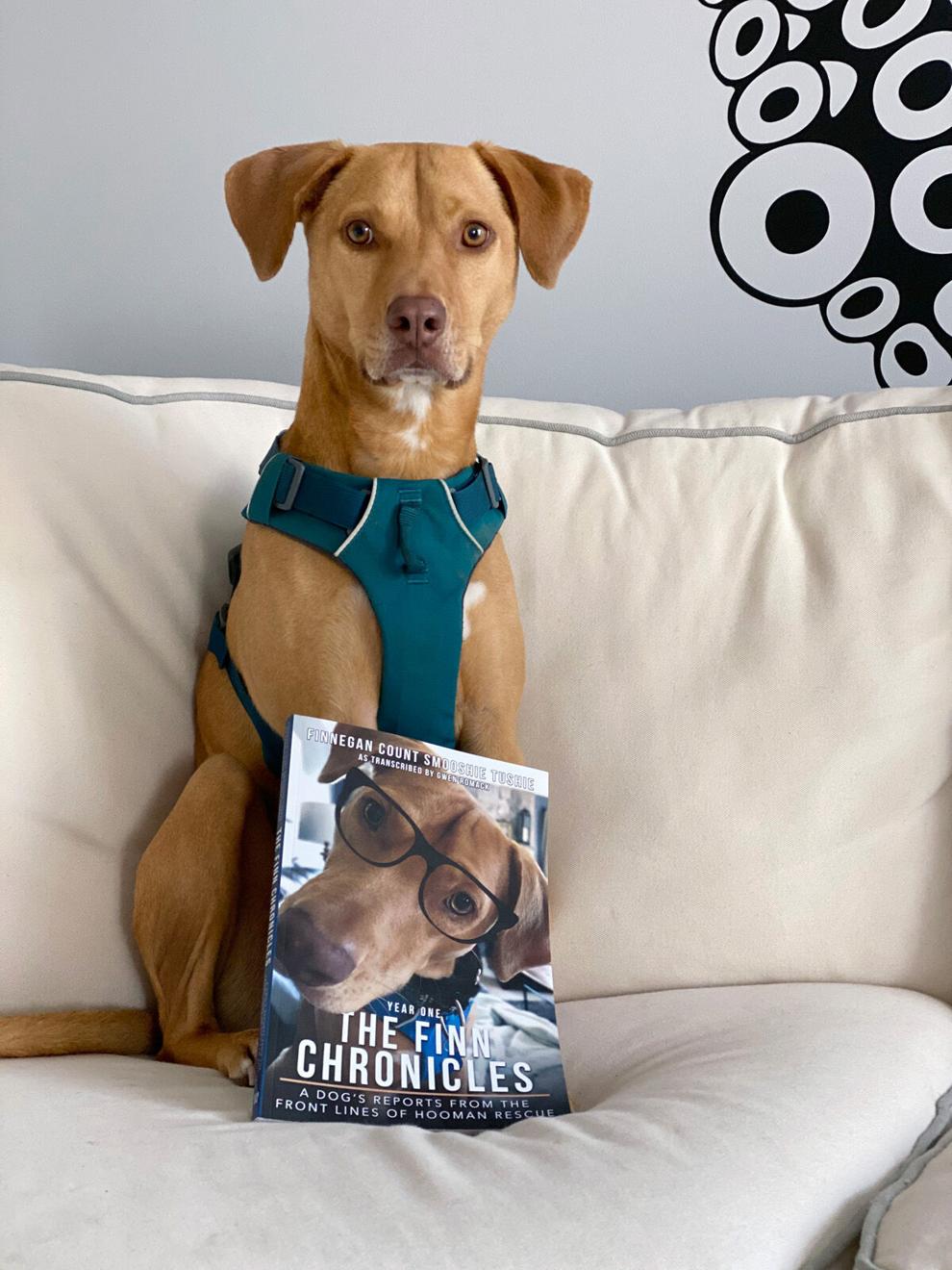 On this particular day, Finn looked spiffy in a bowtie and was bouncing with the energy of a happy 3-year-old dog.
His four-legged friend Stella was coming for a playdate, and Finn was in a hurry for his owner, Gwen Romack, to open the door. No doubt, after they ran and played like the tornadoes Romack good-naturedly compared them to, Finn, as is his habit, would report details to K9 Rescue Headquarters.
That's the fictitious organization Romack created as she watched the comical antics of the Vizsla-beagle-pit bull mix she and her husband, Evan Somerstein, adopted and decided to write a book about his observations of often-comical human behavior. Romack imagined him keeping track of their habits, from drinking "nasty brown water" first thing in the morning to killing the ants in the kitchen that he preferred to play with, then "dictating" his report to Romack, who would write it for him.
Romack's book "The Finn Chronicles — Year One: A Dog's Reports from the Front Lines of Hooman Rescue" was so popular that she wrote a second one, the newly released "The Finn Chronicles — Year Two: A Dog's Reports from the Front Lines of Hooman Rescue."
Available for $29 at shops including Patti's Hallmark in Millville, the second volume picks up where the first ended.
"Finn settled down in Year 2, in terms of his horrible behavior. His focus turned more toward refining the training of the two hoomans," she said, adding that she, her husband and, of course, Finn, hope the book brings "much-needed laughter and light during these difficult times."
"All the essential workers out there risking their lives to keep our society running during a global pandemic — healthcare workers, grocery workers, truckers, post office employees, growers and the rest," listed Romack, who, in the book, decided Finn would dub her "The Squishy One" and her husband "The Hairy One."
In the second book, the brown-eyed, copper-colored dog, who hankers for bacon and has a soft spot for puppies, continues his obsession with Tony, owner of Turtle Beach Café in Bethany Beach, who offers the dog bacon every time the family visits. Tony is Finn's bacon dealer, Romack said with a laugh, adding that the dog shamelessly stands outside the restaurant and howls until Tony appears, bearing a crispy slice.
"Finn got braver about the ocean. He was terrified about the ocean and the bay. He would bark at them and run away. Now, he is not going fully in, but he gets in. He calls the ocean 'a giant bathtub,' and he is not a water dog," Romack said.
He finds it entertaining to dig in the sand for crabs and, Romack said, keeps an eye on the birds his hoomans told him are called seagulls.
But Finn isn't so sure. When he dictates his report to "The Squishy One," he will use the term he bestowed on these excitable, squawking creatures: beach chickens.
Book two is also for sale at Greyhound Books & Fine Art in Berlin, Md., at Biblion Books in Lewes and at Browseabout Books in Rehoboth Beach.