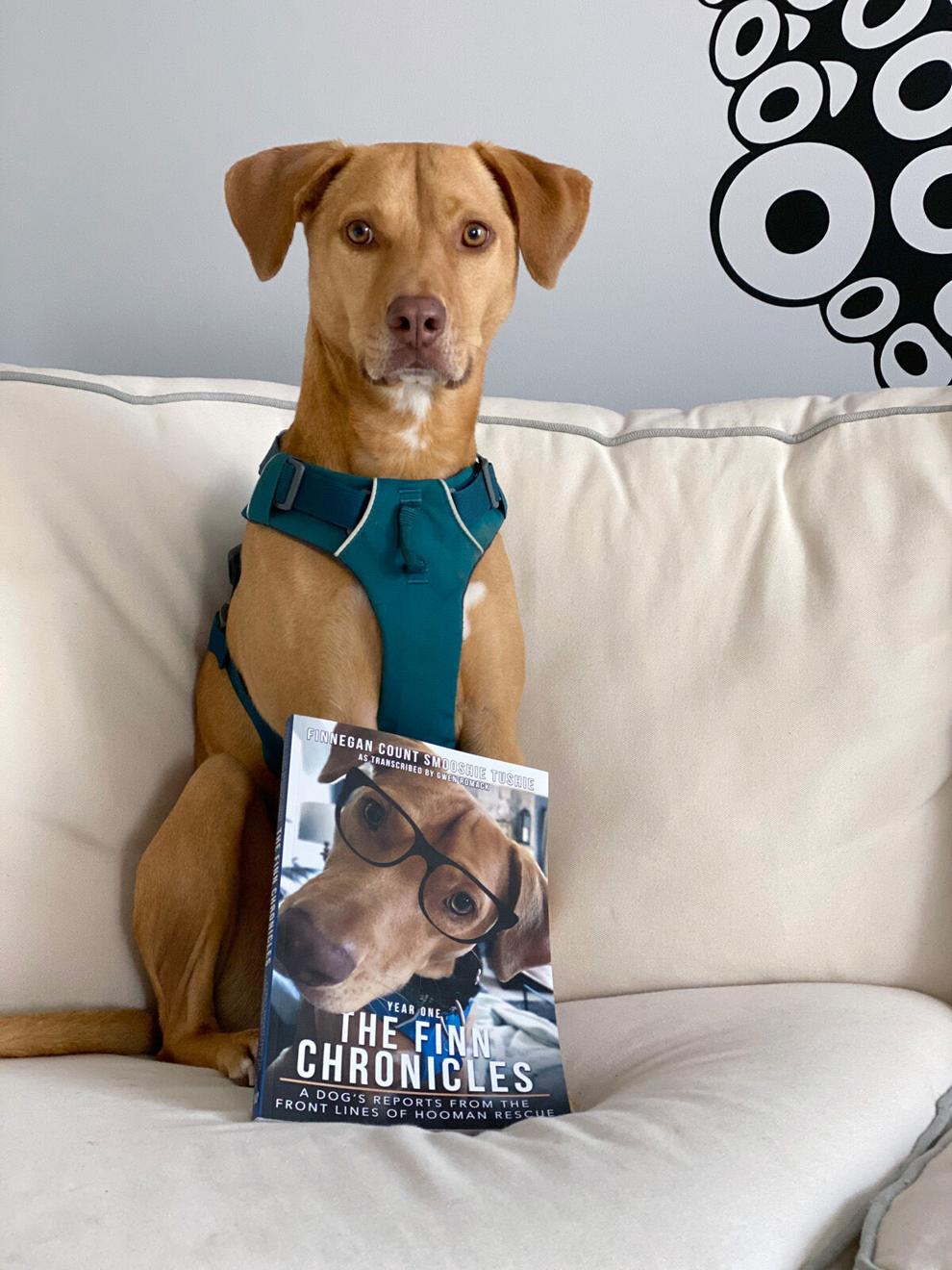 The day Finn's owner woke to ants in the kitchen, the Vizsla-beagle-pit bull mix was enthralled and watched carefully, knowing he would dispatch every detail to K9 Rescue Headquarters.
Don't mention this to Finn, but that organization is fictitious and he can't write, but his owner, Gwen Romack, who penned a book about his antics, lets him think he's dictating to her, without pay, of course. It makes Finn feel doggone good knowing the woman he calls "The Squishy One" is preserving his account of life with her and her husband, Evan Somerstein, dubbed "The Hairy One."
Finn had quite a bit to say about both of them when the ants went marching in.
"I heard The Squishy One stumble to the kitchen to make her nasty brown water. Then I heard her scream, 'Evvvannn!' That's what she calls the Hairy One when he's in trouble or she is. We rushed in to see what was wrong and saw Ant-Maggedon. It was glorious. Those little guys were scurrying everywhere and very focused on their parade.
"I tried to help and The Squishy one dragged me away to let daddy save us all. I don't know what the big deal was. They looked fun. Mommy freaked out and took everything out of the kitchen to wash. She muttered a lot and seemed more nuts than usual," Finn disclosed, adding the hash tags #AndThatsSayingSomething and #ThenThereWasBleach #SoMuchBleach.
Stories like this fill Romack's book, "The Finn Chronicles: Year One," a delightfully comical look at the world — and the two-legged creatures he calls hoomans — through the dog's eyes. Even teenagers find it entertaining and readable, said Romack, who was surprised by its wide appeal.
"I guess a book that makes fun of adults, talks about poop and pee with abandon and includes funny hashtags is a 6- to 15-year-old's dream come true," the author said, laughing.
In his Week 122 report, the copper-colored, brown-eyed dog documented, "The Squishy One has one job, OK, maybe two. But one of those is wiping away my eye boogies. I like that done within 37-42.5 seconds of waking up. Lately she's been really slacking on this. I try to climb on her chest while she's still sleeping to alert her. But she just yelps. #ICanPoopInYourShoeAnytimeIWant."
Finn's description of a particular Tuesday when "the nice men came to work on our leaky roof" included his delight with going to play-care.
"There was a puppy! She was so fluffy and soft. I took care of her all day and made sure she wasn't scared. The hoomans called her Koa but I called her MineOMine. She obviously looked up to me for my rugged good looks and devilish charm. #WhoWouldnt #LLFinn."
"The Squishy One put this absurd hat on me and made me look at her for a picture. She claims it 'just came in the mail' and has no idea how it all happened. The indignity I suffer is real," he is credited with writing on another day.
Romack's 193-page paperback, with 208 photographs, was published July 11 and is available on Amazon.com. The cost is $29.99. There is also a Kindle e-book version. See https://www.amazon.com/gp/product/B08CHMX8NK.
The book is also for sale at Patti's Hallmark Store in Millville, Greyhound Books in Berlin, Md., Station on Kings in Lewes, Fenwick Hardware near Fenwick Island and Salty Paws in Rehoboth Beach and in Annapolis, Md.
A second book will be released in late October or early November.
Finn also has more than 2,500 followers at www.thefinnchronicles.com and on his Facebook page, at www.facebook.com/FinnChronicles. The dog is on Instagram: at @finnchronicles and YouTube at https://www.youtube.com/c/FinnTheDog.
Finn, Romack rationalized, sees his life work as training the couple. Telling his story with sarcasm and wit, Finn watches "the curious world around him, heroically saves his unwitting hoomans from dangers … and shares his musings about the often-lackluster level of service he feels he receives," Romack said.
"I'm a Maryland native, avid dog lover and rescue volunteer. My husband, Evan, and I agreed to foster Finn a year after losing our beloved Vizsla-pit mix, Mr. Snuggles, at age 14. Finn was what we call in the rescue community "a tough case," because he was orphaned so young and his time on the streets left him with some behavior challenges.
"We took him in, planning to rehab the behavior and send him to a great home. I began posting Finn's weekly updates, in his voice, on Facebook as a way to help prospective adopters fall in love with him. But it became clear pretty quickly that we would become foster fails and Finn was already home. The posts became so popular in the Vizsla community that I kept going," she said.
In April, Romack lost her corporate job as an ethics, compliance and anti-corruption executive and started writing the book "after years of people encouraging me to publish" the weekly remarks.
"I decided to use this down time to make it happen. It's been a welcome distraction to the slog of job hunting during a global pandemic, and it's kept my brain growing. There's a lot more to the science and art of self-publishing than I ever imagined. It's been fun to learn and see where this goes. Book One is his first year of weekly reports with select pictures and links to videos on YouTube. Book Two will follow this fall with his second year, and I hope to continue as long as he's still a riot," Romack said.
Finn visits local businesses and quickly made friends with Tony from Turtle Beach Café on the Bethany Beach boardwalk. Tony is his "bacon dealer," his owner said, and gives the dog a full slice of bacon when he sees him. Finn also frequents Coastal Veterinary and the Heavenly Hound Hotel in Selbyville.
"I have some health challenges that make me high-risk for COVID, so I've been mostly locked up at home since March. Writing the books, learning the ins and outs of self-publishing — which is not for the faint of heart — trim and bleed sizes, cover art and all the related processes has been a great mental and emotional distraction from job hunting during a pandemic, being unemployed and stuck at home 24/7.
"And seeing hundreds of messages from people about how much they loved the book, how it made them laugh and brightened otherwise dark times — that's just the very best part for me," said Romack, 44, a native of Montgomery County, Md. Her husband, a cyber-security engineer, grew up in New York City and New Jersey.
"Our whole marriage has been rescuing animals," said Romack.
Mr. Snuggles taught the couple how sensitive, emotional, stubborn and smart Vishlas are, and how much exercise they need.
"We rescued Finn, and it took three months to correct some of his horrible behaviors," Romack said, lightheartedly describing his attachment to her husband and the seven-minute tantrum he had, "screaming and howling and throwing himself on the ground" when Somerstein went out without him.
"He's very dramatic," she said.
But he makes up for capricious behavior with creative tidings, including one for holidays.
"These weirdos brought in a plastic imposter tree," he noted, "but I'm not allowed to pee on it."