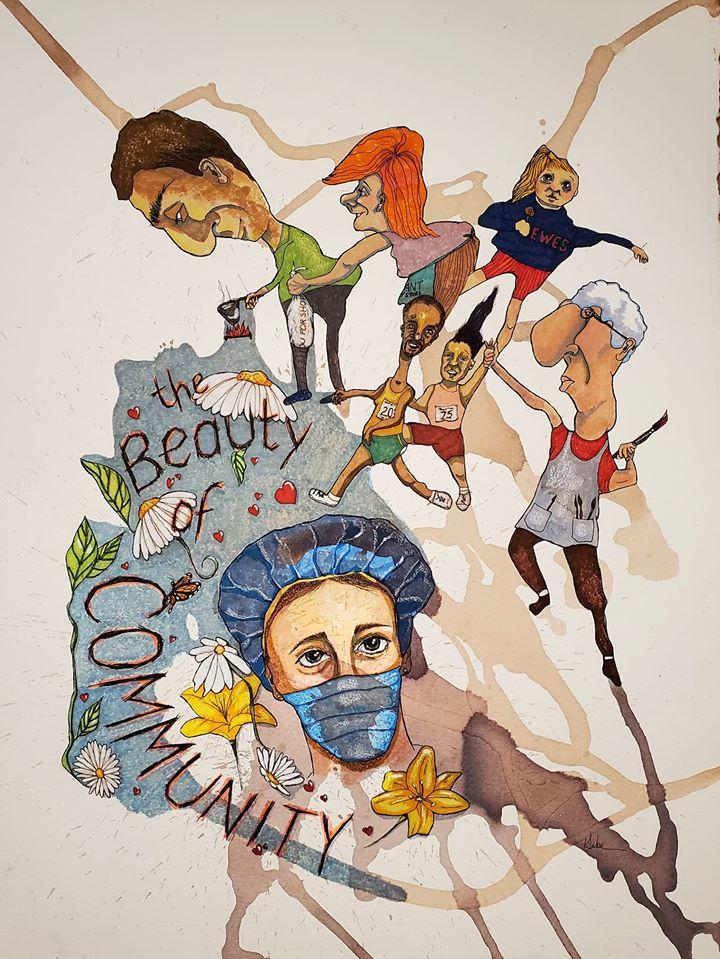 The Rehoboth Art League (RAL) is the recipient of funding from member artist Kim Klabe, a longtime fixture of the coastal community known for her painting and her new wine-and-beer pours. Klabe, through a creative fundraising initiative, "The Beauty of Community," raised $400 and presented it to the art league in support of their mission to promote arts and arts education.
In response to the coronavirus pandemic and weeks of isolation, Klabe made use of technology and her artwork to raise awareness about the important role that the arts play in the community. Her "Beauty of Community" event, which began April 23 and lasted four weeks, included demonstration videos of her artistic process, sharing the ways in which she developed her pour techniques.
Klabe's wine-and-beer pours transform spills on paper into recognizable shapes and figures, which she then develops with colored pencil and other media into a final piece of artwork. Viewers were able to follow along on social media with the development of the artwork, and ultimately have a chance to win it through a raffle.
Klabe selected five nonprofits that she knew were struggling due to enforced closures and loss of income. The winner of the raffle eventually got to select the final nonprofit beneficiary, in addition to walking away with Klabe's original piece of artwork, titled "The Beauty of Community."
"The Rehoboth Art League was pleased to have been selected as the event's beneficiary by raffle winner Michelle Murray Flowers," representatives said.
Videos of Klabe's techniques, which detail her artistic process, can be found at www.kimklabe.com, and her work is currently for sale at the league's gallery.
The Rehoboth Art League is a membership-based nonprofit arts organization dedicated to teaching, preserving and inspiring the arts in the region. For additional information about the art league, its classes, memberships, events and exhibitions, visit the website at RehobothArtLeague.org or call (302) 227-8408.