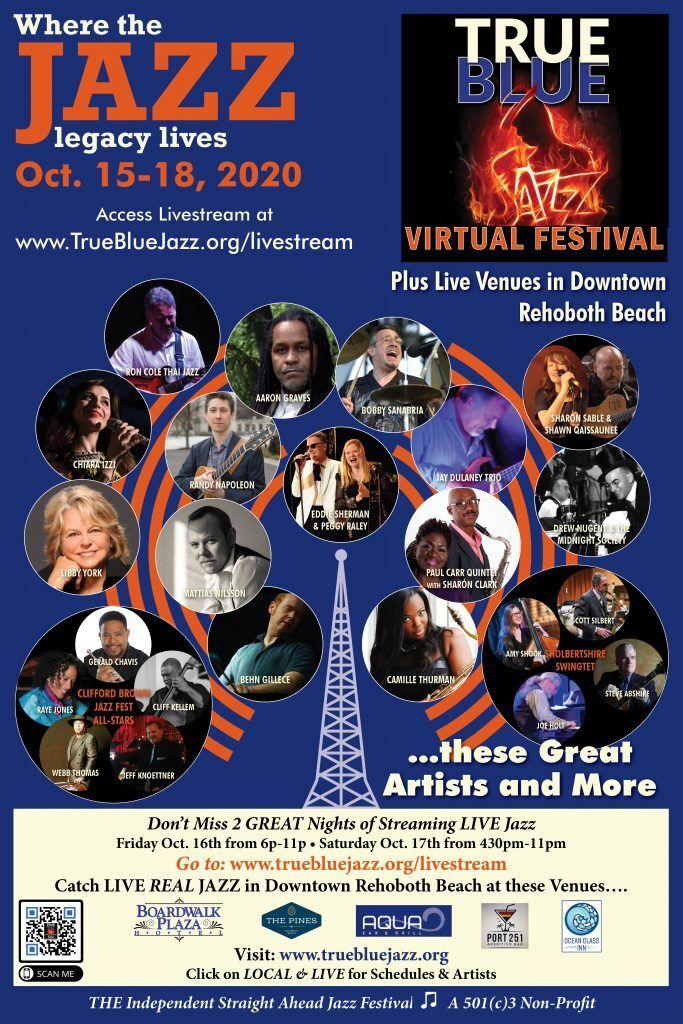 It might not be the big musical bash everyone originally wanted, but the sounds of Rehoboth Beach's two jazz celebrations will still waft through the salt air this week. Running concurrently, as always, the Rehoboth Beach Jazz Festival and the True Blue Jazz Festival will return on Thursday to Sunday, Oct. 15 to 18.
Shows are scheduled for both daytime and late-night hours.
Due to COVID-19, venues will be operating under capacity restrictions. Guests should be proactive to make reservations, purchase tickets or arrive early. Venues will also have health and safety protocols regarding face masks and social distancing, and there will even be some opportunities for livestreamed performances over the internet.
But despite the modified atmosphere, the 2020 organizers still plan on offering some good music.
"We really believe in this music as a unifying force. … Jazz is a great universal language," said Eddie Sherman, who created True Blue Jazz with his wife, Peggy Raley. "You can listen to this stuff, and it doesn't matter what it is — all the differences you might perceive in someone fall away when you hear someone who's a great player on their instrument or a band working their way through a song and you just think, 'Damn that sounds good!'"
True Blue Jazz Festival
Their three big headliners for 2020 were postponed until 2021, but the eighth annual True Blue Jazz Festival will let audiences choose their comfort levels, with in-person concerts, internet livestream performances and a live watch party. The not-for-profit True Blue focuses on classic "straight-ahead" jazz in downtown Rehoboth Beach.
More than a dozen live performances will occur in downtown Rehoboth Beach, including Aqua Bar & Grill, Boardwalk Plaza Hotel, The Pines, Port 251 and Ocean Glass Inn.
Hours of livestream broadcasts will be online Friday and Saturday evening. They'll be cutting live performances from across the country with pre-recorded sessions from across the world. For audiences at home or in hotels, that's simple as clicking the YouTube link at www.truebluejazz.org/livestream. (Or watch the livestream on the big screen at the True Blue Jazz Streaming Watch Party at the Boardwalk Plaza Hotel, which will be serving cocktails and lite-fare.)
Saturday's Red Hot Firehouse Jazz fundraiser will also benefit the Rehoboth Volunteer Fire Department, as always.
Details are online at www.truebluejazz.org.
Rehoboth Beach Jazz Festival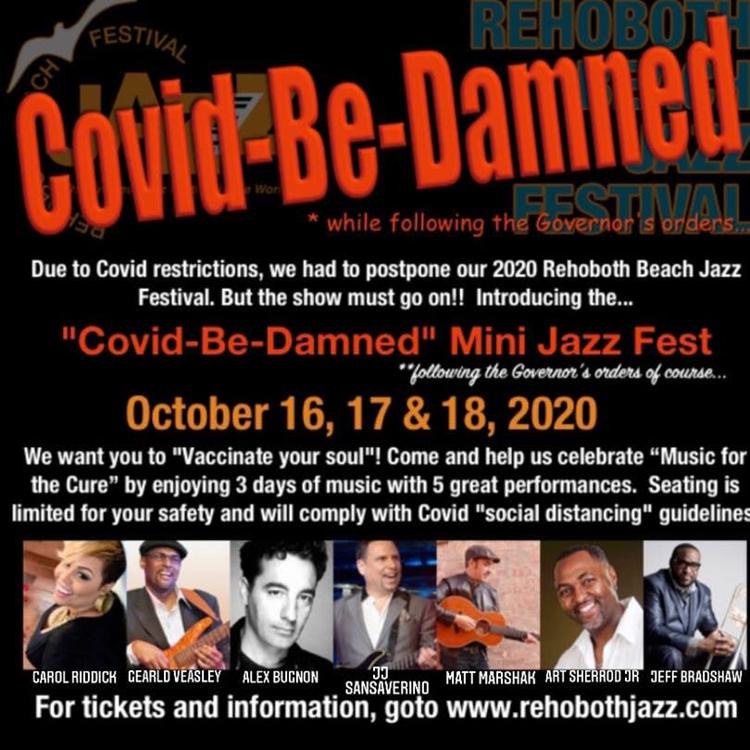 After postponing the bulk of the 2020 Rehoboth Beach Jazz Festival until next year, organizers announced that 12 shows will still occur this weekend.
Most of the eight acts will perform at the Rusty Rudder in Dewey Beach. But several restaurants across Rehoboth Beach and Milford will also host festival jazz, including 1776, Atlantic Social, Blackwall at the Beach, and Sydney's Restaurant & Lounge.
"Stay safe, keep well and thank you for understanding and helping us to keep music alive," Rehoboth Jazz Festival organizers announced.
Anyone who purchased tickets to the regular 2020 festival had an opportunity to request a refund. Those who prefer to transfer their tickets to the corresponding weekday in 2021 must store the tickets in a safe place, as the festival will not issue physical replacement tickets in 2021.
A portion of profits of the festival are donated to Beebe Healthcare's Tunnel Cancer Center.
Details are online at www.rehobothjazz.com.