Many artists and artisans take a somewhat unconventional path when it comes to finding their passion. Dozens of those talented creators will once again have a chance to show off their work and tell their stories this weekend, as the annual Artisans' Festival returns to Bethany Beach for its 13th year, on Saturday, Oct. 9.
One of those artists, Tom Ferguson, has a story that involves a homeowners' association, a cul de sac and an owl.
His artistic journey began, Ferguson said, with a large whale he had constructed and installed in his front yard, using wooden pallets and seashells. When he discovered that his yard art went afoul of the Swann Cove HOA's bylaws, he took down his whale, but he saved all of the pieces.
And with no artistic training whatsoever, Ferguson began turning those discarded pieces of wood and shells into smaller artwork that can be hung on a wall.
These days, his garage walls are filled from floor to ceiling with whimsical renderings of all sorts of marine life, including dolphins, whales, crabs, turtles, shorebirds and even mermaids.
Ferguson collects the shells for his artwork on beaches in Delaware and Florida. Key Box Road and Conquest Road beaches in the Delaware Seashore State Park are two of his favorite local shell-gathering spots, he said. His wooden pallets come largely from construction sites, where, he said, builders are often happy to give him what they would otherwise have to dispose of themselves.
Almost as soon as he began making his smaller shell-art pieces, he said, he set one outside to dry. Soon, a passerby walking around his cul de sac in Swann Cove asked him if it was for sale. And that was his entry into the world of creating and selling his own art.
From a whale made of spiny whelk pieces to an octopus whose body is made up of a crazy quilt of everything from brownish-red scallop shells to creamy gray-white clams, Ferguson said with pride that "every single shell is hand-glued" because the work is far too intricate to use a glue gun.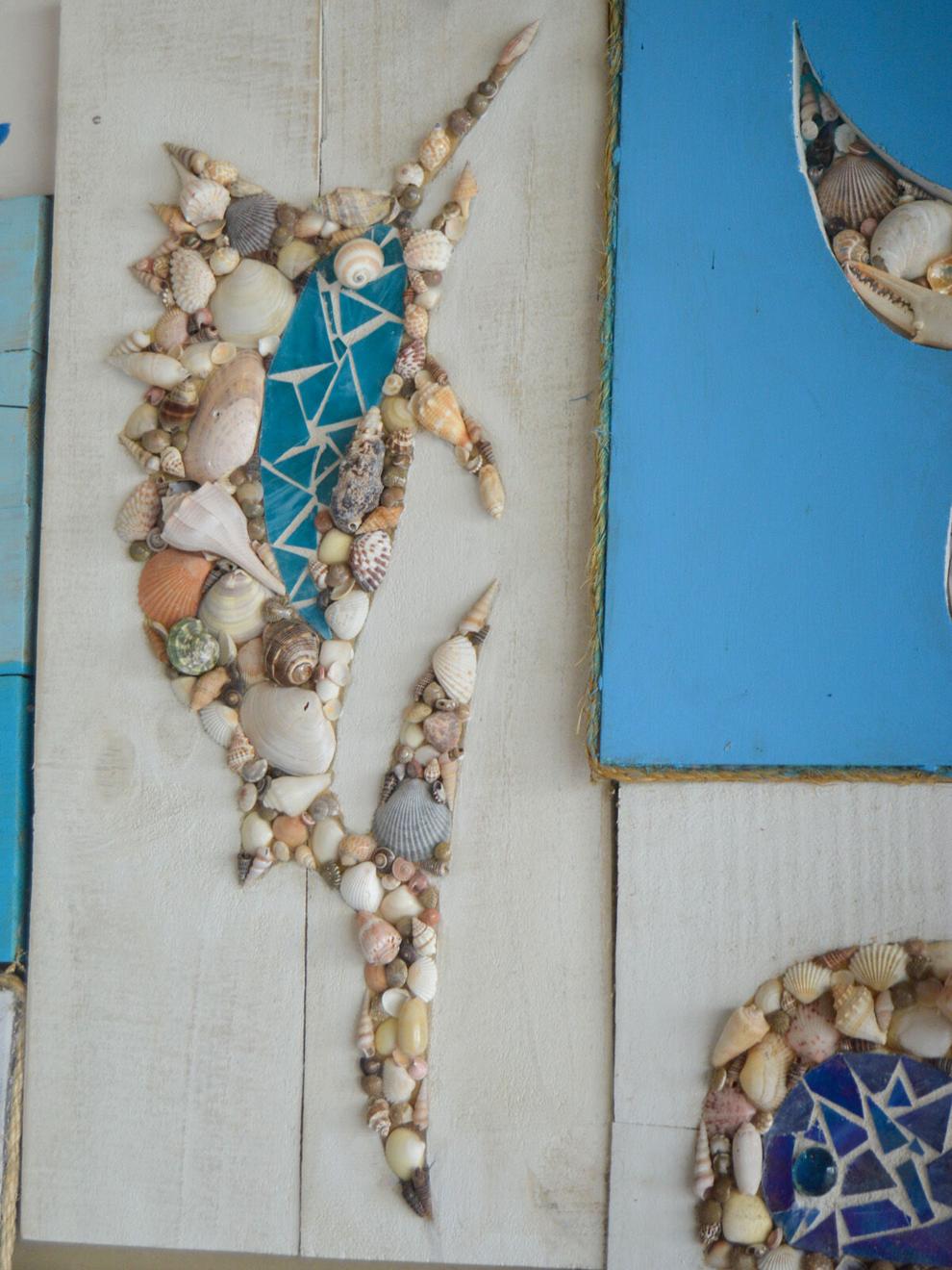 Some pieces incorporate pieces of stained glass, broken and put together to form all or part of the animals' bodies. Some are unadorned with anything but creatively applied paint, such as the pieces he refers to as "multi-fish," because they are, well, multiple fish, in a variety of configurations. Other pieces incorporate shells, but the piece as a whole has been painted in bright colors, so the shells give the piece a unique texture without it being immediately obvious that they're shells.
Ferguson prides himself in using all of the wood and shells he collects, in some form or another. When he cuts out a form in order to fill it with shells, for example, he'll use the shape he cuts out to make the base for another piece.
"I even reuse my sawdust," he said — he mixes it with glue and uses it to fill nail holes. "I just think it's cool that all that stuff doesn't get thrown away. It's a win-win," he said.
Although Ferguson has no formal training in art, his background in fields including grocery stores and landscaping might have provided him with an important marketing skill — paying attention to what people like. "And I do what I like," as well, he said.
Many local organizations have benefited from Ferguson's artistry, as he donates pieces for events held by groups including the Freeman Foundation and Believe in Tomorrow Children's Houses — he said he figures he has donated items to at least 30 different groups.
In addition to his donations to community events, Ferguson said he enjoys his time on local beaches, because sometimes he gets to help a wayward fish or crab to find its way back to the sea.
"The ocean has given me an awful lot," he said. "I try to give it back."
He recalled one November trip to Fenwick Island State Park when, in the early-morning light — because "you've got to get out early to get the good shells" — he saw seagulls circling overhead, just offshore.
Ferguson soon realized there was an apparently injured bird in the water — later identified by Tri-State Bird Rescue as a saw-whet owl. He said he pulled the bird out of the water, and the fact that it didn't fight him was an indicator of how seriously it was injured.
"They said I was lucky it didn't take my hand off," he said. Happily, Tri-State was able to rehabilitate the bird, and he was notified when it was released back into the wild.
While several stores on Delmarva, including the Pottery Barn and Sea Shell City in Fenwick Island, sell Ferguson's work, he also likes to attend craft shows and artists' fairs, such as this weekend's 13th Annual Artisans' Fair, sponsored by the Bethany Beach Volunteer Fire Company Auxiliary. Some 40 artisans will set up on the grounds of the fire company and in the fire house, at the intersection of Coastal Highway (Route 1) and Hollywood Street in Bethany Beach, from 9 a.m. to 3 p.m.
Tom Ferguson's work can also be found on Facebook at his page, under Seashell Creations.