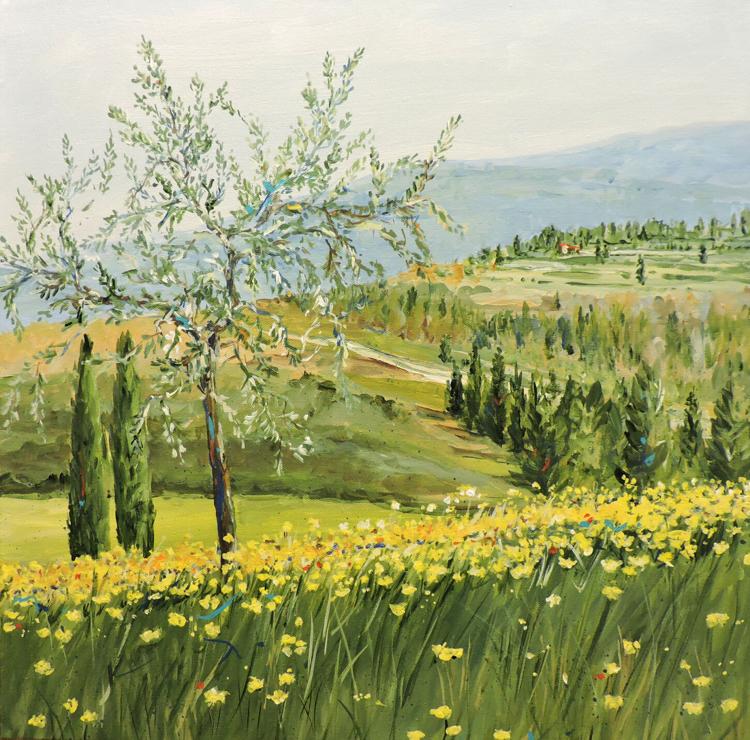 Gallery One announced this week the theme of their October show, "Foreign Lands," which will run from Sept. 30 through Oct. 28.
Gallery representatives said the theme is "about the strange and unfamiliar — exploring the landscapes of somewhere else. The artists of Gallery One have brought far-away vistas to visitors this month, exploring beauty from Abaco to Venice, and everywhere in between.
"While we are all staying close to home right now, it is a treat to get to delight vicariously in the color and atmosphere of foreign places we have visited, and some we someday hope to enjoy. Seeing the new and unexpected changes us. Medieval scholar and world traveler, Ibn Battuta said, 'Traveling leaves you speechless, then turns you into a storyteller.' And, as they say, a picture is worth a thousand words."
One example this month is Dale Sheldon's acrylic painting "Tuscan Colors."
"A drive through the hills of Tuscany is a sensual treat, the vistas are a delight! Meander through a field of wildflowers, go down one hill, cross a winding dirt road, and climb other hills. Olive trees and the tall cypresses are intrinsically Tuscan, part of the beauty of the landscape."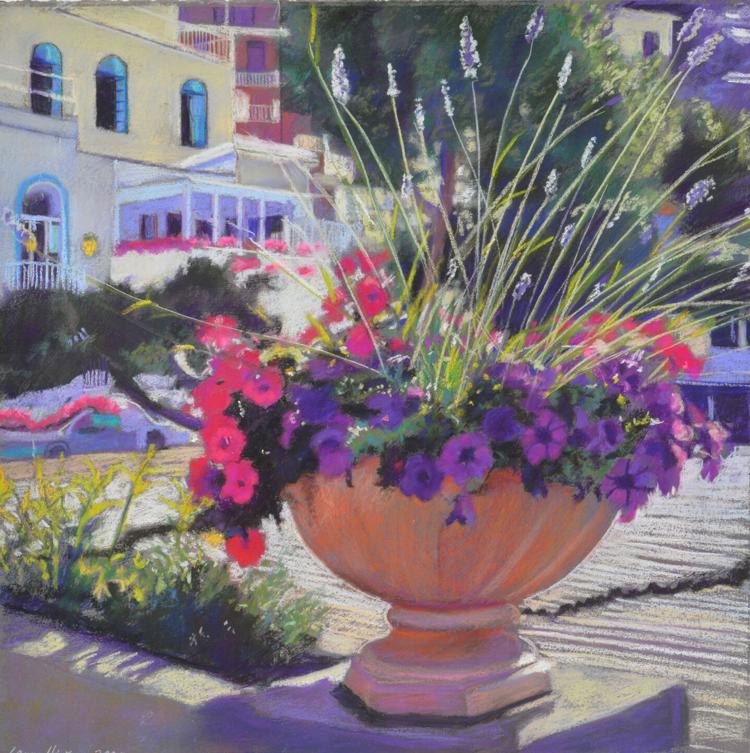 Sometimes it is the color and light that intrigues the artist as in Laura Hickman's "Flowers in Positano."
"Beautiful flowers are everywhere in Positano. They hang from windows, balconies, trellises and large planters on the beachfront, and add so much to the beauty of the Italian town."
Her pastel painting bursts with pinks and lavenders, and summer sun.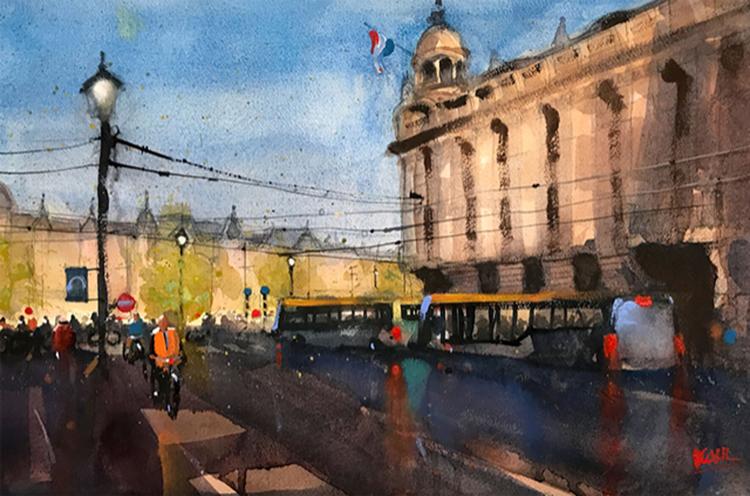 Similarly, Leo Kahl's watercolor painting "Amsterdam Commute" brings viewers to an afternoon shower, followed by intense afternoon sun, bathing his scene of Amsterdam evening commuters.
"You can feel the humid summer heat and smell the evening around you as you drink in the rain saturated colors of this magical city."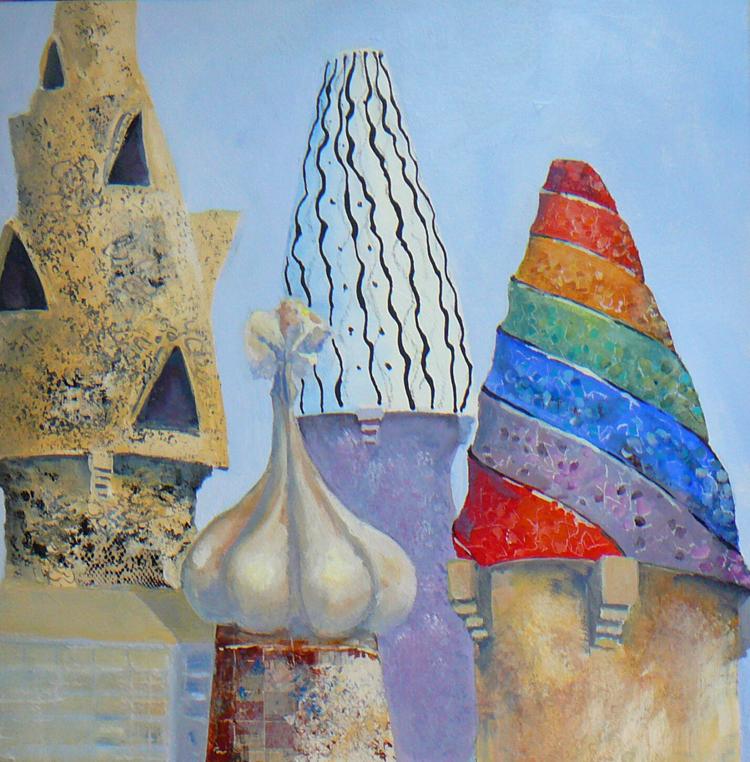 In Joyce Condry's acrylic painting, the destination is the "Chimney Pots of Barcelona."
"Barcelona is a city of joy. The architecture and sculptures put a smile on your face and the audacious colors of the roof top chimney pots, like swirls of candy and giant garlic bulbs, fill you with delight."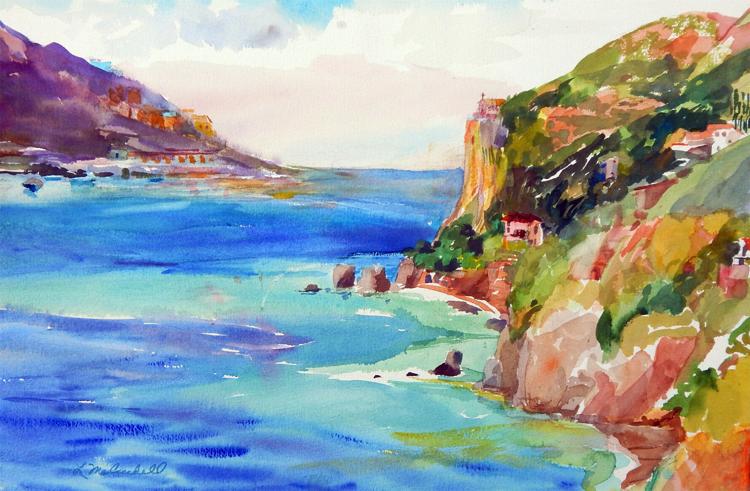 Lesley McCaskill's watercolor painting "Along the Amalfi Coast" brings gallery visitors to the centuries-old villas, cottages and chapels that dot the hills, surrounded by blue waters filled fishing boats.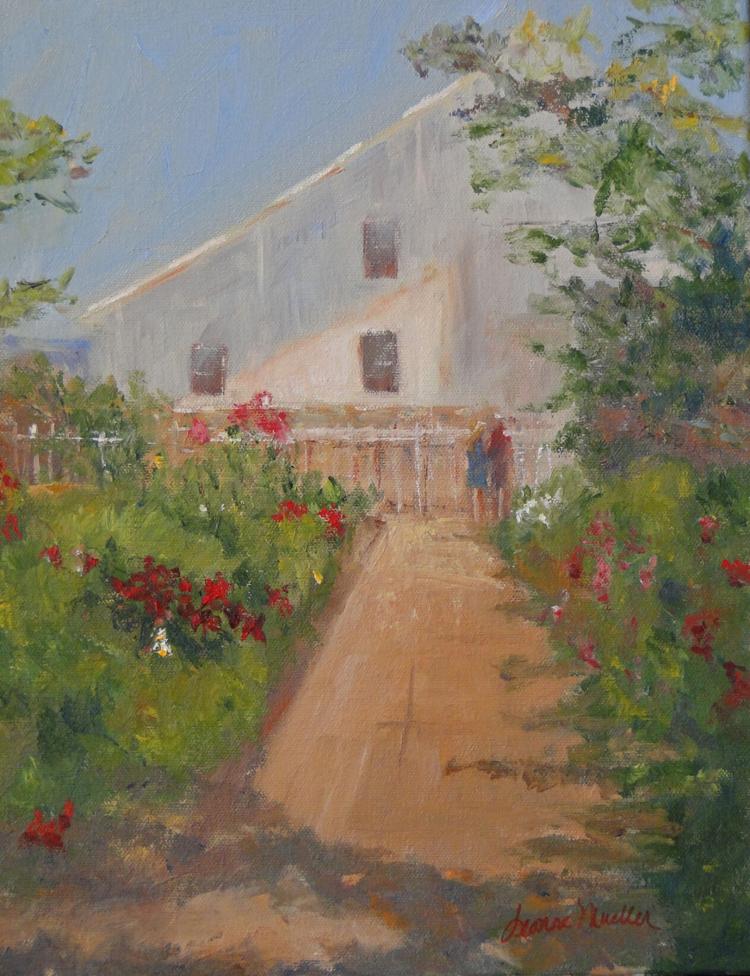 And Jeanne Mueller's "At the Winery" in brings them to Napa. The wineries are filled with flowers, trees and, of course, grape vines. She illustrates one of her favorite wineries, Nickel & Nickel, where the horses roamed in pastures and "the vistas were beautiful everywhere you looked... you can almost taste the wine."
Scott Broadfoot's oil painting of "The Rialto Bridge" takes the viewer to the oldest of the four bridges spanning the Grand Canal in Venice, Italy. Connecting the districts of San Marco and San Polo, it has been rebuilt several times since its first construction as a pontoon bridge in 1173 and is now a significant tourist attraction in the city — "and quite lovely in Scott's classical style," gallery representatives noted.
Mary Beth Paterson's "Remembering Abaco" shares a poignant story.
"I have visited beautiful spots, and one that is incredibly special to me is Hopetown, Abaco, Bahamas. In 2019, this beautiful island was devastated by Hurricane Dorian. 'Remembering Abaco,' shows the look and feel of this fresh little island — but, more, it is an homage to the spirit of many friends that always opened their homes and hearts to share their paradise. This spirit endures and is still challenged while they work with the world to help them rebuild this amazing community."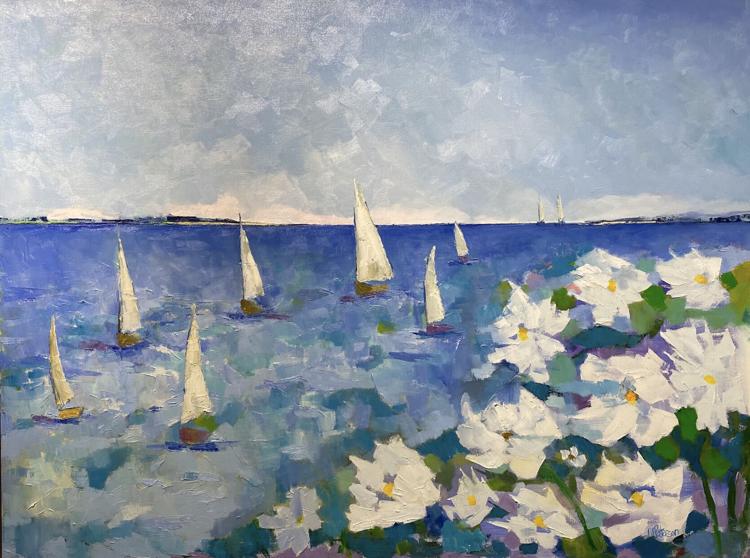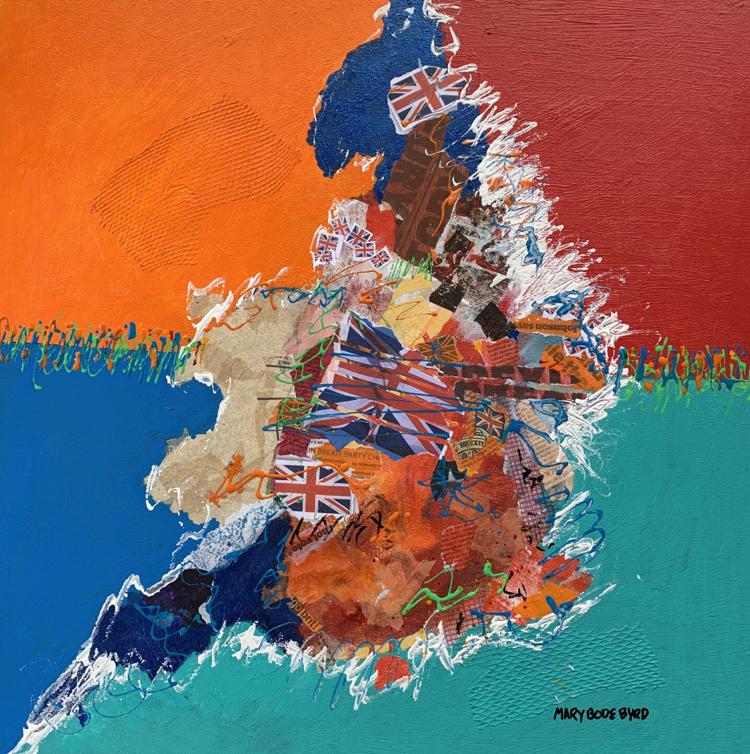 Rounding out the voyage to foreign lands is a burst of exuberant color that gallery representatives said "screams 'England!' Mary Bode Byrd's acrylic, 'BREXIT' is England, complete with Union Jacks and colorful turmoil and history and bold beauty."
Gallery One is open every day from 10 a.m. to 5 p.m. And the gallery is always staffed by one of the artists. (Face masks and social distancing are required, and to ensure safety of all, they may limit the number of visitors at any one time.) For more information, call (302) 537-5055 or email art@galleryonede.com. Gallery One is located at 32 Atlantic Avenue (Route 26) in Ocean View. Their website is at www.galleryonede.com.