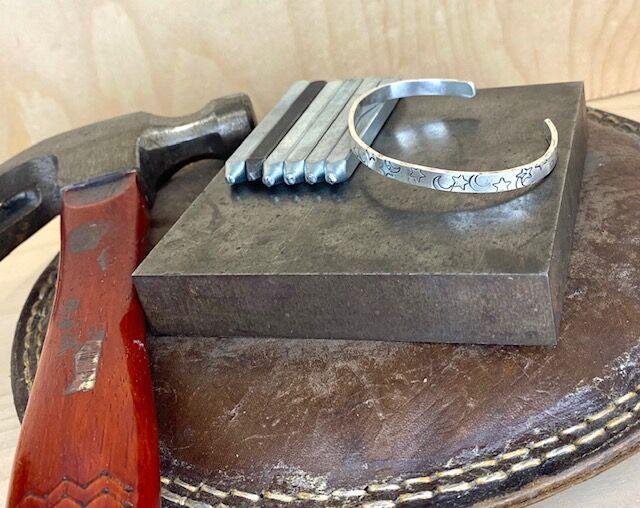 Heidi Lowe Gallery is offering a 2.5-hour jewelrymaking class to learn how to make a silver cuff bracelet with a quotation. The class will be on Saturday, May 1, from 10:30 a.m. to 1 p.m., or 2-4:30 p.m.
Participants can make themselves or a loved one a silver bracelet that contains an inspiring message or quote as a wearable reminder of a unique piece of wisdom.
The class is a basic metalsmithing class in which participants will learn to texture, cut, file and form metal to make a sterling silver bracelet. Students will design and hand-stamp their bracelet with their special quote or mantra.  No experience is necessary, but participants must be at least 13 years old to participate. The class costs $145 (material fee included). Registration closes April 28.
Heidi Lowe Gallery can also teach a private class for a family or small group of kids or adults. Email hello@heidlowegallery.com for details and scheduling.
Heidi Lowe Gallery is open for shopping by appointment, curbside pick-up, and for private and group classes at 17522 Ward Avenue #2, Lewes. For more information, visit www.heidilowegallery.com or call (302) 227-9203.
Submitted photo/Heidi Lowe Gallery