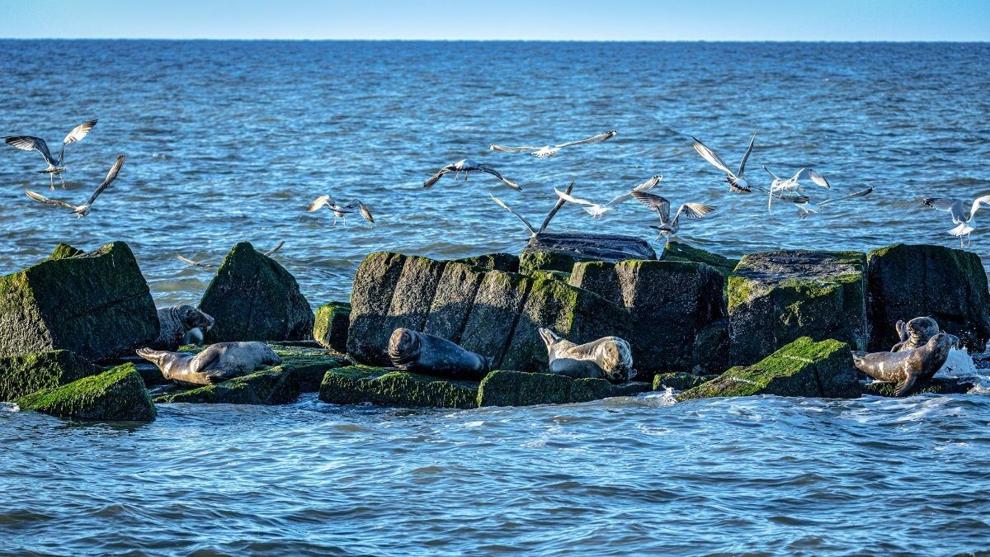 Delmarva Birding Weekends is partnering with Dogfish Head Craft Brewery and its harbor-front hotel, the Dogfish INN, to host the 2021 "Lewes Delmarva Dogfish BirdINNg Weekend." Hundreds of nature enthusiasts will flock to the coast March 5-7 to enjoy a late winter weekend of birds, boats, and craft beer.
The birding and beer partnership recently wrapped up the Winter Delmarva Dogfish BirdINNg Weekend, hosted Jan. 29-31. Participants enjoyed looks at several birds found on Delmarva only during the cold winter months, including common eider, purple sandpiper, American white pelican, great cormorant and razorbill.
The highlight for many guests were the harbor and gray seals observed on the outer seawall and icebreakers in the Delaware Bay while on board the "Scoters, Seals & Slightly Mightys" boat trips. Altogether, 119 bird species were tallied, including 27 species of winter waterfowl.
Bird and nature lovers can sign up for as many trips as they like during the weekend, at www.DelmarvaBirding.com.
The March event will again feature the popular seal and birdwatching boat cruises and strolls through what are considered some of the most pristine habitats on Delmarva.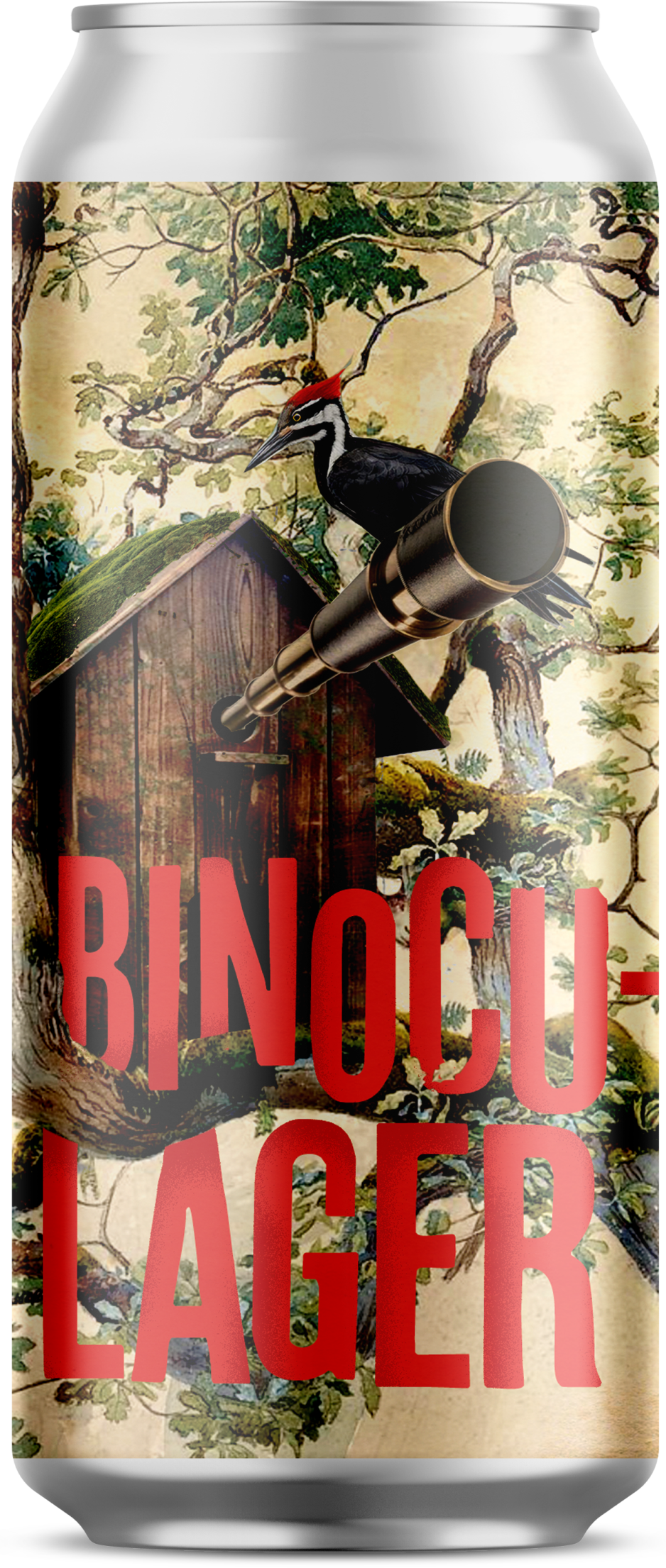 Birders will also be able to enjoy a limited-edition beer release at Dogfish Head's Rehoboth brewpub, Brewings & Eats. Releasing on Saturday, March 6 at 11 a.m., Binoculager (5.1% ABV) is an amber lager brewed with toasted sunflower seeds, pumpkin seeds and flax seeds.
"Developed in collaboration with Delmarva Birding Weekends and the American Birding Association, it is the perfect pint for bird lovers to sip while looking at birds, thinking about birds or really, anytime."
Available for $16 per four-pack of 16-ounce cans, a portion of proceeds from the sales of Binocular will benefit the American Birding Association (ABA).
Participants can be the first to try it on the ABA 2021 Bird of the Year Bonanza with ABA president Jeffrey Gordon on Saturday morning. The trip includes a four-pack, and all trip proceeds benefit the American Birding Association. The walk includes a special search for the bird of the year, the pileated woodpeckers, and other denizens of the woodlands of coastal Southern Delaware. (For more information, visit https://delmarvabirding.com/binoculager-4-pack-release-march-6/.)
"The Dogfish INN in Lewes will see to it that a warm bed and craft beer are an integral part of the mix this year. Nestled along the canal in historic downtown Lewes, a short walk from Fisherman's Wharf, the Dogfish INN is the Mother Nature basecamp for coastal Delaware, providing beer lovers and adventure seekers alike with fun-filled opportunities to explore the area's many splendors."
For Lewes Delmarva Dogfish BirdINNg Weekend participants, the Dogfish INN will offer a special lodging package that includes a custom Dogfish Head X Patagonia beanie, "off-centered" swag, and a 10 percent discount at the brewery's Rehoboth brewpub, Brewings & Eats, and Milton-based Tasting Room & Kitchen. The package also includes a ticket to purchase one four-pack of 16-ounce cans of Binoculager.
With COVID-19 protocols in place, field trips include forays into Bombay Hook National Wildlife Refuge, Prime Hook National Wildlife Refuge, Cape Henlopen State Park, the inlet in Ocean City, Md., Heron Park in Berlin, Md., and Newport Farms. Small group "Scoters, Seals & Slightly Mightys" boat tours in Lewes aim to dazzle onlookers with incredible opportunities to view sea ducks, as well as harbor and gray seals.
Dogfish Head Founder and Brewer Sam Calagione said the brewery's nature-centric mindset made this partnership an easy marriage.
"Mother Nature is at the heart of everything we do at Dogfish, because without the natural agricultural ingredients with which we craft our recipes, our beers would not exist. That's why we are continuously seeking new ways to protect and give back to the Earth, especially in our local community. In fact, our motto here at the Dogfish INN is, 'Welcome to Lewes. Mother Nature, Let's Do This!'"
"In coastal Delaware, we are surrounded by opportunities to explore the great outdoors, and we are lucky enough to have one of the world's best birding scenes. Through our partnership with Delmarva Birding Weekends, we are hoping to not only encourage folks to get outside and experience the goodness just beyond their doors, but to inspire them to do their part to protect the planet we call home," he said.
Now in its 26th year, Delmarva Birding Weekend organizers point to local wildlife as the event's economic engine.
"Folks all over the East Coast are starting to realize how spectacular the winter birding is here on Delmarva," said event organizer Dave Wilson. "Hailing from all over the East Coast, our guests travel here to pair local outdoor experiences with local food and craft beer. It makes perfect sense to unite with Dogfish to bring it all together."
Guided by fun-loving local birders with decades-long experience on the shore, the walking tours and boat trips accommodate visitors from the curious nature lover to fowl fanatics. Last year, birdwatchers from more than a dozen states flocked to the winter event.
"Delaware is teeming with bird species in winter," said Southern Delaware Tourism Director Scott Thomas. "And Delmarva is a great place to experience them with the combination of wildlife refuges, local fare, and accommodations like nowhere else."
Melanie Pursel, the director of Worcester County (Md.) Tourism concurred.
"We enjoy such an abundance of bird species in the colder months that it just makes sense to market winter birding experiences," she said.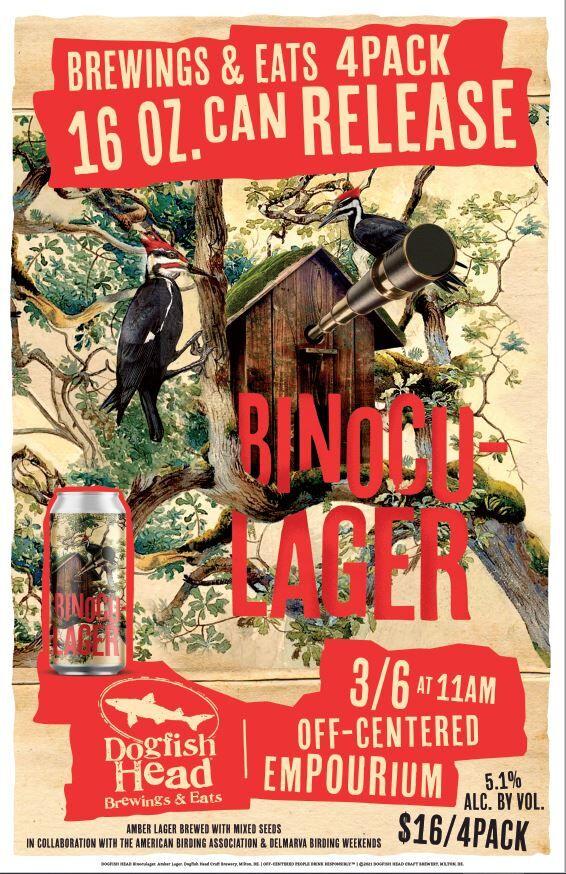 Much of that fare will be available both Friday and Saturday nights at Irish Eyes in Lewes, where guests can enjoy Dogfish Head beer specials as part of the "tally rally" to count the weekend's species and relate tales of the day's exploits. Mask-wearing and social-distancing will be the rule at the rally.
Afterwards, those staying at the Dogfish INN can enjoy the short walk along the harbor back to their "off-centered" rooms, where the Lewes Delmarva Dogfish BirdINNg Weekend perks keep flowing.
"The INN's Cowboy Cauldron outdoor fire pit is perfect for recounting the day's events or just counting stars."
To book the INN's special, Lewes Delmarva Dogfish BirdINNg Weekend package, type "Delmarva Birding Weekend" in the special requests section during online booking or call (302) 644-8292. Field trips and events must be booked separately through the website at https://delmarvabirding.com/march-5-6-7-lewes-dogfish/.
Other sponsors for the March Weekend include the American Birding Association, Southern Delaware Tourism, Worcester County Tourism, Jolly Roger Amusement Park and the Delaware Center for the Inland Bays. Event registration and sponsorship information can be found at www.DelmarvaBirding.com and www.dogfish.com/inn.