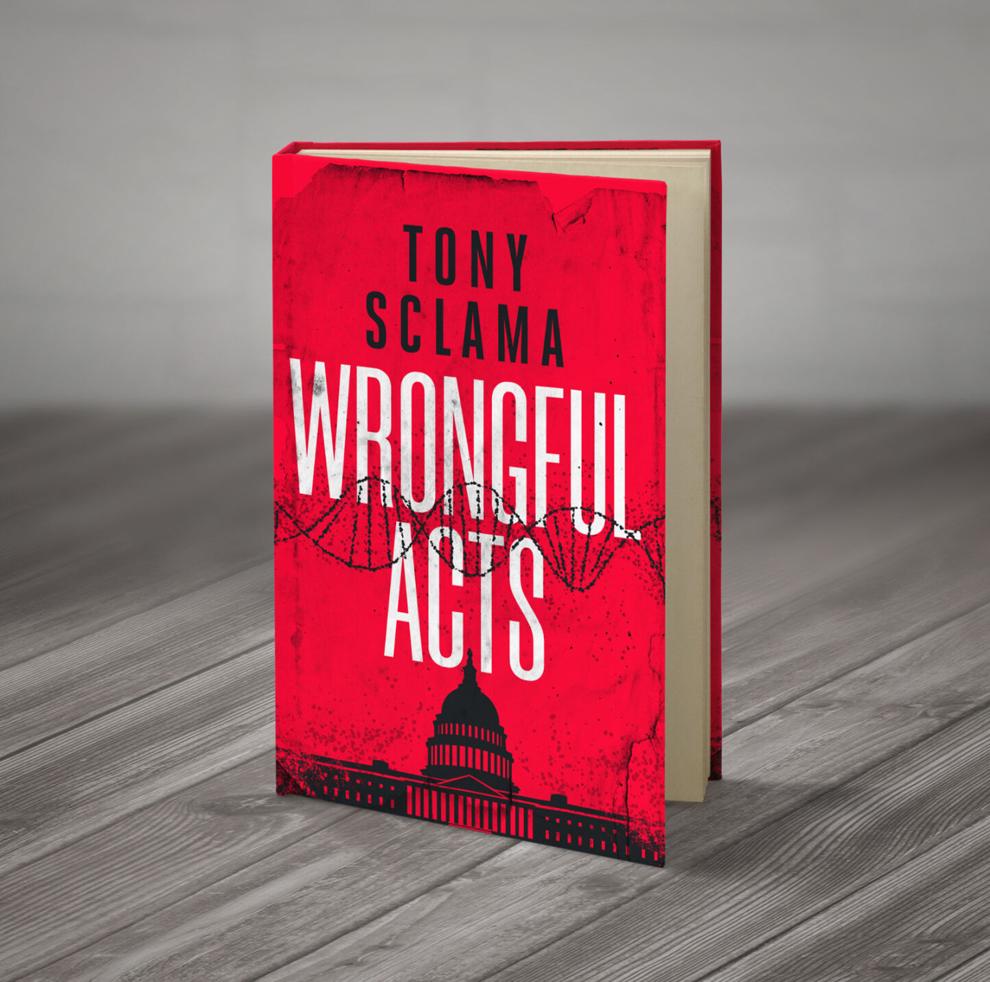 The cover of Tony Sclama's new book, "Wrongful Acts," gives readers some tantalizing clues as to its contents. A roughly drawn strand of DNA floats across the blood-red cover, above a silhouette of the U.S. Capitol building in Washington, D.C.
Sclama, who retired to Bethany Beach in 2015 after a career in medicine, said during a recent interview that he has always been an "avid reader" — particularly of medical thrillers by authors such as Michael Crichton and Robin Cook — and after his retirement became "interested in the concept of writing about something you know."
After more than 20 years in practice as a urologic surgeon in Baltimore, Sclama headed into the next phase of his career, as a hospital administrator. He said both of those professional experiences informed his writing, at least to some extent.
Sclama said he was used to writing, having written countless reports during his medical career.
"I've done a lot of writing in my career, but never fiction," he said. Although he felt confident in his abilities in that department, this new writing form presented him with some challenges.
"This is really tough," he said.
"I did research as a physician," Sclama said, but "I'm not a geneticist," he noted, referring to the field that plays heavily in the plot of "Wrongful Acts." So he delved into a field of medicine that was new to him, in the course of writing the book.
He said since the main character is the head of the Food & Drug Administration, he also had to learn quite a bit about how that agency works.
As the cover indicates, "Wrongful Acts" takes place mainly in Washington, D.C., which is a place Sclama grew to love as a college student at Georgetown University, where he studied biology. After two years at the University of Rome — another city that he now holds dear and plans to return to this fall to visit his son — Sclama returned to the United States to finish his medical degree at the University of Maryland.
A few years ago, Sclama said, "I decided to dip my toes in the water" of writing more than medical reports. He took a course specifically designed for physicians who want to write medical fiction and attended presentations by well-known authors Tess Gerritsen and Michael Palmer during a trip to Cape Cod.
His medical career, however, forced him to delay his dream for a few more years, squirreling away the binder of research material he had accumulated until his retirement and his move to Delaware with his wife, Alexis.
Sclama said one of the more challenging parts of writing the book was making it less technical and learning the art of character development. He said he struggled to jettison the overly detailed medical jargon and focus on "the stuff that moves the story forward."
The main character is a woman, and Sclama said it was interesting for him to bring her to life.
"She's a very strong character. She has some issues that come out. She comes upon a lot of roadblocks," he said. Although she is a fairly high-powered federal official, Sclama said, "I wanted her to be like the rest of us."
While there will be no "spoilers" in this article, Sclama did say that "some people don't make it through the book. He also offered, proudly, that "the opening scene is a real grabber."
"Wrongful Acts" is available locally at Bethany Beach Books. Sclama, who self-published the book, said he is excited to support local bookstores. However, those who aren't able to visit Bethany Beach Books can also find "Wrongful Acts" online via Amazon and Barnes & Noble.