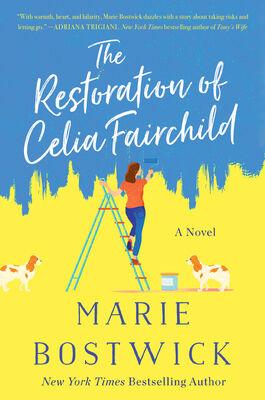 The Lewes Public Library and Browseabout Books will welcome New York Times and USA Today bestselling author Marie Bostwick for a discussion of her new book "The Restoration of Celia Fairchild" on March 2.
"Bostwick's witty story follows Celia Fairchild, a popular advice columnist who has insight into everybody's problems — except her own," organizers said. "When she is shortlisted to become an adoptive parent, Celia throws herself into proving she's perfect mother material, only to lose her job. Her one option: sell the Charleston house left to her by her recently departed, estranged aunt. With a cast of colorful characters and forgotten figures from her distant past, Celia begins to restore the historical house to its stately prime, and with it, dares to imagine a different future for herself, her newfound family, and the child she so desperately wants.
The live, Zoom-based discussion will begin at 5 p.m. on Tuesday, March 2, and is free to the public. Registration is required at the Lewes Public Library's website. Visit the Virtual Programs for Adults page of the library's website (lewes.lib.de.us) to register, or go to tinyurl.com/zoomwithauthors.
Participants also are being encouraged to support the author by purchasing a copy of the book from local independent bookstore Browseabout Books. Each copy purchased comes with an archival bookplate signed by the author. Orders may be placed online, in-person, or by calling the store at (302) 226-2665.
Bostwick is described as a bestselling author of insightful, uplifting fiction, and she travels extensively, speaking at libraries, bookstores, quilt guilds and conferences. When not writing books, she enjoys quilting, hiking, cooking and creating posts on her lifestyle blog, "Fiercely Marie."
For additional information, visit lewes.lib.de.us or browseaboutbooks.com.