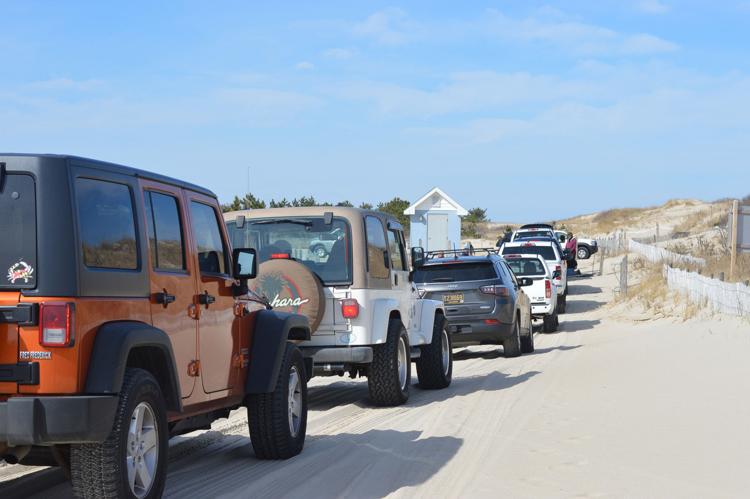 One of the joys of living near the beach is being able to be there, toes in the sand, in a matter of minutes.
Another, if you're lucky enough to have a four-wheel-drive vehicle, is being able to drive your car or truck onto the beach. There are, however, a few rules to follow in that regard. And, for new owners of four-wheel-drive vehicles, the rules of the sand can be a little intimidating. That's why the Delaware Seashore State Park offers a Beach Driving Clinic a few times a year.
That's where I found myself on a recent Saturday afternoon, along with my husband and two children and about 20 other "drive-on" students. Although the clinic usually starts with an indoor "classroom" component at the Indian River Lifesaving Station, the station was closed that day, and since it was fairly warm and sunny, state park interpreter Kathleen LaForce opted to hold it at the Savages Ditch picnic area on the Rehoboth Bay side.
Behind the group, a row of all sizes of Jeeps and other 4x4s waited. Each participant was notified before the class that in order to drive on the beach, there are few things that must be in the vehicle. Those include a good-sized, sturdy shovel; a jack; and a tow rope or tow strap, although LaForce said she thinks that last one might be dropped from the requirements soon.
She began her presentation by telling the group, "The end goal is to make you feel empowered, not terrified," when driving a vehicle onto the beach for the first time.
LaForce explained that one person associated with each vehicle on the beach "must be actively engaged in surf-fishing." What that means, she said, according to park regulations, is that a person must be "taking all reasonable and necessary actions to maximize the probability of hooking and landing game fish by rod, reel and line attached to a baited rig, artificial lure or artificial fly."
That person must be within 50 feet of their fishing rod at all times. LaForce recommended not trying to pass off a "Barbie rod" as actual fishing equipment.
"It's really fun, but you'll also be asked to leave," she said wryly.
The most crucial key to successfully navigating a vehicle onto the beach is "airing down" the tires. LaForce suggested that the class deflate their tires to about 15 psi; depending on weather and sand conditions, 12 to 20 psi is the recommended range.
"No matter who you are, you need to air down your tires," she said.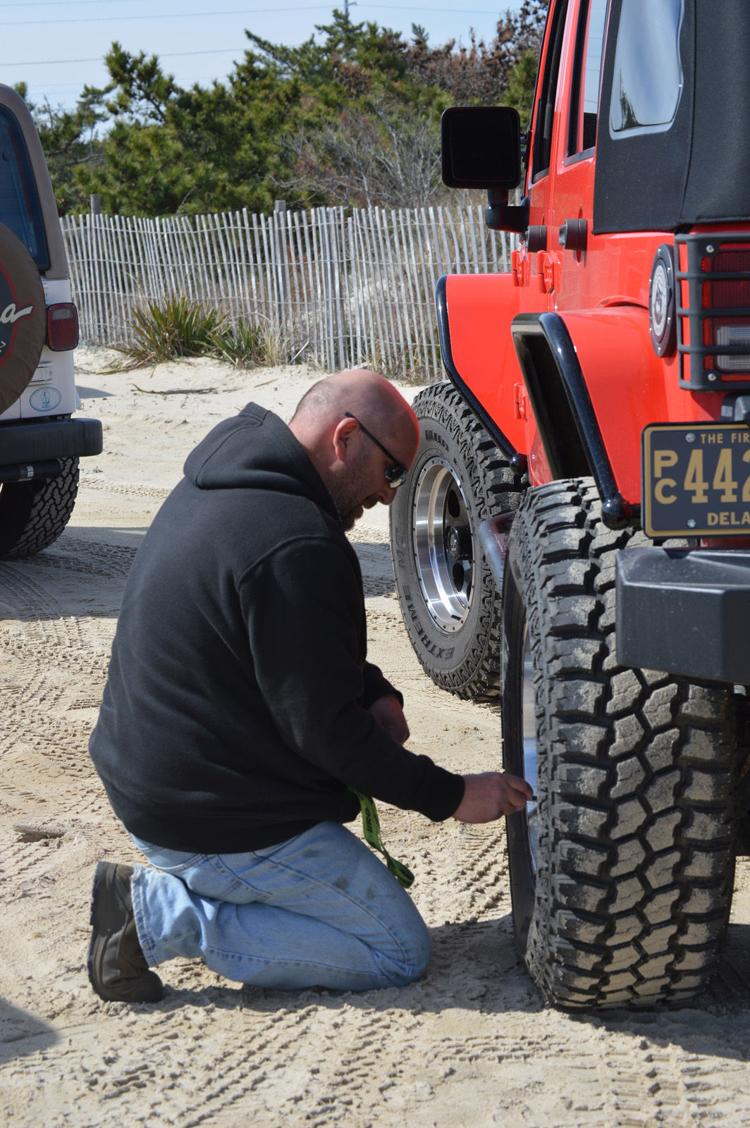 After she finished the approximately 30-minute "classroom" part of the clinic, LaForce led the "convoy" up Route 1, about a mile, to the Conquest Road beach access on the ocean side.
Once everyone aired down, the vehicles lined up for the approach to the beach.
Almost everyone successfully made it up the "on-ramp." One young couple, whom we are not naming here, had some issues with the four-wheel drive on their vehicle, which they said had been unused for a year or two before they brought it to the beach that day.
Fortunately, between LaForce and other drivers who pitched in to help, the couple finally got their vehicle off the soft sand and back to the safety of the parking lot.
"There's a sense of camaraderie," among the "drive-on" crowd, "which I really like," LaForce said.
She added, however, that she and the other rangers don't necessarily "like" digging cars out of the sand, particularly during hot summer days.
"I almost feel like there should be a sticker that says 'Respect the sand' she said, after several attempts to get the couple's vehicle were finally successful.
"It's very easy to get stuck," LaForce said. Not so easy — and potentially expensive — to get unstuck. Although LaForce said park employees won't pull stuck vehicles out, there are tow companies that will do the job, for around $500 to $800.
As for the other participants in the class — some of whom were first-timers and some who just wanted a bit of a "refresher" — they said they felt it was a worthwhile experience.
Raelyn Thompson of Lewes said that, although it was not her first time driving on the beach, she felt she picked up "some nice little tips that we need to know."
Mike Ebersole of Millsboro said the class was "excellent" for him and his wife, Marlena Ebersole, first-time beach drivers.
"There's a different technique to driving a vehicle on the sand," he said. "The sand takes you where it wants you to go."
"Now," he said, "I have to learn how to fish."
(Delaware State Parks do also offer surf-fishing classes. Check the state parks website for upcoming classes.)