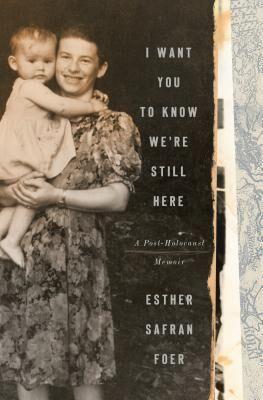 Known in the Washington, D.C., community as the executive director for 10 years of the Washington-based synagogue and cultural institution Sixth & I, Esther Safran Foer decided to move into the realm of writer, joining her sons, Jonathan, Franklin and Joshua — all successful journalists and authors. On Tuesday, Dec. 8, at 5 p.m., she will discuss her new book, "I Want You to Know We're Still Here."
The virtual event, sponsored jointly by Seaside Jewish Community, Lewes Public Library and Browseabout Books, is free, but registration is required. To sign up, go to the Virtual Programs for Adults page of the library's website (lewes.lib.de.us) or tinyurl.com/zoomwithauthors.
"In this positive recount of tracing her family roots in the Ukraine and learning family history that was lost or not transmitted to her, Foer gains a sense of her place in the world. From conversations with her mother, she learned her deceased father had a previous family prior to World War II. Her father's suicide, she feels, was probably precipitated by keeping this loss secret after the war," organizers described.
"Readers of Jonathan Safran Foer's novel, 'Everything Is Illuminated,' will feel acquainted with the Ukrainian village, Trochenbrod, the Foer family called home and which ceased to exist under the Nazi occupation. In Esther Safran Foer's book, she tells how she reaches out to the scattered survivors of this community and arranges for them to hold a reunion in the Ukraine, where she eventually learns the details she wants her children and their descendants to know. The revelations of how the past can be recovered and how it can fulfill the void in one's identity permeate the book.
"Esther Safran Foer's narrative is an event that resonates with all Americans who immigrated here in the 20th century, whether War-related or later," they said. "This locally-hosted event gives all the opportunity to meet Esther and learn from her experiences."
The book is available for sale at Browseabout Bookstore in Rehoboth Beach, and purchase includes a bookplate signed by the author.